DVDs from TCM Shop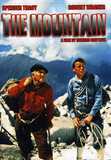 The Mountain Brother mountain climbers... MORE&nbsp> $18.71 Regularly $24.95 Buy Now blu-ray
Home Video Reviews
If you can buy Spencer Tracy and Robert Wagner as brothers, Edward Dmytryk's
The Mountain
(1956) is a helluva climb. The two actors, born thirty years apart, had played father and son in Dmytryk's
Broken Lance
(1954) but are cast in this Paramount production as siblings on opposite ends of life's journey. While Tracy's elderly Zachary Teller, a French shepherd and former mountain guide who quit the game after the death of an English climber in his care, is humble and satisfied with life's simple pleasures, kid brother Chris (Wagner) is a small town playboy whose affairs with the wives of visiting tourists has given him a taste for finer things beyond the snow-capped confines of his alpine village. When an Indian jetliner crashes atop the summit of a nearby mountain, the avaricious Chris goads Zachary into making the climb to retrieve a rumored shipment of gold, knowing that his emotionally damaged guardian will not let him go it alone.
In adapting Henri Troyat's 1952 novel
La neige en Deuil
(which was inspired by the 1950 crash of Air India Flight 245 into Mount Blanc in November of 1950), screenwriter Ranald MacDougall torques the tensions between the protagonists, stripping away the excess weight of empathy for the younger brother; MacDougall also borrows a few tricks from
Mildred Pierce
(1946), which he had adapted from the James L. Cain novel at Warner Brothers. Wagner had just played a collegiate sociopath in
A Kiss Before Dying
(1956) and ports that same slit-eyed venality to his interpretation of the avaricious Chris Teller. Looking considerably older than his 55 years, Spencer Tracy had quit drinking prior to production of
The Mountain
but an injury during filming knocked him off the wagon.
The physically strenuous shoot on location at Mont Blanc in Chamonix, France (and on studio soundstages, where Tracy is clearly doing his share of the heavy lifting) took its toll on the father-son relationship between Tracy and Wagner. Nevertheless, when
The Mountain
was in the can, the older actor insisted on giving his young costar equal billing.
Directed by Dmytryk after his HUAC troubles and self-imposed exile abroad,
The Mountain
is one of the long-time Paramount employee's more interesting A-list projects, following the fairly impersonal
The Caine Mutiny
(1954) and the Humphrey Bogart misfire
The Left Hand of God
(1955). The film's midsection, nearly 48 minutes long, is devoted exclusively to the arduous mountain summit, which Dmytryk treats as a meditation in patience, where progress is measured by inches and success can pay off only in survival. Dmytryk wisely dials down Daniele Amfitheatrof's overbearingly celestial score during these scenes, which remain remarkably tense despite being staged in a studio mountain mock-up, while Franz Planer's widescreen Technicolor cinematography keeps
The Mountain
a strikingly beautiful production from end to end. Despite the importation to Mont Blanc of a handful of American actors (among them Claire Trevor, E. G. Marshall, Richard Arlen, Harry Townes and William Demarest, as the village priest), Dmytryk sidesteps the kitsch factor by refusing to condescend to Mittel European accents as a bid for authenticity. Keeping incongruity at bay is Ranald MacDougall's sharp ear for the plain talk and colloquial repetition of provincial people unaccustomed to speaking at length; characters routinely repeat themselves and speak in a circular argot ("I don't climb anymore. The mountain gave me its warning--it doesn't want me... The mountain warned me. I don't climb anymore.") that seems to serve them as a bulwark against uncertainty.
The Mountain
is another winner from Olive Films, whose catalogue also includes the once-rare
Crack in the World
(1965) and
Escape from Zahrain
(1962). As is their custom, Olive Films' DVD of
The Mountain
is as bare-bones (lacking supplements and encoded for only 8 chapter stops) as it is gorgeously authored. The transfer is framed at 1.85:1 and gin clear. Primary colors pop, contrasts are extraordinary and skin tones are more than lifelike, with a wealth of physical particularities (from facial moles to faint blond hairs) easy to appreciate. The monaural soundtrack is surprisingly robust. The disc is not close captioned and there are no subtitle options. Olive Films' keepcase illustrations leave a little something to be desired and spoil a (perhaps not unexpected) third act reveal. One quibble aside, this long overdue widescreen DVD of
The Mountain
is the tops.
For more information about
The Mountain
, visit
Olive Films
. To order
The Mountain
, go to
TCM Shopping
.
by Richard Harland Smith