DVDs from TCM Shop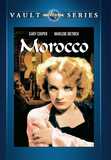 Morocco A sultry cabaret singer falls... MORE&nbsp> $14.36 Regularly $14.98 Buy Now
Home Video Reviews
If you were limited to only one movie with which to show someone what makes Marlene Dietrich special, Josef von Sternberg's
Morocco
would do the trick. Dietrich had already made movies in her native Germany before her 1930 Paramount debut (including her breakthrough
The Blue Angel
with von Sternberg), and she appears in one scene in
Morocco
before we see her character take the stage in a Morocco nightclub. But when Dietrich's Frenchwoman abroad, Amy Jolly, takes the stage at a rowdy nightclub populated by French Foreign Legion foot-soldiers in the pit near the stage and better-heeled officers and French colonials on the upper level, we get the sequence that, essentially, made Dietrich an international star and immediately more than just Paramount's answer to MGM's Greta Garbo.
Dietrich takes the stage in top hat and tails, a bit of in-your-face gender-bending most of the crowd
hates
, croons a French song with a charismatic devil-may-care attitude and wins the catcallers over. The song finished, she eyes a pretty woman in the audience with lip-licking lust, plucks a flower from the woman's hair and plants a kiss on her lips. Considering how much fuss women kissing women caused on sitcoms just a decade back, imagine how bold this was in 1930. Even by today's standards, Amy (and the Dietrich persona she embodies) is more strong-willed and individualistic than most movie characters.
Dietrich isn't through. The only Legionnaire in the pit applauding her tuxedo'd entrance is Private Tom Brown (Gary Cooper), who threatens to slug anyone who keeps booing Amy. She passes the flower on to him in her flirtations, along with her room key. So starts one of the movies' more memorable romantic dramas. These two world-weary characters, on emotional exiles in the Third World, are cynics who've given up on love until they meet each other. But their relationship gains substance by not being an easy one. They don't simply fall into each other's arms. When he uses the room key after her show, the two share woes, with Amy memorably saying, "There's a foreign legion of women, too. But we have no uniforms, no flags and no medals when we are brave." Perhaps sensing this is an all-or-nothing relationship, both initially back off.
But that's not for long. Although the French Foreign Legion conspires to thwart the couple (an officer whose wife Tom romanced has a grudge against him),
Morocco
takes the pair through Amy and Tom giving in to their mutual attraction, Tom surviving a near-suicidal mission and Amy entertaining the advances of a rich Frenchman (Adolphe Menjou) when it looks as if she and Tom might never be together. It culminates in a very striking ending of romantic commitment that would seem impossible to believe after the first half-hour of the movie, but which von Sternberg and Dietrich pull off.
Long before the ending, though, von Sternberg's visuals make
Morocco
extremely evocative. You can almost feel the desert heat and the windblown sand as his characters do. Although
Morocco
was made before the deep focus lenses of the 1940s, by placing objects in the foreground of shots and using shadows and smoke he creates a similar depth in his visual compositions. Of course, von Sternberg had also discovered Dietrich when casting
The Blue Angel
(which Paramount held for U.S. release until after
Morocco
had come out) and had shaped her image.
Morocco
shows Dietrich shed of her
Blue Angel
baby fat (von Sternberg put her on a rigid diet) and reveling in androgyny and outrageousness. It was also the first movie for which the director and cinematographer Lee Garmes came up with the strategy of bathing Dietrich in light from above to emphasize her cheekbones and eyebrows. Dietrich legendarily demanded such lighting on most everything she did for the rest of her career. Cooper reportedly chafed at von Sternberg's doting on his female lead and his performance is stiff at times, but virile Cooper is much preferred to the bumbling, asexual Cooper of such later movies as
Mr. Deeds Goes to Town
or the otherwise entertaining
Ball of Fire
. Six years after
Morocco
, Cooper and Dietrich reteamed in the glossy, lukewarm
Desire
.
Morocco
is the first movie on Universal Studios Home Entertainment's five-movie, two-disc
Marlene Dietrich: The Glamour Collection
set, which includes two others she made with von Sternberg (and a couple of trailers for extras). It's a fine set, though it's annoying to see the obnoxious John Williams-scored current Universal logo placed before the vintage black-and-white Paramount logo on the movies in the new Dietrich, Mae West and Carole Lombard collections. Why couldn't Universal, which owns many of Paramount's pre-1948 talkies, have been cool and creative and put Universal's 1930s logo at the front of oldies like these instead?
For more information about
Morocco
, visit
Universal Home Entertainment
. To order
Morocco
(and you have to buy the whole Marlene Dietrich set to get it but it's a fine collection), go to
TCM Shopping
.
by Paul Sherman