DVDs from TCM Shop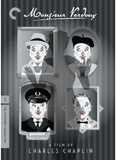 Monsieur Verdoux A man woos and murders rich... MORE&nbsp> $19.47 Regularly $29.95 Buy Now blu-ray
NOTES
DVDs from TCM Shop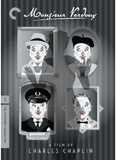 Monsieur Verdoux A man woos and murders rich... MORE&nbsp> $19.47
Regularly $29.95 buy now
The title card on the viewed print reads: Monsieur Verdoux, A Comedy of Murders. Comedy of Murders and The Lady Killer were the film's working title. Monsieur Verdoux was Charles Chaplin's first film since The Great Dictator (1940), and marked the first time that the filmmaker completely abandoned his trademark "Little Tramp" character. In an April 1947 article, International Digest noted that the picture was inspired by Henri-Desir Landru, a real-life French "Bluebeard," who murdered approximately eighteen people between 1914 and 1919, most of whom were women he wed while he was still married to his first, unsuspecting wife, Catherine Remy. Like Verdoux, Landru, an accountant, targeted widows and other lonely women and disposed of some of their bodies in an incinerator that was part of a villa he rented in Gambais. According to modern program notes from the British Film Society, several years before this film's production, Orson Welles suggested that he direct Chaplin in a drama based on Landru's life, and Chaplin later bought the idea for five thousand dollars and a screen credit reading "Based on an idea by Orson Welles."
The original "Bluebeard" legend, entitled "La Barbe bleue" by Charles Perrault in Histoires et contes du temps pass, avec moralities (Paris, 1697), is about a wealthy man with a hideous blue beard whose seven previous wives have disappeared. When his eighth wife is entrusted with a key that she must promise not to use, she uses the key to open the cellar where she finds the bodies of his past wives. Bluebeard returns home to kill her, but she is soon saved by her brothers, who slay Bluebeard.
Monsieur Verdoux includes real footage of events surrounding the Wall Street crash of 1929, Spanish loyalists being bombed by Franco suporters, and Hitler's and Mussolini's preparations for war. Although an April 1943 Hollywood Reporter news item noted that Constance Collier was hired by Chaplin to do research work for the film, her contribution to the completed project has not been determined. A December 1943 Hollywood Reporter news item announced that Alice Eyland had been part of the project, but her appearance in the final film is doubtful. Modern sources add Barry Norton, Cyril Delevanti, Charles Wagenheim, Franklin Farnum, Lester Matthews and Wheeler Dryden to the cast.
When this film opened in 1947, it was sharply criticized by reviewers and various groups. In May 1949, Variety announced that Chaplin was pulling the picture from distribution, even though it had only played 2,075 dates during its two-year release. Chaplin gave no reason for the withdrawal, but the Variety item noted that the picture "was badly hurt by opposition of Catholic Church groups which picketed theatres that played it and put pressure on managers not to book it." Memphis censors banned the picture. The film's comic treatment of murder and antiwar sentiments validated already existing anti-Communist sentiments against Chaplin. The combined controversy surrounding this film, his earlier paternity suit, his questioning by HUAC, and his 1952 film Limelight (see AFI Catalog of Feature Films, 1951-60) resulted in a 1952 order by the attorney general to deny Chaplin re-entry into America when he visited London, after which he settled in Switzerland for the remainder of his life.
The film resulted in two lawsuits, one by an Austrian promoter, Robert E. Arden, for breach of contract, and one by a bank clerk who shared the name of the murderous bank clerk in the film, Henri Verdoux. Verdoux attempted to have the film's name changed but was unsuccessful. Chaplin was nominated for an Academy Award for Best Writing (Original Screenplay) for the film. In 1964, after fifteen years of obscurity, the film was re-released to much praise. Allied Artists remade the story in 1960 as Bluebeard's Ten Honeymoons. W. Lee Wilder directed and George Sanders starred in the Bristish version.