DVDs from TCM Shop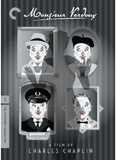 Monsieur Verdoux A man woos and murders rich... MORE&nbsp> $19.47 Regularly $29.95 Buy Now blu-ray
Articles
SEE ALL ARTICLES
Monsieur Verdoux (1947)
Made at the beginning of the Cold War, during a period when Chaplin, the world's most beloved man, became a kind of public enemy in the eyes of America, Monsieur Verdoux was a comedy of murders that expressed the actor/director's deepest misgivings about a society that focused on war and profit. French director Claude Chabrol saw the film when it was first released and later made a film about Landru, the original model for the character of Verdoux. He explains how Chaplin the director triumphs through this formerly maligned film.

Producer: Serge Toubiana
Director: Bernard Eisenschitz
Cast: Claude Chabrol
BW & C-27m. Closed Captioning.
back to top
---
Monsieur Verdoux (1947)
"I believe Monsieur Verdoux (1947) is the cleverest and most brilliant film I have yet made," wrote Charlie Chaplin in his autobiography. Unfortunately, at the time Monsieur Verdoux was released in 1947, almost no one else shared that view. Critics roundly lambasted it. The city of Memphis banned it. Audiences were repelled by it, and for the first time, a Chaplin film lost money. A strange brew of satire, black comedy, melodrama, and angry social commentary (with a bit of slapstick thrown in), it also immediately became Chaplin's most controversial movie. Gone entirely was any glimmer of his beloved tramp. Instead, Chaplin plays an urbane, well-tailored, impeccably mannered Frenchman. When he loses his job as a bank clerk during the Depression, he decides that to continue supporting his family he will marry rich women and murder them for their money. He is caught and put on trial, where he denounces a hypocritical society that sanctions mass killing in a world war but punishes him for killing only a few people.

With a story like that, it's not a stretch to imagine why the public was turned off - not when the story was coming from Chaplin. As the tramp, Chaplin represented man's brightest side and best qualities, and just the sight of him on screen was enough to elicit sympathy. Verdoux, on the other hand, was a calculating murderer, and he represented the depths to which man can sink. Audiences just weren't ready to deal with such an unexpected transformation of Chaplin's image or, for that matter, with such an angry attack on society.

Monsieur Verdoux has its genesis in Orson Welles, who in 1941 came up with the idea of a movie based on the infamous murderer Henri Landru, a Frenchman who was executed in 1922 for murdering eight women. Welles called his story Lady Killer and asked Chaplin to star in it with Welles directing. Chaplin did not want to be directed by anyone else and turned him down; since Welles still thought Chaplin was perfect for the role, he sold him the concept for $5000 and the provision that Welles would receive a screen credit for the idea. (Chaplin agreed, but he did not add Welles' credit to the titles until after the bad reviews started to pour in. Welles complained wryly, "The next day - after they'd all said, 'Who gave him this awful idea?' - up on the screen went my billing.") Chaplin wrote for three years. It was the first time he'd ever written a complete script, as all his prior films had been more or less improvised. By the time it was finished, Chaplin said, "there wasn't a gesture that wasn't written out."

These were troubled years for Chaplin. He was being sued by an old friend for plagiarizing The Great Dictator (1940), a case Chaplin eventually settled. More damagingly, he was accused by actress Joan Barry of fathering her child out of wedlock. Even though blood tests proved this could not have been the case, Chaplin was found guilty and forced to pay child support. (Blood tests were inadmissible as evidence at that time.) Furthermore, in his vocal support of the Soviet Union at a time of growing anti-Communist hysteria, Chaplin was sowing the seeds for his eventual political exile. These episodes and the public outcry they generated may well have had an impact on the angry philosophizing that Chaplin wrote into Verdoux's courtroom speeches.

Either way, audiences and critics didn't especially care - they just didn't like it. "A woeful lack of humor or dramatic taste," said the New York Herald Tribune. "It is a pity to see so gifted a motion picture craftsman taking leave of his audience." Chaplin vigorously defended his film, telling The New York Times, "I saw a great chance to take a tragedy and satirize it, as I did with Nazi Germany in The Great Dictator. Crime becomes an absurdity when it is shown incongruously, out of proportion. Under the proper circumstances, murder can be comic.Von Clausewitz said that war is the logical extension of democracy; M. Verdoux feels that murder is the logical extension of business. But he is never morbid, and the picture is by no means morbid in treatment."

Chaplin did have a few supporters. James Agee, writing in The Nation, famously praised the film, describing it as ahead of its time and as "high among the great works of the century." Director Luis Bunuel called Monsieur Verdoux and The Gold Rush Chaplin's two best films. And Hollywood expressed its admiration by nominating Chaplin's screenplay for an Oscar®. In hindsight, Monsieur Verdoux remains a fascinating, unusual, and provocative departure from Chaplin's previous work.

Producer/Director: Charles Chaplin
Screenplay: Charles Chaplin, Orson Welles
Cinematography: Roland Totheroh
Film Editing: Willard Nico
Art Direction: John Beckman
Music: Charles Chaplin
Cast: Charles Chaplin (Henri Verdoux), Ada-May (Annette), Marjorie Bennett (Marie's Maid), Isobel Elsom (Marie Grosnay), Audrey Betz (Mme. Bottello), Marilyn Nash (The Girl).
BW-119m.

by Jeremy Arnold
back to top
---