DVDs from TCM Shop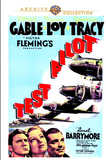 Test Pilot An irresponsible test... MORE&nbsp> $17.56 Regularly $21.99 Buy Now
NOTES
Some reviews and modern sources call the character played by Spencer Tracy "Gunner Sloan"; the onscreen credits say only "Gunner," and his surname is only spoken once, by Clark Gable's character, who calls him "Gunner Morse." The title Test Pilot was first announced by M-G-M in 1933. According to news items in Film Daily and Hollywood Reporter, Jean Harlow, Wallace Beery and Jimmy Durante were to star in the picture with Clark Gable, that was to be filmed partially on location at Wright Field in Dayton, OH by special permission from the the U.S. War Department. A February 1, 1936, Hollywood Reporter news item noted that M-G-M was buying the story "Test Pilot" by Frank Wead for a Lucien Hubbard production to be adapted by Bertram Millhauser for Gable. In late April 1937, another Hollywood Reporter news item noted that Homer Berry and John Lee Mahin were doing a treatment for the film. Wead, who was himself an ace pilot, is credited on the screen with the original story (for which he received an Academy Award nomination), and Vincent Lawrence and Waldemar Young are credited with the screenplay. No other sources credit Millhauser, Mahin or Berry, and the extent of their participation in the completed film has not been determined. Although Gable was mentioned in sources from 1933 through production as the star of Test Pilot, it is possible that the 1933 title referred to an unrealized project and is only coincidental to the 1938 film.
Some reviews indicate that events in the film were based on the life of test pilot James "Jimmy" Collins. Collins died in 1935 in a plane crash similar to the one in the film in which character Greg Benson dies in a nose-dive crash after his plane loses its wings. According to news items in Hollywood Reporter and Motion Picture Daily, Collins wrote a book called Test Pilot shortly before his death. In July 1938, Collins' widow, Dolores Collins, filed a suit against M-G-M charging that the studio had plagiarized her husband's book. The suit was settled in late 1938 when the judge ruled against Collins saying "I am satisfied that there was nothing in the motion picture that confirmed this came from the plaintiff's story."
According to a news item in Hollywood Reporter on December 1, 1937, actress Janet Beecher was signed to play the part of Myrna Loy's mother; however, Claudia Coleman played the the role in the released film. An article in Life magazine state that portions of the picture were filmed at March Field, CA, and that the final airplane crash of the film was based on another 1935 incident in which the first "Flying Fortress," a Boeing 299, went down. Articles in Hollywood Reporter prior to the beginning of principal photography noted that location work at the Cleveland Air Races was being done by pilot Paul Mantz, M-G-M legal department representative Harry Prinzmetal and assistant director Cullen Tate. Hollywood Reporter and International Photographer list additional backgrounds and location shooting at Chino, CA, Van Nuys Municipal Airport, Mines Field, Metropolitan Airport and Union Air Terminal in Southern California, Lindbergh Field in San Diego and Langley Field in Virginia. International Photographer also notes that the picture was scheduled for thirty-five days of location shooting on a seventy day shooting schedule, and that it was the first aviation picture made by M-G-M in several years.
The Motion Picture Herald review noted that the studio held previews of the picture simultaneously in Westwood and New York on a Thursday and opened it the next morning, usually a sign that the picture would not do well. The review further noted but that this would definitely not be the case for Test Pilot, which had the added plus factor that Loy and Gable had just been named the "King" and "Queen" of Hollywood. (This was a reference to a poll of over 20,000,000 fans conducted by fifty-five metropolitan newspapers, and sponsored by New York Daily News and ChicTrib. Reviews also noted that the film would receive added attention because Tracy had just won an Oscar for Captains Courageous. The picture was one of the top box office films of the year and, though it received many positive reviews, several critics mentioned that the film was "too exciting" and would not be suitable for young children. The picture was nominated for three Academy Awards: Best Film Editing, Best Writing (Original Story) and Best Picture. Robert Taylor and Rita Hayworth appeared in a Lux Radio Theatre adaptation of the story on May 25, 1942.