DVDs from TCM Shop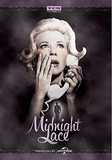 Midnight Lace A young woman can't get... MORE&nbsp> $18.36 Regularly $19.98 Buy Now
USER REVIEWS
See Detailed Ratings
Acting of Lead Performers

Acting of Supporting Cast

Director

Music Score

Title Sequence

Screenplay

Cinematography

Historical Importance

Would You Recommend?

0 Member Ratings
Rate the acting of the Lead Performers

Rate the acting of the Supporting Cast

Rate the Director

Rating of the Music Score

Rating of the Title Sequence

Screenplay

Creatively uses the camera to tell the story

Importance in Cinema history

Would you recommend for fans of this genre
Submit Ratings
Cancel
Write a Review
Read Reviews
NO REVIEWS AVAILABLE
The title has not been reviewed. Be the first to write a review by clicking here to start.
Missed potential

Great cast except for Day, but her awful, whiny, ridiculous performance ruins the film. That screaming scene in the elevator was the shark jump for me. I did enjoy how so many characters were kept up as possible suspects for so long (and I say that as someone who regularly guesses the culprit/secret immediately), but there were also several obvious flaws or disappointments in the plot. Glad I can check it off my list but I wish I'd merely read the synopsis. Adding the review to help bump down the horrible spoiler-filled one below off the page.

Tall, Dark, &- Who?

Whoever the actor was that played Roy was enigmatic in this part. All the others- at the height of their popularity, couture & home furnishings - were too much themselves but managed to gut out a passable damsel in distress thriller and collect their pay checks. 'Roy' was the true mystery throughout the movie.

stone cold doris day

when 60s and 70s hippies and a pissed james Baldwin can not kill your legacy.. you got superpower. put your money on doris day to get through this story.

Forgettable, paint by numbers thriller

A subpar mystery, despite the star power. Doris Day is okay but miscast as the lead. Rex Harrison and Myrna Loy are fine. The overall performances didn't enhance anything here.

Doris Day and Myrna Loy

This is a good film but not as solid or as gripping as "Dial M For Murder." Nevertheless, anything with Doris Day and Myrna Loy, two endlessly talented women , is worth watching. They are elegant, well-paired, emotionally powerful and believable in their respective roles. They become the heart of the film. This is a film well worth one's time.

Predictable, repetitive, boring (except for Loy)

I am a huge Doris Day fan. I own several of her movies and can sing the entire Calamity Jane soundtrack. So when I saw the commercial for a Day movie I had never heard of, I was excited. Well now I know why I had never heard of this film. A very predictable, slow, repetitive film in which Day overacts several times. Scenes went nowhere at times and were disjointed. The movie only came to life when Myrna Loy and the Inspector were in the scenes. Wow. Truly amazed. But glad I watched it. Again, now I know why this is a lesser known film. Sigh

4 out of 5

Saw it on TCM Dec, 30, 2016.A thriller, with several possible endings to guess at. Doris Day should have won best actress awards for it.

Spoiler

Been waiting a long time to watch this movie. Saw it's coming on tonight. Checked "User Reviews". First review at top reveals the culprit. Thanks a bunch. :-(

Midnight Lace

This is one of the best movies I have ever seen. I was totally fooled and scared out of my wits. Doris Day's husband was the last person I ever suspected of wanting to kill her. In the later scene when she and her husband were out on the balcony and that terrible mocking voice threatened to kill her I thought I would have a heart attack I was so scared. Then I realized that it was her dear devoted husband who wanted to kill her and I couldn't believe it. I had counted on him to save her! I hope that movie comes on again as I never get tired of seeing it. I saw it as a young college educated adult but was still scared out of my wits! I give this movie five stars for everything!

Midnight Lace

I remember being terrified when I saw this movie as a child. It is full of suspense and I love it. I am upset, however, that it was promoted on TCM as being available on DVD from this sight and all I see is that it is not available. If it's not available, don't advertise that it is!

Midnight Lace

I'd like to see it. I've never seen it before.

Midnight Lace

Superb performance by Doris Day. When will it be released by TCM in DVD/Blu-Ray? Please let me know. Love this film. Thank you,Haydee Isabelle

Wonderful Movie

This is by far the best Doris Day movie out there. Last summer I was in Paris. This movie ran constantly on the French TCM. I have been checking constantly on American TCM, but I haven't seen it. Why not???? It's really great!

TCM used to air this - why no more?

This movie had me on pins and needles. Doris is a brilliant crazed woman - the story and plot twists gripping. Why does TCM focus only on her lighter musicals (always delightful)? This is just one of many movies TCM has mothballed, without explanation. Please bring it back, TCM, and help get a DVD out there!

When is this going to be released on DVD?

This is one of two Doris Day movies missing from my collection and I keep hoping that it will be released. Fortunately we have had so many wonderful movies become available recently so I'm keeping my fingers crossed that this will happen sooner rather than later. No true collection would be complete without it. Loved Rex Harrison's villainous turn in this as her husband. It seems so against type, but it is such fun to watch! Hopefully it will be available to purchase soon!

A STAR!!!

I've seen everything Doris Day has ever made and I own every movie in DVD form she's made (except Midnight Lace), from Calamity Jane, It Happened to Jane, Glass Bottom Boat, The Man Who Knew Too Much, Love Me or Leave Me, Pillow Talk, That Touch of Mink and so on ...of course she was fantastic in all the comedies she played in because she did the physical stuff with ease and was adorable doing it and because she was the girl next door she was so believable. My dad said that growing up and listening to her on radio they all called her Dodo....she was an amazing actress ... dancing, singing and making you laugh out loud in some movies then the fear in her voice, eyes and body language in movies like Midnight Lace or The Man Who Knew Too Much. Hollywood will never be the same without these iconic actors ... I'm a fan of such actresses now as Meryl Streep and Julia Roberts ... but a bag full of either couldn't keep up with Miss Day or the other women that were from the golden age of Hollywood....

One of my top 10 favorites

The beginning is so creepy with the voice coming outta the fog. The scene where Doris has her 'breakdown' should have gotten her an Oscar nomination. This movie is as good as Rear Window, Vertigo, and The Man Who Knew Too Much. Don't watch it by yourself in the dark!!!

Midnight Lace

I love all the romantic comedies and musicals that Doris Day has starred in, but Midnight Lace was the first time I had seen her in a thriller. I saw it, but my daughter missed it. So hoping you will show it again so she can see it. Loved the interview on npr and would love for Doris to be more open will appearances. I know she doesn't even give many interviews, so this one was special.

MIDNIGHT LACE

I MISSED THE AIRING OF MIDNIGHT LACE. WILL IT BE AIRING AGAIN ANY TIME SOON. I LOVE THIS MOVIE AND CANNOT GET A DVD OF IT. ALL THE DVD'S I HAVE SEEN ARE ONLY FOR REGION 2. WHEN WILL WE BE ABLE TO PURCHASE THE DVD IN FOR REGION 1? I HAVE RATED THIS MOVIE BASED ON THE MEMORY I HAVE OF THE MOVIE.

Intense Doris Day

I've seen most of Doris Day's films, her musicals, dramas and comedies. "Midnight Lace" has to be the one in which she gives her most intense performance. While watching it I sometimes can't believe it's her, especially after seeing her in all those musicals and comedies. I saw ML again on TCM 4/4/12 as part of their SOTM tribute to Day, and Bob Osborne said in his intro (and also after it was over) that Day drew on her own experiences from her first two failed marriages (abuse and jealousy) to play Kit Preston, a woman being terrorized by death threats from a disembodied voice and unable to convince anyone (her husband, aunt and the police) that she's in grave danger. Her 1956 film "Julie" had a similar woman-in-danger theme, but that one was in B&W and had a much grimmer and darker look and feel to it. ML was in color and didn't seem to work as well. If I had to choose between the two films I'd go with "Julie". Bob also said that while making ML Day suffered a mental breakdown from having to express all those intense emotions, swore that she'd never do another drama, and from then on made only comedies.

Midnight Lace

Please play Midnight Lace again, I missed it when you showed on April 4th!!!!! I can't find it on DVD anywhere!!!

Doris Day all the way

"Midnight Lace" stars Doris Day, the #1 female box office star of all time who also had a host of hit songs. Like the super successful singer-actor Bing Crosby, she refused to lend her talent to any project that promoted questionable morals. She is a living legend. This movie is a lot like the Boyer-Bergman forties film "Gaslight" and "Dial M for Murder" with Milland and Kelly. The latter was made before "Midnight Lace" and also is a thriller (more so then than now), also has a blond American lady married to a dapper and sly English gentleman in England, and also features the impressive John Williams as an outwitting inspector. I believe "Dial M for Murder" to be more thrilling intellectually, while "Midnight Lace" tops the Hitchcock film on an emotional level. The "heavy footsteps" scene is as effective today (I just watched the film for the first time tonight) as it was 52 years ago. The "voice" may sound even more odd today than yesterday, and has a haunting resemblance to the one from the early eighties hit song "Video Killed The Radio Star."

Why is it held hostage?????????????????

What is the hold up in releasing this on DVD. I have waited years for this one. It is her best

Midnight Lace

This is a great movie. Will it ever be avaiable on DVD ?????

Midnight Lace

I love this movie. Will it ever be on DVD to sell. Please sell this movie to the public. I would love to have this movie in my DVD collection.

Dial M For Mush.

Someone mentioned that this has the flavor of Hitchcock, but it's more like the smell. Before you pile on, I probably love this movie as much as you do, but maybe for different reasons. Let's face it, it's about the wardrobe as much as it's about anything. The movie's named after a negligee, for Pete's sake. It seems like it was Ross Hunter and Jean Louis looking for new worlds for Doris to conquer, much like they'd done with Lana Turner in "Portrait In Black". Let's put her in fabulous frocks and scare the bejeezus out of her! Doris had already gone this route in "Julie", but in much plainer outfits and in black and white. "Midnight Lace" was her moment to shine and she did not disappoint. Not much scenery was left unchewed, and isn't that what this type of picture was all about, reducing all that expensive decor to rubble by the time the heroine was done emoting? It's a giddy thrill ride, with all the predictable clues and red herrings jumping out at you along the way. I loved this as a nipper and I love it today and I couldn't agree with everyone more...PUT THIS OUT ON DVD!!!

Midnight Lace

Kimberly Williams

9/17/11

I absolutely love this film. I think it was the best movie Doris Day has ever done. It made me look at her as a real actress and not just a comedian actress, which is what the majority of her films were.

Doris Day Was The Greatest!

Doris Day box office queen supreme made several great films at Universal with Ross Hunter that may just have saved Universal! ( then known as Universal International) I cite Day's comedies Pillow Talk, Lover Come Back, The Thrill Of It All ,and Send Me No Flowers, and this splendidly film suspense drama set in London but made at Universal on its sound stages and backlots. Rex Harrison is cast as the Male Lead and John Gavin from the Universal contract player list adds gallant charm. Ross Hunter loved women and went out of his way to cast some of the veteran movie queens in his films: Constance Bennett, Anna May Wong, and in this film the grand Myrna Loy. Ms. Loy in interviews noted how gracious Doris Day was to Her. I liked this film, and I recommend it.Doris Day was #1 for 5 years in a row, and her record remains intact to this day. Not even Garbo had such a run.

Spellbinding Doris Day performance

MIDNIGHT LACE (1960) challenged Doris Day to perform at a nerve shearing level and as usual she rose to the occasion. Having spent an acting career making mostly wonderful comedies, this beautifully and artfully acted mystery,Midnight Lace, firmly established Day as a truly sincere dramatic actress to the first degree. Universal, please make available this movie for DVD distrtibution, so her many adoring fans may view it. Thanks very much.

Midnight Lace (1960)

Very good thriller with Doris Day playing against type. Myrna Loy is very good as well. Please release to DVD very soon.

Midnight Lace

It's been awhile since I've seen this movie but I think of it often. The story is excellent, filled with suspense and top-notch acting. As someone who enjoys Doris Day in her singing and comedy roles, this showed another side to her acting skills which I respect and appreciate. She was as believable as I've ever seen anyone in this type of role. Would love to be able to purchase this on a DVD. My VHS home-recorded version has wasted away to nothing!

Midnight Lace

Midnight Lace has it all; suspense, twists and turns, Doris Day at her dramatic best, great supporting actors and great color and backdrop. I could watch this movie over and over and never get tired of it! It's a Doris Day Classic and needs to come out on DVD!!!!

Midnight Lace

This is a great movie. Doris Day is a fantastic actress. The movie has an unexpected twist; great for those who enjoy suspense films. Please play it again soon.

Midnight Lace

I saw "Midnight Lace" a few years ago on TCM, loved it. Doris Day was truly a versatile actress/singer. I have been waiting to see it again. Why is this great thriller not out on DVD yet??? Come on, TCM your faithful movie fans are imploring you to bring this little known treasure to the forefront. I patiently wait for it to be shown again...sooooon???

midnight lace

midmight lace had the flavor of hichcock's dial m for murder. it was a welcomed change for doris day;meladramatic,but loved it.

Midnight Lace (1960)

Great thriller. Beautiful color. Always like Doris Day movies. Great to see Myrna Loy in anything.

midnight lace 1960

it would be nice if you showed this film on tcmi haven't seen this film in a long long timei could watch it 100 times and never got boarded with it

Midnight Lace

I was so sad to see that this movie is not on DVD. Please count my vote in favor of getting it released. Has it been on TCM, lately?

Midnight Lace-still a classic film

Please show this film on TCM. Even after 50 plus years it is very contemporary in theme and the cast is excellent. Doris Day is very convincing as the terrified victim. Rex Harrison oozes malevelent charm and Jon Gavin plays a low key but appealing hero. Then, too, Myrna Loy and Herbert Marshall add the spice of the seasoned thespian even though they play minor roles. Mystery fans should love it.

Very good movie

This is a very good movie and has a surprising ending. I ask for it to released on DVD.

Midnight Lace

Would really like to see this version again, one of the great classics, actresses and actors, like Grace Kelly, Barbara Stanwick, Sophia Loren,Stewart Granger etc.

Great Movie

Great movie holds your attention thruentire movie.

MIDNIGHT LACE

I haven't seen this in years, and would love to see it again. I just saw 'Julie' on TCM, another great Doris Day mystery/thriller, and it made me think of 'Midnight Lace'.

MIDNIGHT LACE

Here's another great movie that should be released to the public on DVD to enjoy.

schedule movie, Midnight Lace with Doris Day

Would love to watch Midnight Lace on tcm.I watch this channel more than any other channel on tv and love your classics. Also would like to be able to purchae this movie for my sister on DVD. We both are very big Doris Day Fans. Thank you for considering this request.C, Peters

WOW!

I happened to see this a few monthes ago. What a great movie! I havent been able to stop thinking about it since i saw it. Ive been checking on TCM to see if they are planning on airing it again (no luck). I really wish they would release it on dvd and soon. Doris Day & Rex Harrison some of my favorite actors which a great story line. I loved everything about it!

All the good ones aren't on DVD:(

This is one of the best movies!!!! Come on TCM, we need it on DVD!! :)

DORIS DAY TOPS HERSELF IN THIS THRILLER

THIS PSYCHOLOGICAL THRILLER SHOWS THERANGE OF DORIS DAY'S TALENT. SHE ISTOTALLY BELIEVABLE AS HER PORTRAYAL OFA WOMAN ON THE EDGE OF A BREAKDOWN INAN ACADEMY AWARD PERFORMANCE, WHICH DAYSHOULD HAVE RECEIVED.REX HARRISON WAS A PERFECT MATCH IN THISINTRIGUING FILM ALONG WITH JOHN GAVIN'SSUAVE APPEARANCE KEPT ME MESMERIZED.

I love this movie!

I love Doris Day. Any movie with Doris Day is a favorite of mine.

Midnight Lace Rocks

Midnight Lace is a great film. It's similar to Hitchcock's "Dial M for Murder" only way better. I can't believe that this is not available on DVD!
*We protect your personal infortmation and will not provide it to anyone without your consent. For a complete explanation, please refer to TCM's Privacy Policy. By submitting your contribution, you agree to TCM's Terms of Use.