DVDs from TCM Shop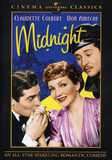 Midnight An unemployed showgirl poses... MORE&nbsp> $10.65 Regularly $14.98 Buy Now
Home Video Reviews
"From the moment you looked at me, I had an idea you had an idea," cracks Claudette Colbert in
Midnight
(1939). That sharp dialogue is the work of screenwriters Billy Wilder and Charles Brackett, whose brilliantly constructed plot, combined with Mitchell Leisen's light directorial touch and a whole bunch of great performances, makes
Midnight
an effervescent comedy classic. It's now out on DVD from Universal.
Things get off to a madcap start at a Paris train station. A train pulls in on a rainy night, with Colbert on board in a swanky evening gown - but it's all she owns. Colbert is Eve Peabody from Indiana, who chiseled a rich Englishman out of a heap of money and promptly blew it all in Monte Carlo. Now she's come to Paris with no real plan. This being a screwball comedy, however, she immediately "meets cute" with Don Ameche, a Parisian taxi driver, who succumbs to her charms and drives her around town to look for a job. She likes his charm, too, but before we know it, she ditches him, accidentally crashes a society cocktail party, and must pretend to be a filthy-rich Hungarian baroness.
Through plot turns too zany to recount here, she soon finds herself with a suite at the Ritz, thousands of dollars' worth of chic clothes, a chauffeured limousine, and an invitation to a country house where she must keep up the ruse. John Barrymore is her enabler, as he wants Colbert to steal away his wife's (Mary Astor's) lover. Ameche, meanwhile, has organized an army of taxi drivers to track Colbert down, and when he finds her, he joins the play-acting at the country house and keeps the comedy antics moving at breakneck pace.
The story is a delightfully fizzy version of Cinderella - hence the title, which refers to the fact that "every Cinderella has her midnight." John Barrymore is usually singled out for his incredible comic performance here, and he deserves the praise, but Claudette Colbert deserves huge credit as well. She reveals more with her facial expressions and body movement than any filmmaker could reasonably seem to expect: her performance is a work of art that drives this movie.
While Wilder came to hate Leisen for messing up his screenplays
Arise, My Love
(1940) and
Hold Back the Dawn
(1941), leading Wilder to become a director himself,
Midnight
was the one Leisen-directed title that Wilder really liked. In Cameron Crowe's book
Conversations With Wilder
, Wilder calls
Midnight
the best work Leisen did based on Wilder's work, and admits that the finished movie was very faithful to the original screenplay. Wilder also reveals that
Midnight
was Claudette Colbert's favorite movie of her own work.
Universal Studios Home Entertainment has released
Midnight
as part of a group of four classic Paramount comedies (Universal controls the rights), each sold separately. The others are
She Done Him Wrong
, Mae West's saucy 1933 pre-Coder,
Easy Living
, a 1937 screwball with Jean Arthur written by Preston Sturges, and
The Major and the Minor
, Billy Wilder's 1942 directorial debut starring Ginger Rogers passing herself off as the "minor" of the title. Simply put, these are all wonderful films at exceptional prices. The only extras you'll find are an odd cartoon or trailer, though each has an intro by Robert Osbourne. Image and sound quality are good, and one wishes Universal would put out its classics more often, especially since they are hard to find on television.
For more information about
Midnight
, visit
Universal Home Video
. To order
Midnight
, go to
TCM Shopping
by Jeremy Arnold