DVDs from TCM Shop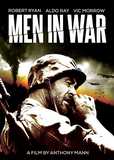 Men in War Two enemies join forces to... MORE&nbsp> $14.96 Regularly $19.95 Buy Now blu-ray
NOTES
DVDs from TCM Shop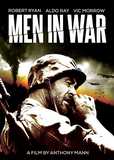 Men in War Two enemies join forces to... MORE&nbsp> $14.96
Regularly $19.95 buy now
The film opens with the following unidentified quotation: "Tell me the story of the foot soldier and I will tell you the story of all wars." Throughout the film, Robert Keith, who portrayed "The colonel," had no dialogue. Late in the film his character tries to speak at two different junctures but cannot. His only word of dialogue comes just before he dies when he says "son" to the character "Montana," played by Aldo Ray.
According to various Hollywood Reporter news items, portions of the film were shot at the following Southern California locations: Bronson Canyon, Malibu Canyon and at the Hill Ranch in Thousands Oaks. Other news items add that the film's scoring was done at the Samuel Goldwyn Studios and that star Robert Ryan had a profit participation deal with producers Sidney Harmon and Philip Yordan. Although an early press release contained in the film's file in the AMPAS Library indicates that it was to be a Philip Yordan Productions, Inc. production, only Security Pictures was listed in later sources as the production company. Some modern sources state that Yordan acted as a front for blacklisted screenwriter Ben Maddow and that Maddow actually wrote the film. According to WGA information, however, no change in the credits had been designated for the film, and none had been requested as of 2005.
As noted in a February 21, 1957 Hollywood Reporter news item, the U.S. Army (which the film's pressbook indicated had cooperated in the film's production) later objected to it. According to the news item, the Army refused to participate in a planned premiere in St. Louis, MO because scenes within the film allegedly offended "the dignity of commissioned and non-commissioned officers." According to a August 6, 1957 Hollywood Reporter news item, the film was made for under $1,000,000 and, although it took in only $500,000 domestically at the box office, it took in over $2,000,000 outside the U.S.
Actor Anthony Ray, who portrayed "Penelli" in the film, was the son of director Nicholas Ray. Men in War marked his motion picture debut. The film also marked the first United Artists release for director Anthony Mann and the only war/combat film made by the director, who is most notable for his Westerns from the 1940s and 1950s. Men in War was also the first of two films in which Mann directed Ryan and Aldo Ray. In 1958 Ryan and Ray co-starred in Mann's God's Little Acre.