DVDs from TCM Shop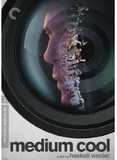 Medium Cool A TV news cameraman finds... MORE&nbsp> $22.95 Regularly $29.95 Buy Now blu-ray
Trivia
In the psychedelic nightclub sequence, the band seen performing on the stage is The Litter, a Minneapolis-based group. However, in the original release version, their music is not heard; instead, we hear a piece by Frank Zappa's Mothers of Invention.
Film was originally rated "X", but re-rated "R" after an appeal.
The main character was originally called "John Cassavetes", and was going to be played by the actor-director of that name. When John Cassavetes withdrew from the film due to a scheduling conflict, the character's name was changed to "John Cassellis" and Robert Forster was cast.
When the film was released on video, Paramount was sued by the copyright holders of the song "Merry-Go-Round". Under their 1969 agreement, Paramount had rights to the song for showing the film in theatres and on television. Paramount argued that video release was the same as television broadcast. The courts ruled that the copyright holder in 1969 could not have considered videocassettes to be like television broadcast, as home videocassettes were not invented.
The line "Watch out, Haskell, it's real!" was actually dubbed in after the shooting. It was supposedly what Haskell was thinking to himself and he wanted to include it.