DVDs from TCM Shop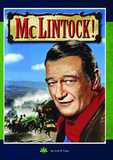 McLintock! A cattle baron fights to tame... MORE&nbsp> $10.95 Regularly $14.99 Buy Now blu-ray
Home Video Reviews
"Can't live with 'em, can't live without 'em." No matter how enamored you are with a spouse, partner, or significant other; there will inevitably come a time (brief as it may be) when that person irritates you to no end. I know, in your current state of romantic bliss this sounds unlikely, right? Well, trust me people; it is only a matter of time. Whether the love of your life forgets an anniversary or simply leaves the toilet seat up, conflict will rear its ugly head in any relationship eventually, and when it does, take comfort in knowing you are not alone.
With a volatile chemistry unrivaled in Hollywood, few couples demonstrated the explosive potential of a lovers quarrel more garishly on screen than John Wayne and Maureen O'Hara in the classic comedy western,
McLintock!
(1963). Recently released by Paramount Home Video, as a Special Collector's Edition DVD,
McLintock!
details the all too familiar love/hate dichotomy that drives some to the brink of insanity. A rather conventional theme for romantic comedy, this film presents an interesting twist on Shakespeare's
The Taming of the Shrew
by incorporating an unexpected Wild West setting and a slew of sensational stunts. Featuring a corral full of stars willing to get their funny bones dirty,
McLintock!
ultimately delivers big laughs, for as outlandish as this film might be certain principles of humor ring universally true.
Having first settled the territory, cattle baron George Washington McLintock (John Wayne) remains content to lead the raucous lifestyle that he and many other folks adopted as pioneers. The head honcho in a town baring his name G.W. lives by the "work hard/play hard" philosophy, unfortunately the latter half of this credo has a price. In G.W.'s case this leisure tax comes in the form of his prim and proper wife Katherine (Maureen O'Hara). In returning to McLintock, after a two-year hiatus from her husband, Katherine intends to pick up right where she left off, smack dab in the middle of a domestic dispute. As daughter Becky (Stefanie Powers, who you may recognize from the 1980's TV series
Hart to Hart
) comes home from college, the young girl's future remains a topic under parental review. Here the stage is set for Katherine to launch her attack, as this insubordinate wife makes every effort to regain custody of Becky and return to the refinements of the east, in spite of G.W.'s thoughts on the subject. Thus the proverbial first shots are fired, as Katherine and G.W. lock horns verbally and buck head physically, in one of this fiery duo's most entertaining and memorable performances. Despite rodeos, fistfights, an Indian raid, and a spanking or two (yes, you heard me right, an old fashioned spanking) Katherine still finds time to "rub salt in the wound." Severely aggravated, but still in love, G.W. retaliates (in a style befitting of John Wayne) and no man, woman, or child can evade the mayhem of this last ditch effort to save his marriage.
Directed by Andrew V. McLaglen, son of actor Victor McLaglen (who appeared with Duke in John Ford's heralded "Cavalry Trilogy"),
McLintock!
's rowdy sense of humor remains the film's signature. Well suited for the likes of John Wayne and Maureen O'Hara, the hilarity culminates in an absurd skirmish awarded its own featurette on the Collector's Edition DVD entitled, "A Good Ol' Fashion Fight." As tempers flare between G.W. and Jones (Leo Gordon, who appeared beside Duke in 1953's
Hondo
), McLintock vows, "Oh, I know...I'm going to use good judgment. I haven't lost my temper in 40 years, but pilgrim you caused a lotta trouble this morning...mighta got somebody killed... and somebody oughta belt you in the mouth...but I won't...I won't." Here Wayne takes a dramatic pause before uttering, "The hell I won't!" and roundhouses Gordon right across the face, sending this character down an adjacent mudslide and inciting the rest of the cast into a frenzy of fisticuffs. As everyone and their neighbor joins in on the messy melee, stunt coordinators and stars alike descend the slimy shoot of bentonite in a fight sequence for the ages. Even Maureen O'Hara, still recovering from earlier stomach surgery, slips in the mud and glides into the dreaded pool below. O'Hara describes this scene in full detail when interviewed for the bonus featurette and has absolutely no qualms about telling the viewer what a miserable time she had filming this particular segment. With that said, the brawl alone is worth the price of admission and the accompanying interviews should only heighten one's appreciate for the choreographed chaos.
McLintock!
proves to be as pleasurable to watch as it was to make (Maureen's complaints about the mud aside). The success of this film, undoubtedly a product of the relationships John Wayne maintained off camera, resulted in a much needed box office success. A Batjac film (the production company founded by John Wayne and Robert Fellows),
McLintock!
rejuvenated a company that had carried several less profitable films over the previous years. In casting friends and family, a fairly routine practice for Batjac, Wayne bet on such trusted figures as Chill Wills, Bruce Cabot, Michael Pate, Chuck Roberson, and his sons Patrick and Michael Wayne. Having worked in front of the camera with his father on such films as
The Searchers
(1956),
The Alamo
(1960), and
The Comancheros
(1961), Patrick Wayne in the role of Devlin Warren (G.W.'s cowhand and Becky's primary suitor), stepped from behind Duke's towering shadow and truly established himself as a commodity in Hollywood. Although Patrick would continue to appear with his father in films such as
Green Berets
(1968) and
Big Jake
(1971), other opportunities soon arose including roles alongside Jimmy Stewart in
Shenandoah
(1965) and starring roles in
Beyond Atlantis
(1973) and
Sinbad and the Eye of the Tiger
(1977).
McLintock!
also enabled Michael Wayne to display his skills as a savvy businessman. Although Michael at one point had aspirations of attending law school he found himself drawn to the film industry and with the aid of his father, Michael slowly ascended the ranks of the studio system. With an inaugural effort as producer on
McLintock!
, Michael cemented his career in Batjac's front office and would later produce such titles as
Chisum
(1970),
Cahill U.S. Marshal
(1973), and
McQ
(1974). As a homage to his career the Collector's Edition DVD includes a featurette entitled, "The Batjac Story Part 2: The Legacy of Michael Wayne." This documentary outlines Michael's remarkable achievements, most importantly those accomplishments eclipsed by the success of his father. Dedicated to Duke's legacy, Michael Wayne oversaw the operation of Batjac along with two other major ventures. With his father's passing in 1979 (after a second bout with cancer), Michael Wayne helped develop the John Wayne Cancer Institute, eventually becoming Chairman of the Board. This organization, dedicated to finding a cure for cancer, uses the Wayne name as a means of drawing attention to an otherwise silent killer. In addition to this cause, Michael Wayne also managed the daily operations of Wayne Enterprises, a company that still oversees the licensing of John Wayne merchandise. One can only marvel at Michael Wayne's dedication to his father, and we the viewers certainly owe him a great deal since his diligent efforts (until his death in 2003) led to the restoration of several John Wayne classics, including
McLintock!
.
Presented in brilliant Technicolor via a colossal aspect ratio of 2.35:1,
McLintock!
remains a timeless comedy classic. With commentary from Leonard Maltin, Maureen O'Hara, Stefanie Powers, Michael Pate, Michael Wayne, Andrew McLaglen and others, this Special Collector's Edition DVD draws informative and comical stories from numerous sources, each invaluable additions to this home video.
For more information about
McLintock!
, visit
Paramount Home Entertainment
. To order
McLintock!
, go to
TCM Shopping
.
by Christian Pierce