DVDs from TCM Shop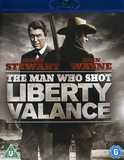 The Man Who Shot Liberty Valance An experienced gunman and a peace-loving tenderfoot clash... MORE&nbsp> $11.95 Regularly $17.99 Buy Now
USER REVIEWS
See Detailed Ratings
Acting of Lead Performers

Acting of Supporting Cast

Director

Music Score

Title Sequence

Screenplay

Cinematography

Historical Importance

Would You Recommend?

0 Member Ratings
Rate the acting of the Lead Performers

Rate the acting of the Supporting Cast

Rate the Director

Rating of the Music Score

Rating of the Title Sequence

Screenplay

Creatively uses the camera to tell the story

Importance in Cinema history

Would you recommend for fans of this genre
Submit Ratings
Cancel
Write a Review
Read Reviews
NO REVIEWS AVAILABLE
The title has not been reviewed. Be the first to write a review by clicking here to start.
come on.........

The sets are cheap looking and the leads are WAY too old. Love every frame since my father took me to see it at the State Cinema in Stoughton Ma when I was ten.

Locating Shinbone

The area is definitely Southwest Colorado. The "Picketwire" is a mispronunciation of the French name "Purgatoire" a river named by early French trappers and explorers. If you are a poorly educated cowboy and you hear someone say Purgatoire quickly you may hear picketwire. In English of today it's called Purgatory and there is great skiing to be had there.

What a Western!

I view this film every single time it is on TCM and, IMO, it's not televised often enough. It's as valuable today as it was when it was filmed. The bully gunslinger is now the dictator in today's world. Alas, the man without a gun, the Statesman, is not as prevalent as they should be but We THE PEOPLE still matter as much as they did in the Old West. It didn't take John Ford to make me in awe of those who came before us and established out country and did it against all odds. John Ford just understood that we all needed to see the Old West as a reminder of the sacrifices made so that we can live in this great country. This is an amazing film filled with much to digest but what a feast!

Figuring out the "real" location of Shinbone.

Okay, this is just to add to Rob Mixon's article on Liberty Valance, and the possible location of Shinbone. Mixon suggests that this may be New Mexico or Oklahoma, and I think those are reasonable guesses, however, I am going to inject an argument here, based on the same reasoning as Mixon; the classroom.Abraham Lincoln's portrait is prominently displayed next to the "thirty nine star US flag", which is going to land the time period for Liberty Valance's reign of terror, sometime between 1861 and 1865, as typically in a US classroom, we would only see the sitting president displayed. Now, more recently in a US school, we might see Washington and Lincoln displayed together, but not likely Lincoln without Washington, and frankly, the reconstruction period following the war between the states was messy and lasted until 1877. Lincoln would simply not hold the legendary status he enjoys today so soon after the war, so it is safe to assume Lincoln was in office at the time.The stars on the flag, which I have not counted, are either a mistake in the math, or simply a typical Hollywood mistake, which I think is more likely. The Picketwire is a river exclusive to Colorado, and frequent mentions place Shinbone to be south of it. New Mexico and Oklahoma are both good guesses, but neither was added to the Union until after 1900, so I think we can rule them out. Nevada (1864) is west of the river, and Nebraska (1867) To the north of, the Picketwire.So based on the geography, and timeline, the only logical conclusion would be that Shinbone's location is Colorado. Arizona, New Mexico and Oklahoma really being the only other states that could reasonably be described as having territory "south of the picketwire", and Colorado being the only territory relative to the location that would have been debating statehood at that time.

Love this film

Most of the comments from my fellow reviewers follow my sentiments exactly. I love John Wayne films. My own personal favorite is Rio Bravo. Though I will say there are many of his films I enjoy watching over and over again as the years go by. Thank you TCM. Please keep having John Wayne days.

"The United States is a republic ...

and in a republic, the people are the boss" said Ransom Stoddard BEFORE he became a big-time politician. Four Oscar winning actors in Ford's last unforgettable film. I have found many of Ford's films to be very boring, but generally they get better as you age, for with age comes wisdom, understanding, and cognizance of what is truly important and good and lasting. TMWSLV helped move Marvin to movie stardom, but this is Wayne's film all the way. Kudos to legendary Stewart for his humility in taking part in such an arrangement, which he was willing to do again in "The Shootist." So many well done scenes and messages here, including the one where Carradine's character crumbles up his "carefully prepared speech."

It's about people, not guns!

Wow, Will - leave it to someone preoccupied with gun rights to politicize a move about honor and self-sacrifice. Wayne LaPierre would be proud!

They don't make 'em like this anymore....

That is a sadly accurate fact. No special effects, pyrotechnics, and computer generated action. No over processed color film. No exotic location. No sex and profanity. Just a simple story line beautifully filmed and acted by a world class ensemble cast. My favorite western film and John Wayne performance....

Prescient Epilogue Confession (1962)

At the end, when US Senator Stoddard's story is finished, a confession of the truth after decades of silence, the modern reporter decides not to print it. Because, the reporter says, "When there is a choice between the fact and a legend," American media prefers presenting the more colorful story, not the truth. Sensationalism prevailing over facts, used to be called "Yellow Journalism."

Great life lessons

The biggest remake of "The Boy From Oklahoma," (TBFO, 1954), is the classic western, "The Man Who Shot Liberty Valance" (TMWSLV, 1962), rated 4-stars. Both TBFO and TMWSLV share similar qualities. In TBFO Will Rogers stars, as an unarmed, tenderfoot lawyer using logic, law and humor to tame the wild west. The second major connection between TBFO and TMWSLV are the strong, western women, aka love interests. Both tough-talking tomboys know how to shoot and how to nag their man. Told to be like other men, to pack Colt's equalizers, is ironic bitching, because other men have not attracted either one of these sensible women. The third connection between TMWSLV and TBFO is also ironic. Both films ostensibly make fun of the pro-gun culture. But this is a ruse. TBFO's pistol-packing, sharpshooting sheriff's daughter is one of the best shooters in this western society, (second only to outlaw, blustering bar-bully, Billy the Kid). Like femme fatale, sharpshooter Annie Oakley, in TBFO Nancy Olson shoots one among many tree branches so accurately, from more than 50 yards away, while riding her horse hard, the branch drops and crowns lawyer, Will Rogers. She earns his respect and conversion to be her champion in this pivotal scene. ("Eureka moment!") It resembles a queen knighting a man with her sword. This sharpshooting woman is remarkably rare, an amazing achiever. Similarly, in the TMWSLV climax, John Wayne's sharpshooting skills save scared Stewart. So the Duke's expert gun control kills another drug-crazed, street thug and saves a naive 'hero.' Yet, not until the finale, does decades-dumb lawyer learn the truth. As a Congressman then, ditto today, politicians seem to be the last to learn life-saving truths.

liberty valance

I like it as much as The Searchers. Lots of themes tackled here, such as loss, deception, and savagery versus civilization, but Ford never hits you over the head with them. It's a heavy film, in the sense that all the characters are burdened, but not heavy handed. (This is not easy to do, by the way. Just ask Stanley Kramer.) Mostly, it's a sad film. All the characters either want something they can't have (Like John Wayne's character, rancher Tom Doniphon, desiring Hallie, played by Vera Miles, but losing her to James Stewart's lawyer, Ransom Stoddard) or regret the way they have ended up (as is so heartbreakingly shown in the final scene on the train between Hallie and Stoddard.) All three of the leads are excellent. You expect that, of course, from Wayne and Stewart. The big surprise is Vera Miles, usually a bland actress, but not here. She runs the gamut from fiery to loving to mournful. It's one of the few fine performances from an actress in a Ford western. As for Lee Marvin, what can you say? No one does chaotic evil better than Lee Marvin. It's not a perfect film. Edmund O'Brien is over the top, and a Ford western not set in Monument Valley just feels wrong, somehow. But, taken all in all, this is a powerful movie that stays with you long after it's over. Give it an A minus.

Good Film

I really enjoy this film - Mr. Wayne reminds me so much of my late father and watching him in this film now brings me to tears. A big man in many ways and your eyes naturally are drawn to him when he is in a scene - quite amazing. I liked how they varied the story with the reality of what actually happened. And to have two great actors together in one film - a real treat; and Ms. Miles is great as the feisty Hallie. All in all a good film.

TMWSLV

I don't know much about early American weapons, either, but I do know something about the laws of physics, and what the poster below (Mr. Blandings) says about the way the man falls is correct. It's painfully obvious the scene was contrived to fool the audience into believing Stewart had killed him. If you want to call that "great cinematography" that's your own affair, I call it pretty cheap myself.

Over Rated?

I know most reviewers love it and think it's a must-see but it has a kitchen-sink quality to it. There's lots and lots of talk. It feels like a 1950's TV drama.Wayne and Stewart are good but a bit too old for their roles.I think this movie is for Wayne fans mostly.

Classic Western

I don't know how the previous reviewer could call this movie boring--I've seen it many, many times and I've yet to become bored with it. John Wayne's best, as far as I'm concerned. The only thing I've ever been disappointed in is that Gene Pitney's song of the same name wasn't used in it. Would've been a great theme song ranking right up there with "Do Not Forsake Me" from High Noon, and "Theme from the Magnificent Seven".

Wordy & overwrought

Simply boring word fest over- acted by everyone. A cast that appears to be lampooning itself. NOT one of the best westerns ever by a long shot!

Shakespearean Tragedy

Tom Doniphon is a tragic hero of Shakespearean proportions. In the beginning, he is a man of high station, perfectly adapted for survival in a lawless culture of violence, respected by all, even his enemies. As with all tragic heroes, however, he has a tragic flaw, a characteristic one would not normally consider a flaw, which ultimately brings about his undoing and destruction. His flaw -- a sense of justice that won't allow him to let the strong to victimize the weak. He could have let Liberty Valance kill Ranse Stoddard, which in turn would have let him keep his girl. Instead, he commits murder to save Ranse, with the certain knowledge that he would also lose his girl. By his own hand, he destroys his own hopes and dreams. That which gave his life meaning is gone. In the end he is nobody, a dissipated life, a forgotten man. In the film's last scene, the pregnant silence between Ranse and Hallie speaks loudly. They both know that Tom made their successful lives possible, and they both know they were the instruments of his destruction. In the symbolic sense, Tom is the pioneer who forged the way for civilization (Ranse and Hallie), and in the process, created a world that made him unnecessary and irrelevant.

A True Classic

"The Man Who Shot Liberty Valance" is a true classic that has already stood the test of time, and it will only get better as time goes on. I notice that posted reviews which pan the film seem to revolve around stylistic issues, i.e. personal preferences, rather than objective film and story values. Some seem to really stretch to find flaws. For example, one reviewer criticizes the scene in which Liberty Valance is shot by saying that Tom Doniphon uses a "shotgun(!)", which would produce a severely different wound than a pistol. Either that reviewer has no eye at all for detail or no knowledge at all of weapons of the time period, or he's just reaching to find flaws. The weapon Doniphon uses is lever-cocked, probably either a Winchester or a Henry rifle -- not a shotgun. And a shotgun would boom, not crack as that rifle did.The movie is beautifully written, acted, directed, and filmed, an allegorical morality play exploring forces of American history. This space does not permit lengthy critique, so I will comment briefly on one aspect, cinematography. If you know anything at all about photography -- lighting and angles and elements of composition -- and pay close attention rather than let images wash past largely unnoticed, then you know "Liberty Valance" is richly done with careful attention to detail, high art. Some of it borders on genius. The film is filled with powerful images of great depth, pictures that could be lifted out, framed, and hung on a museum wall as independent works of art, images that speak. Perhaps most notable is the scene just before Tom Doniphan shoots Liberty Valance. He steps into a sharply divided image of shadow and light, both in shadow and casting shadows, suggesting a mix of both good and evil, authentically garbed like a Russell or Remington figure, an expression of intense complexity on his face. It is a stunning image.

The Man who Shot Liberty Valance

The dark and mature Western from director Ford. A politician takes credit for ridding his county of a bloodless outlaw. Stewart and Wayne, both too old for their parts, are effective and great, Marvin gives the nastiest performance of his career as Liberty. The behind-the-scenes look at civilizing the West is cynical, where one of the film's greatest lines sums-up the theme, "When the legend becomes fact, print the legend." A melancholy film that's a must-watch for fans of Ford and the Western genre. I give it a 5/5.

Great Western

No matter what anybody says this was a great western. I thought the acting was superb,Lee Marvin was a great villan. I never tire watching this movie.

Flawed and illogical

Not a fan of westerns in general but the presence of James Stewart made me think that this one would be different. Thankfully, Mr. Stewart did not succumb to the cartoonish, wooden acting style inherent in the genre. Too bad that can't be said of the staccato line deliveries of Wayne, who must have said "pilgrim" at least thirty times in this movie. But acting preferences aside, the film is flawed in its directing. For instance, the scene in which Stewart "shoots" Valance is handled anti-climactically. Yes, Stewart didn't really do the deed (as we later learn) but the audience doesn't know that yet so the scene should have been more dramatic. Worse still, when we see what actually happened, it is completely illogical. First, Wayne is standing out in the open for all to see. Second, Wayne uses a shotgun(!) when Stewart has a pistol, so the difference in wound severity should have been a give-away. Third, if Valance was shot with a shotgun and from Wayne's vantage point, then he should have been thrown through the window of the building at his right. But, no, he is still shown falling directly back from Stewart's line of fire, and then pitching forward to his left. So the whole question of "Who shot Liberty Valance?" - and the point of the film - is not clear. One only has Wayne's doubtful word and dubious flashback that said he did. Other action scenes - such as Wayne knocking the gun out of one of Valance's cronies - was choppy and poorly edited.

The Man Who Shot Liberty Valance

More like watching a stage play than a movie. Entertaining, but missleading. Territories do not have voting members in the U.S. Congress. Too much of Bully fighting Bully in words and actions. Anybody that observes that the tenderfoot lawyer shoots the fatal shot with his left hand can conclude that shot came from a different shooter. Did the lawyer do his target practice shooting with left hand? There is an excuse to see it again and pay attention.

The Most Important Movie of the 1960's

One of Ford's biographers said this about Liberty Valance, and he's right. This movie sets the stage for The Graduate, Bonnie and Clyde, the Wild Bunch, Midnight Cowboy and all the movies we think of from the 60s. Why? Because it absolutely challeges the American Myth that Ford created beginning in Stagecoach and now turns on its head. I have seen this movie a dozen times and it amazes me by its complexity, by the fundamental questions it asks about American culture and history and forces us to confront. It is simply amazing, perhaps the best film ever made by an old man.

When the legend becomes fact, print the legend

John Ford's last great western, and it does not disappoint. Told mostly in flashback, the story centers around young lawyer Ransome Stoddard (Jimmy Stewart) who is determined to bring law and order to an unamed western territory about to achieve statehood. Problem is, he has to deal with gunslinger Liberty Valance (Lee Marvin) who will stop at nothing to terrorize everyone, except Tom Doniphon(John Wayne)who Valance is himself scared of. Doniphon, who becomes a guardian angel to Stoddard helps him get settled in the frontier town of Shinbone, but isn't afraid to tell Stoddard what he needs to know and what he is up against, and how to deal with it.The climatic final showdown between Stoddard and Valance is not to be missed, especially when you see how it really truns out. Has an excellent supporting cast including Andy Devine, Woody Strode, Vera Miles, Edmund O'Brien, among others.

The best movie of the 60s

This is simply the best and most important movie of the 1960s, remarkable for a decade that saw the graduate, Bonnie and Clyde, etc. Liberty valance should be paired with stagecoach: John ford created the myth of the american west and in liberty valance he destroyed it. It raises incredibly profound questions of identity, community, myth and reality, and of course the nature of truth. It has been my favorite movie for years.

One of the Greatest Westerns Ever Made.

Four-time Academy Award-winning director, John Ford brings two of Hollywood's legendary leading actors, John Wayne and James Stewart together for the first time in one motion picture featuring all-star cast including Vera Miles, Lee Marvin, Edmond O'Brien, Andy Devine, Jeanette Nolan and John Qualen. Stewart plays a tenderfoot lawyer, who gets some encourage from the Duke himself as a local he-man, who prepares him for a showdown with a vicious gunslinger (Marvin). The movie was first panned by critics and moviegoers alike, but now it's regarded as a brilliant made Western classic. Also starring Ken Murray, Denver Pyle, Lee Van Cleef, Strother Martin, Woody Strode, Carleton G. Young, John Carradine, Robert F. Simon, Paul Birch, O.Z. Whitehead, Willis Bouchey, Joseph Hoover, Jacqueline Malouf & Anna Lee.

excellent movie

John Ford did a real good job in making this movie, the cast was great.

The Kitchen

I love the scenes in the kitchen. The huge steaks, whole potatoes and pie. The board with the tally of the sheriff's free meals. The idea of what it took to earn a living in those times. A lawyer, cafe owner, newspaper publisher, farmer, sheriff, and the trouble maker.I really love this movie. It's a great story. One we need to continue to tell.

Best scene

Remember Liberty's two flunkies? Lee Van Cleef & Strother Martin. Later to become celebrities in their own right.Love the fight scene over the Duke's steak.Love the line:Strother Martin: "I'll get that Liberty." Then Wayne kicks him in the face as Martin bends over to pick up the steak.

Not your typical Wayne western

This film seems like an unusual western. We have John Ford directing and John Wayne starring, but Wayne's character does not get the girl and dies. I guess they had to come up with different twists on the same story and this one hadn't been done by Ford and Wayne. I feel like Wayne is backgrounded too much and has less screen time than Stewart. And the school room scene dragged on too long without accomplishing much. But overall I think it is a great western. I love the scene where Wayne shows Stewart how to shoot paint cans. And I enjoyed the strong character actors who all have plenty to do. Andy Devine's marshal seems to be the most pathetic excuse for a lawman you'll ever find. He's more suited to sweeping up the saloon after a brawl.

I always weep

I always weep when I see this classic western. Just the thought of knowing g John Wayne "dies" (even off screen) is part of it. Others are the way the shallow female character shifts her attention from one male to the other must set a speed record. I'd never do such a thing. And the Duke's Tom is such a tragic figure. He kills Liberty in the duel and James Stewart's Rance takes all of the glory forever when he is credited for it. How could anyone do this? Is this honorable? I love John Wayne, always have. I like Jimmy Stewart, always have. This is oneof the best westerns ever and one of John's greatest performances. The final great John Ford western film.

Best in the West

I hold this movie dearly in my heart somewhere between Santa Claus and my first tricycle. This movie is great because it does not depend on one or two stars. All of the character interact together to make without a doubt the best western I have ever seen

Best western ever

This is John Wayne's best movie. He seems to be the star, then James Stewart's character develops and comes forefront - becoming a legend, getting the girl. Yet all the time, Wayne's character is there, like a dark guardian angel - mocking, brooding, trying to hide how much he cares.

Great Flick

This movie should be in the "must see"catagory. There are so many classic linesin this movie,you would have to watch it100 times.(Which I probally have).

A Classic

This is probaly one of my favorite westerns...except Once Upon A Time In The West. I love westerns. This is a geat movie with an all-star cast with great performances. There realy are alot of great stars in this movie and a great plot.I think this movie will always remain a classic. I could watch this movie over and over again. It has a great story line in it too. One of my favorites movies of all time.

Does it still exsist?

As a young girl in 1962, I remember the origial uncut version of this movie, but, has been drastically cut down to a much shorter version since then. Does that origial-uncut version still exsist?
*We protect your personal infortmation and will not provide it to anyone without your consent. For a complete explanation, please refer to TCM's Privacy Policy. By submitting your contribution, you agree to TCM's Terms of Use.