DVDs from TCM Shop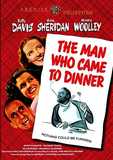 The Man Who Came to Dinner An acerbic critic wreaks havoc... MORE&nbsp> $14.36 Regularly $17.99 Buy Now
USER REVIEWS
See Detailed Ratings
Acting of Lead Performers

Acting of Supporting Cast

Director

Music Score

Title Sequence

Screenplay

Cinematography

Historical Importance

Would You Recommend?

0 Member Ratings
Rate the acting of the Lead Performers

Rate the acting of the Supporting Cast

Rate the Director

Rating of the Music Score

Rating of the Title Sequence

Screenplay

Creatively uses the camera to tell the story

Importance in Cinema history

Would you recommend for fans of this genre
Submit Ratings
Cancel
Write a Review
Read Reviews
NO REVIEWS AVAILABLE
The title has not been reviewed. Be the first to write a review by clicking here to start.
Idiotic Comedy

People think if a Christmas tree is in the scene it'll be considered a Christmas movie. This is in no way to be considered at all. This was on of the most annoying pictures I ever watched. The annoying lead with his ugly teeth and voice was like listening to a scratching blackboard.

jimmy durante..remember that name young people.

ok..if you like this movie or not..your business. just try to remember the guy named banjo in this story. he provided the voice of the narrator in the frosty the snowman cartoon. you can talk to old people about him. you can see cartoon characters parody him and know it is him they are doing a parody of. he is the guy singing young at heart in commercials and movies..when it is not sinatra.you might see him featured in commercials for the dean martin show late at night.it is tradition..one generation to the next..to know the name and face of someone for a reason you do not know. the vote was taken..he won. oh yeah..the story is good. the acting nice..very charming. the movie version of the play is top notch.

hilarious

If there is a true screwball comedy out there, this is it. In fact, it's almost exhausting to watch. The action is non-stop and th supporting actors are remarkable and varied. But i t is Monty Wooley who steals the show as a bombastic, arrogant, steamrolling house guest from hell who is unaware of his impact on those around him. Mary Wickes plays a nurse in the film and I do not believe that there is a single film in which Mary has a part that is not well worth watching. She is young, energetic and very funny as she was in all of her films. She is an old friend walking across our screens. In the sometimes insane world of 2016, this film is welcome relief and total escapism. Don't miss a chance to enjoy this movie.

More like and appetizer than a hearty dinner

If seen as a recreation of an old Broadway play it is fine, on those limited terms. It is nice to see some interesting casting. Betty Davis in a change of pace plays a sympathetic down to earth character, it could almost have been a Jean Arthur or Eve Arden part. Billie Burke and the rest of the cast handle their parts well. A lot of energy, perhaps too much.Time has not been really kind to this movie, in part because it was a topical satire of 30's-40's media celebrity culture. The problem today for most of the audience under the age of 50 the references belong in a history book not a satirical comedy. The over the top, non-stop topical jokes may seem a bit vague and not particularly funny to the 21st Century ear. (In fairness imagine what a John Stewart Daily Show episode from 2009 will seem like to an audience in 2050. Quaint, curious, amusing, and a bit vague I would assume.)Still the movie has its charms and a few of the jokes and physical comedy still hold up. Take a look, and enjoy and if you versed on 1930's pop culture it will seem all the more amusing.

Perfect lead

Simply dont understand the criticism of the lead. Monte Wollery is simply outstanding as Sherridan Whiteside. His timing delivery and facial expressions are uncanny. Lionel Barrymore was a brilliant actor but could never delivery true comic timing and ascerbic satire

One of my favorite Xmas Films

I look forward to this film every Xmas. I know not all people will like this film but to me it represents a time gone by. It's like a Broadway play representing Xmas chaos. An explosion of craziness that doesn't seem like it could all be resolved,yet it all does get resolved. When you think it has all been nicely resolved,ooops here we go again!

Monte Wooley

I don't understand this film at all, Monte Wooley misfires completely, the slapstick falls flat, Monte Wooley is so much better in, Since You Went Away (1944) watch it instead.

Lionel Or John Barrymore are sorely missed.

Monty Wooley manages to destroy the entire film. I liked him in " The Bishop's Wife". Here he simply is not adequate. He's not powerful enough or imposing enough or of the type of stature to carry this type of roll off properly. He over enunciates every line like he's the leading man in a toothpaste commercial. "Spare me" !

I Just Don't Understand----

Maybe it's me but I just don't understand the praise for this film. My first question is, if this film is so good why does TCM only show it around Christmas? The dialog not once made me even smile. I am assuming that I don't have a sense of humor. Personally, even if one can see the outline of a dead (Ann) women's breasts, it still isn't worth watching.

Absolutely wonderful...

If you have never seen Monty Woolley, this film is the best possible introduction. It is hysterical and his energy is incredible. He plays the role of a self-absorbed but highly regarded man who is really just a windbag. As he takes over the home of his host and hostess, it becomes more and more humorous and remarkably complicated. Billie Burke and Mary Wickes are just wonderful in this film as well. May Wilkes is always a welcome addition to any film. The film maintains the feel and tone of a Broadway comedy and it is fast paced, endlessly witty and very charming. It is a wonderful way to spend an evening. The scene when Woolley's character gets Lorraine (Ann Sheridan) into an Egyptian mummy sarcophagus and has Banjo (Jimmy Durante) ship her to Nova Scotia is so funny. You just have to watch this movie. It is wonderful.

Whiteside is rarely on the right side

"Christmas Movie" does not come to mind. Woolley plays a bully and is the bulk of non-stop dialogue at lightning speed that makes this film seem much longer than its actual length. It was an affront in 1942, with bitter bites, catty fights, and Ann Sheridan's headlights (talk about a front!). The scene with her sheer blouse has in the top's bottom half what appears to be three (not just two) "thumbs up" medallions. Now that's funny - and fitting. This Sheridan Whiteside insult fest reminded me of 1938's "You Can't Take It With You" with the assorted characters and odd occurences, but the "The Man Who Came to Dinner" substituted much of the sweet with salty, sour, and bitter.

The Man who Came to Dinner

This is an entertaining, hilarious, but overlooked Christmas film. Davis shows her light-hearted side as a secretary for the snobbish Wolley, pitch-perfect in his part, excellent supporting work from Burke, Durante & Sheridan. Witty & hilariously-nasty dialogue adapted from the play is superb, along with a great story. Absolute hilarity overall. I give it a 4.5/5.

My favorite Christmas movie

I have to see this movie every Christmas on TCM. It's not the same without seeing it at least once. I am a huge Bette Davis fan and Monte Woolley was wonderful, he makes the whole movie!

Perfectly Cast Movie

One thing I have to say about this movie is that is absolutely perfectly cast. I can't imagine anyone else playing any of the characters. Monty Woolley is perfect as Sheridan Whiteside, no other could have played this role, he is hysterical in every scene he's in. I love how Billie Burke plays Mrs. Stanley, all fluttery and nervous. And Mary Wickes as the nurse and George Barbier as Dr. Bradley are both funny as hell. And listening to Jimmy Durante sing the "Did you ever get the feeling that you wanted to stay" song is worth watching the whole movie for. And Betty Davis..the banter between her and Monty Woolley is priceless.Although it is sometimes listed as a "Christmas movie" this film is enjoyable year round, I could watch this film once a week for the rest of my life and still enjoy it as much as I did the first time.

Doesn't skip a beat

A fabulous "must see" movie that sparkles with clever, witty dialogue delivered by an extremely talented cast. Monty Wooley is superb - blustery, funny, pompous. I particularly like Grant Mitchell as the displaced head of household. Mary Wickes, Jimmy Durante, Billie Burke - too funny and Ann Sheridan is especially delicious in one of her most memorable roles as the conceited, self-absorbed diva. Can't forget Ms. Davis who shines in this unusual (for her) understated part. Don't pay any attention to any negative criticism you might see. This movie is not too long or slow and the director did a fine job of bringing these characterizations together without making them ridiculous or over the top. A great Christmas treat and I can't wait to see it again and again.

See through

Good movie, great actors. Especially loved the scene where Ann Sheridan wore a thin clingy top and no bra. Pretty hot for those days, I think.

GREAT FUN MOVIE

WONDERFUL MOVIE WITH A STAR STDDED CAST.

see thru

i noticed a scene in which anne is wearing a see thru blouse, you could clearly see her breast. she isn't wearing a bra. i'm surprise that the censor did not see this(i'm glad).

True Humor...

This movie is fantastic! The characters are too humourous and Betty Davis plays a perfectly lovelywoman in love in this movie. The best part is in the middle of the movie when Wooley finds out he is perfectly all right! I could have sworn that the butlerin the beginning was Macdonald Carey. I checked and he was not mentioned at all. Strange though as they listed the taxi driver, and other bit players but did not name the man who played the butler serving dinner. You will not be disappointed with the acting.

The Man Who Came to Dinner (1942)

Fantastic romantic comedy, with an incredible cast. Monty Woolley is remarkable in the lead title role, Bette Davis is great in a surprising supporting role, Mary Wickes is hysterical as the nurse, and Ann Sheridan has a great supporting role as the actress. She is wonderful. Thoroughly delightful. Well written.

A Very Fun Film

During TCM's 24 hours of Bette Davis films this one was shown. I was so glad to have seen it because it is one of the more light-hearted of Bette Davis' movies. I understand that she wanted to do this film even though she was at her career's prime and wouldn't be the lead actor. In a business that seems to depend upon people being very self-centered, someone like Bette Davis, who wasn't, she was film-centered it makes such a big difference in the whole quality of each film she's in. It may seem like such an obvious point to make but so many people in the filmmaking business miss it. If everyone's focus would be upon making the best film possible, instead of being focused upon becoming stars theselves, films being made today would be a whole lot better than they are. This one turned out to be one that I'll likely play for family during holidays.

Davis & Woolley Comedy

As pair of actors playing off of each other, Monty Wooley couldn't have had a finer actor in Bette Davis. That she was willing to play this role is what's rather surprising. Since Woolley is clearly the ever egotist who must be the center of attention and is also playing the leading character, Davis deliberatelytook supporting role. Right in the heightof her stellar acting career when she was churning out classic after classic, to be generous enough to help this film out with her presence was a Christmas gift! Maybe Davis was mixing up her film genres so as not to be typecast, or simply to have fun doing this type of film. It's a blast to watch.

Hilarious Xmas Comedy with Bette Davis

As I've written in prior reviews, I don'tknow why Bette Davis wasn't given more credit for the comedic roles she played since there are quite a few & she's just as superb an actor in comedies as in dramas & every other film &/or movie genre. Monty Woolley definitely plays the title role as full blown as he could get. He's an arrogant writer & radio hostwhose right-hand-gal is Bette Davis. As far as Woolley goes to be a wise-cracker& insulant pain in the neck, is as far as Davis goes, if not farther, to be thecharacter who neutralizes & tries to do damage control of his many offenses. He's a total control freak with a God complex, and she knows how to put up with him and bring him down to Earth. As actors, Davis & Woolley an ideal pair for their roles & this film. It's also a delightful Christmas-themed fun-fare that would amuse the most stoic of family members at a holiday gathering.

Christmas Chaos with a Great Cast

Who would have thought that Monty Woolleyand Bette Davis, as Sheridan Whitehead and Maggie Cutler, respectively, would make a perfect comedic partnership. Whitehead is an egotistical radio star and Cutler is his administrative assistant. But really what's going on is that Woolley is putting on a terrific comedy routine while, Bette Davis is doing one of her better 'straight lady' routines. They play off of each other oh so well. Whitehead winds up taking over the home of his hosts after having an accident on ice at their front door. Culter does damage control very effectively. The supporting cast is superwith cameos by the likes of Jimmy Durante. Mentioning Durante should give a clue to how madcap this comedy is. But Davis keeps it sane, sometimes nearly in the background.

Davis Mixing the Genres of Her Films

Smart move to keep from being typecast to mix up the genres of the films she was in during the height of her fabulous acting career: the 1940's. Davis didn't have a heap of ego invested in her work. She liked being in well scripted pictures with interesting casts. This film certainly has both. Davis isn't the center of attention, nor does her character need to be to remain quite omnipresent. She's the amdinistrative assistant to Monty Woolley, who plays a famous writer and radio star, whose stardom has gone to his head. On a trip he slips on ice at the door of the home he's going to stay in and then takes it over with his encorigable arrogance and scathing wit. Davis is the only one who can deal with him. He drives everyone else nuts. It's a hilarious, sometimes madcap, comedy of errors. (His!).

Madcap Christmas Comedy

Playing the subdued administrative assistant to Sheridan Whitehead (Monty Woolley), Maggie Cutler (Bette Davis) has her hands full with his wacky demands. Davis plays his "straight woman," in effect. While he's creating havoc, she's keeping everything in order; while he's going into hysterics, she's keeping things calm; while he's making a mess of their host family's home, she's running interference to prevent the fallout damage. It's very funny and Davis plays Culter with such finese. Actually, she gets to play as kind of orderly, managerial person that Davis was said to have been in reality.

Subdued Secretary Moves Side to Center

Monty Woolley's usually a fun guy in many films. As a famous writer who's a radio reading star, Sheridan Whitehead, he's an over-the-top comedian. With his loyal lovely secretary, Maggie Cutler (Bette Davis), always close by, ever at his beckoning call (which is obnoxiously often), they travel to a speaking engagement just before a wintery Christmas. While entering the home of their hosts, Whiteside slips on ice, falls & breaks his leg; then, proceeds to take over their hosts' home and family! Davis plays Woolley's 'straight man', as the ever-wise, cool and calm secretary on side stage. Because she's the only main character who's ordinary, sane, rational and able to deal with Whiteside, her side show performance becomes much more of a stand out one. This is a classic comedy with a terrific cast.

Monty Woolley Came to Dinner

Bette Davis came along with him. He's Sheridan Whitehead a famous radio performer of his own writings; she's Maggie Cutler, his one woman office staff. This is the type of role that Miss Davis was known to underplay deliberately. Her character is not the center of attention. Woolley's is. That's how the script is written. Banjo (Jimmy Durante) appears briefly to save the day for Maggie. In that sense, Davis' character's delimma, forced upon her by her jealous boss, does become central. Regardless, while Woolley & everyone else play their roles in madcap ways, Davis plays hers quite straight-laced, in contrast. She seems to be the only sane person.

A Great Movie

I love this movie and it great performances with these awesome actors. It is a good comedy.....one of my favories. It is a must see.

"The Man Who Came To Dinner"

Awesome show! What more can I say? Recently, my high school performed "The Man Who Came To Dinner" (I was a techie) and it was a giant success!
*We protect your personal infortmation and will not provide it to anyone without your consent. For a complete explanation, please refer to TCM's Privacy Policy. By submitting your contribution, you agree to TCM's Terms of Use.