DVDs from TCM Shop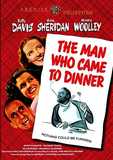 The Man Who Came to Dinner An acerbic critic wreaks havoc... MORE&nbsp> $14.36 Regularly $17.99 Buy Now
NOTES
Many contemporary and modern sources have noted that the character of "Sheridan Whiteside" was based on writer Alexander Woollcott, who became famous in the 1930s for his sentimental radio broadcasts. "Banjo" was based on actor Harpo Marx, "Beverly" on playwright Nol Coward, and "Lorraine" on Broadway actress Gertrude Lawrence. On January 4, 1940, Los Angeles Times reported that Moss Hart, George S. Kaufman and Sam H. Harris proposed to do their own film of The Man Who Came to Dinner and planned to release it through RKO. According to an April 11, 1940 Los Angeles Examiner news item, Warner Bros. offered Kaufman and Hart a percentage of the film's profits and a small guarantee instead of the $300,000 they had originally wanted for their play.
A memo in the Warner Bros. Collection at the USC Cinema-Television Library notes that Howard Hawks at one time expressed interest in directing this film. Hawks wanted Cary Grant to play the lead. A news item in Hollywood Reporter reports that Grant was prepared to donate his salary to the British relief fund. Papers in the Warner Bros. Collection add the following information: Mary Astor was tested for the role of "Lorraine" and Dorothy MacKaill asked to test for the same role. Danny Kaye tested for the role of "Banjo," Ronald Reagan was a possibility for the role of "Burt Jefferson," and producer Hal Wallis was interested in either Jean Arthur and Myrna Loy for the role of "Maggie Cutler," which was played by Bette Davis. Mary Wickes, who also played "Miss Preen" in the Broadway production of the play, made her motion picture debut in this film.
Many actors were considered for the part of "Sheridan Whiteside." News items in Hollywood Reporter mention Fredric March, Charles Laughton, Robert Benchley and John Barrymore as possibilities. Correspondence in the Warner Bros. Collection reveals that Charles Coburn was also considered for the role but refused to make a screen test. According to modern sources, Bette Davis asked the studio to purchase the Kaufman-Hart play as a vehicle for herself and Barrymore. Barrymore had trouble remembering his lines, however, so former Yale drama professor Monty Woolley, who created the character on Broadway, was finally cast in the film. According to the daily production reports, filming was shut down between 18 September and October 10, 1942 because of an injury to Davis' nose. When shooting ended on October 18, 1941 the film was sixteen days behind schedule. The film marked the motion picture debuts of actress Mary Wickes and actor/singer Russell Arms. At one time, Richard Burton and Elizabeth Taylor were to star in a version of the play. The Kaufman-Hart play was produced twice for television. Monty Woolley again played the lead in a one-hour production in 1954, and the 1972 "The Hallmark Hall of Fame" production starred Orson Welles and Lee Remick. In 1958, television rights to the play were purchased as a possible vehicle for Clifton Webb, but that version was never produced. Webb starred with Lucille Ball in a March 27, 1950 Lux Radio Theatre broadcast of the story.