DVDs from TCM Shop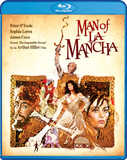 Man of La Mancha The aging Don Quixote follows his dream by traveling the... MORE&nbsp> $21.95 Regularly $29.99 Buy Now
NOTES
DVDs from TCM Shop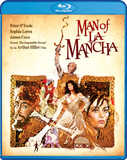 Man of La Mancha The aging Don Quixote follows... MORE&nbsp> $21.95
Regularly $29.99 buy now
The viewed print contained a three-minute overture. The onscreen credit of Luciano Damiani reads: ""Sets and Costumes by." Sibylle Ulsamer's onscreen credit reads: "Assistant to Sets and Costume Designer." The film contains several flashback sequences, during which the story told by the prisoner "Miguel Cervantes" is recreated. Most of the cast members perform in dual roles as prisoners and as a character in Cervantes' story. The film was shot in 35mm and then blown up to 70mm for theatrical release.
The historical Miguel de Cervantes Saavedra (1547-1616) was a Spanish novelist, poet and playwright. His combined writings, El ingenioso hidalgo Don Quijote de la Mancha and Segunda parte del ingenioso caballero Don Quijote de la Mancha, were written and published separately in 1605 and 1615, respectively. The work is now considered by many to be the first novel in the Western literary canon, one of the greatest in both Western literature and in the Spanish language, and a major influence on generations of important literary works. The novel gave the world the adjective "quixotic," which has come to describe a romantically inclined person striving for visionary and often impractical ideals, as well as the phrase "tilting at windmills," a figurative expression meaning to fight imaginary enemies.
The 1965 musical Man of La Mancha, by Dale Wasserman, Mitch Leigh and Joe Darion was based on Cervantes' life and works. Although the musical opened modestly in Greenwich Village, it was soon moved to Broadway, where the show ran for six years and became the fourth longest-running Broadway musical at that time. Several of the songs from the show became famous in their own right, especially "The Impossible Dream," which has been recorded and performed by many artists throughout the decades, and whose title has become a widely used phrase.
In December 1965, Variety and Daily Variety news items reported that actor Anthony Quinn negotiated with Wasserman for the film rights. The same Daily Variety news item stated that Quinn and the Mexican comedian Cantinflas, whom Quinn wanted for the role of "Sancho Panza," had earlier been considered for a different project, based on the novel. In July 1967, a LAHExam news item reported that director Ronnie Lubin claimed to have been planning a "Don Quixote" project for the past ten years, for which he had been negotiating with Cantinflas and hoped to star Burt Lancaster, but Lubin's project did not reach fruition, and the role of Sancho Panza went to James Coco.
According to a July 1967 Daily Variety news item, United Artists outbid Universal, CBS and Twentieth Century-Fox for the rights, although the offers of Universal and CBS exceeded UA in terms of cash. A July 1967 Hollywood Reporter Rambling Reporter column reported that one of the reasons UA's offer was attractive to the sellers was that the studio planned to cast Richard Burton in the lead and hire Terence Young, the director of the recently completed 1967 film Wait Until Dark . Although a July 1967 Hollywood Reporter news items suggested Elizabeth Taylor for the role of "Dulcinea," this was probably speculation due to Taylor's then marriage to Burton.
According to a September 1968 Daily Variety article, filming of Man of La Mancha would be delayed until at least 1971, after the stage version, which was in the third year of its run, was no longer showing in "first-class" venues. An October 1969 Daily Variety news item reported that Wasserman, who held the largest single interest in the stage play, got $1.5 million for his portion of the film rights and for writing a screenplay. According to a December 1969 Daily Variety news item, Picker announced that Wasserman would write the screenplay, that Albert Marre would recreate his stage direction and that Mitch Leigh, who composed the original music, would produce and supervise the scoring. However, an undated 1970 LAHExam article, contained in the film's production file at the AMPAS library, reported that Marre would probably be replaced by a more experienced film director. Filmfacts added that, around the time Marre was replaced, John Hopkins had been hired to write the screenplay, but acording to an April 1972 LAHExam article, only the opening of Wasserman's final script was adapted from Hopkins' version. Both Filmfacts and an April 1971 Daily Variety news item reported that Peter Glenville was then hired to direct, but by August 1971, a Daily Variety news item repeated rumors that he would be replaced by Arthur Hiller, who had replaced Glenville by the time principal photography began in January 1972.
The film was shot in Italy. Interiors, which included the prison and inn sequences, were shot at Dino De Laurentiis Studios in Rome, where, according to production notes, there was enough vertical clearance to accommodate the tall staircase. Unlike the stage version of Man of La Mancha, which had only one set, the film shows outdoor sequences, which, according to a June 1972 Evening Outlook (Santa Monica, CA) article, were shot near Etruscan ruins near the village of Tarquinia, located about seventy-five miles north of Rome. Of the original Broadway cast, only Gino Conforti, who played "The barber," reprised his role in the film. Although Peter O'Toole portrayed "Cervantes/Quixote" in the film, according to an undated 1970 LAHExam article, Richard Kiley, who originated the role on Broadway, and Gregory Peck were considered for the lead. Man of La Mancha marked the first musical roles of Sophia Loren and O'Toole; however, O'Toole's singing was dubbed by Simon Gilbert. Several songs from the stage version, mostly songs sung by Loren, were either omitted or shortened for the film.
The Samuel Goldwyn Studios was used for post-production work, according to an October 1972 Daily Variety news item. Although, according to a May 1972 Daily Variety news item, David V. Picker, then president of UA, expected the film to cost about $9.1 million and other sources mentioned a cost of $11 million, the final cost of the film was reported at $12 million. A September 1972 Daily Variety news item reported that Prince Philip planned to attend the London premiere, which was planned for December 20, 1972. The film was not well-received by critics. The Los Angeles Times review reported that there were post-synching problems and several reviewers criticized the trend of casting non-singers and non-dancers in musical roles. However, Laurence Rosenthal was nominated for an Academy Award for Best Musical Scoring of an Adaptation and Original Song Score.
An October 1981 Daily Variety article reported that a disagreement developed between Albert W. Selden, who co-produced the stage musical and Wasserman, Leigh and Darion, when the latter three refused to accept an offer made by banker Norman Main. Main wanted to film the musical for television using the original Broadway stars Kiley and Joan Diener and director Marre. Among the reasons given for the authors' refusal of Main's offer were concerns that Main lacked show business experience, concern about the film's potential effect on future legit productions and that the offer provided the authors only gross percentages and no advance payment. The article reported that Selden was seeking arbitration. The production never reached fruition and no further information about the dispute was found. For information on other film versions about Cervantes and his works, see entry above for the 1916 Don Quixote.