DVDs from TCM Shop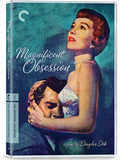 Magnificent Obsession A playboy becomes a doctor to... MORE&nbsp> $25.97 Regularly $39.95 Buy Now
NOTES
Although Barbara Rush is billed before Agnes Moorehead and Otto Kruger in the opening credits, she is listed after them in the closing credits. According to a contemporary interview with director Douglas Sirk, Jane Wyman approached him with the idea of adapting the Lloyd C. Douglas novel Magnificent Obsession, which Universal had previously made into a film in 1936, directed by John M. Stahl and starring Irene Dunne and Robert Taylor (see AFI Catalog of Feature Films, 1931-40). Sirk stated that although he found the novel "abstract" and "confused," an outline by producer Ross Hunter, based on the 1936 picture, convinced him that the story was filmable.
A December 1952 Los Angeles Examiner news item announced that Joan Crawford and Olivia De Havilland were being considered for the role of "Helen Phillips," and a March 1953 Hollywood Reporter "Rambling Reporter" column listed Eleanor Parker as a casting choice. According to a February 1935 Los Angeles Times article, Jeff Chandler was considered for the role of "Bob Merrick." In addition, Hollywood Reporter announced in June 1953 that Charles Bickford was to play "Edward Randolph," a role subsequently assigned to Otto Kruger. Universal borrowed Wyman from Warner Bros. for this film.
Studio press materials and Hollywood Reporter news items add Emmy Lou Kelley and Guy Doleman to the cast, but their appearance in the final film has not been confirmed. According to press materials, some scenes were shot at Lake Arrowhead in San Bernardino County, CA, while a September Hollywood Reporter news item identifies the Phillipses home as the Chatsworth Mansion in Chatsworth, CA. Wyman was nominated for an Academy Award for Best Actress, but lost to Grace Kelly for her performance in The Country Girl. Magnificent Obsession was the first of two films to star Jane Wyman and Rock Hudson; the second was 1955's All That Heaven Allows, also directed by Douglas Sirk.