DVDs from TCM Shop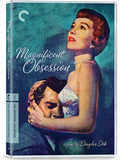 Magnificent Obsession A playboy becomes a doctor to... MORE&nbsp> $25.97 Regularly $39.95 Buy Now
Home Video Reviews
You could call
Magnificent Obsession
the defining film in the career of the Douglas Sirk, the German-born director who came to cinema from avant-garde theater and found an unlikely marriage of the two in a string of Hollywood melodramas. It was a long road to find and perfect that alchemy. Sirk was born in 1900 to Danish parents in Hamburg, Germany. He had become one of the most successful directors at Germany's state-run UFA studios when he fled Nazi Germany with his Jewish wife in 1937. He eventually landed in Hollywood and moved between genres and studios until the continental sophisticate found a home at Universal Studios, turning out bubbly Americana and romantic comedies with a light touch and a hearty affection for the trappings of social conventions and domestic drama. It was there that he first teamed up with Ross Hunter, who proved to have an unerring instinct for commercial properties, and Universal contract player Rock Hudson, who Sirk helped transform into a leading man and rising star. Everything came together when Hunter put Sirk and Hudson together with leading lady Jane Wyman. She wanted to star in a remake of the 1935 melodrama
Magnificent Obsession
, based on the 1929 best-selling novel by Congregationalist pastor Lloyd C. Douglas. Sirk was resistant to the project at first ("Ross Hunter gave me the book and I tried to read it, but I just couldn't," he revealed to Jon Halliday in the interview book
Sirk on Sirk
. "It is the most confused book you can imagine...") and was still dubious when he read the treatment, which was based more on Stahl's film (which Sirk had never seen) than the book. "My immediate reaction to
Magnificent Obsession
was bewilderment and discouragement. But still I was attracted by something irrational in it. Something mad, in a way – well, obsessed, because this is a damned crazy story if there ever was one."
The film opens on the buzzing a speedboat charging across a jewel of a lake. Arrogant, self-absorbed millionaire playboy Bob Merrick (Rock Hudson) is doing what he does best: disrupting the natural calm and beauty with his whims and impulses. When this reckless adrenaline junkie cracks up on the water, the measures taken to save his life result in the death of a self-sacrificing doctor and all-around humanitarian, a veritable saint and the husband of almost newlywed Helen Phillips (Jane Wyman). She's preparing their anniversary party when she comes home to find him dead because his respirator was needed to save Bob Merrick from his rash, childish stunts. "A complete waste," echoes the chorus of disapproval, which only sends Bob on a bender and into another crack-up, this one at the home of paternal painter Edward Randolph (Otto Kruger), lifelong friend of the deceased doctor and a proponent of a spiritual philosophy of secret charity and self-sacrifice. In the original novel and 1935 film, this "magnificent obsession" is a specifically Christian ideal. It's introduced here with references to Jesus while a choir of heavenly voices rises on the soundtrack like a benediction, but the explanation is all in secular terms and the film is decidedly focused about mortal (if rarified) emotions.
Bob tries to ease his conscience with a check to the widow (written out as a donation to the hospital), and then by trying out this secret charity thing, sort of like gambling on a number to see if it pays off. And sure enough, he sees Helen again and, with little preamble, starts putting the make on her (barely a week since her husband's death). It doesn't just end badly, he literally drives her into a terrible accident that leaves her blind. It's the beginning of a serious soul-searching and his transformation from playboy to dedicated doctor and secret humanitarian, with a plot that includes Bob hiding his identity to romance Helen and spending his fortune to get her the best medical care in the world. The plot is a contrivance, a trial for our characters to suffer through and come out the other end "earning" their ultimate happiness, and Sirk embraces the outrageous twists and reflexive, irrational, emotional responses.
Oscar-winning actress Jane Wyman (
Johnny Belinda
) receives top billing as Helen, playing the part with a quiet sadness and a plucky mask of cheery hopefulness hiding her slip into depression and hopelessness. Multiple Oscar nominee Agnes Moorehead, who came to Hollywood as part of Orson Welles' company of Mercury Players, is her best friend and devoted nurse, a take-charge character who takes no guff from playboy Bob. Otto Kruger, a character actor who played his share of sinister Nazi roles in the war years, is altogether more kindly and fatherly as the charitable painter who becomes Bob's mentor. And the film made a star of Rock Hudson, who went on to become Sirk's perfect leading man: solid, stolid, pretty and a little bland, whether he's the preening, self-absorbed playboy or the soulful philanthropist who has given into the magnificent obsession of service and generosity. He's seven years younger than Wyman and, though nothing is made of the apparent age difference, he's very much the object of desire here while she's the suffering saint.
While never a slave to realism, Sirk uses the studio resources and the Technicolor palette to transform the screen into a canvas of exaggerated sets and artificially recreated settings. The lakeside village of Brightwood is a sleepy little place in the heart of God's country: part idyllic, unspoiled small town, part playground for the rich, all wooded and bright. But apart from a few location shots, the Eden-like town is artificially created in the movie studio to give the director a painter's control of his backdrop. And paint he does, embracing the unreal hues and playing with his lighting schemes as if he was directing a piece of expressionist theater. "You must never forget that this is not reality," he explained in an interview. "This is a motion picture. It is a tale you are telling." His lighting is not expressive of the physical world but of the emotional temperature of the scenes, rising and falling like the lush score. When Helen loses all hope of regaining her sight, the room around her is suddenly swallowed in shadow, even though the previous scene was brightly lit in the classic Hollywood manner. Yet for all its artificiality, he never breaks the spell of his heightened world of American affluence and emotional turmoil, or of his fantasy of picture-postcard Europe. When Bob arrives to pick up Helen's spirits (brightening the room by his very arrival – apparently the dimmers are powered by the human glow of desire), he takes her for a tour of the local countryside (narrating the sights for her), ending up in an idyllic Swiss village. It is, of course, yet another studio creation, this one of a timeless European town of ancient stone masonry and a cobblestone town square where the peasants celebrate the harvest with a roaring bonfire that stands in for the lovers' unspoken passions.
Sirk never denies the overwrought emotions and mawkish sentimentality; he pours on the exaggeration and irony in equal doses. The film's unreal exaggerations offer a fantasy world of beautiful people and tortured emotions and audiences willingly and eagerly surrendered to his American opera.
Magnificent Obsession
was Universal's top-grossing film of the year, a smash hit that prompted Universal to immediately reteam Sirk and his stars in
All That Heaven Allows
. Yet the film was critically snubbed on release and dismissed for years as a mere woman's picture, a "weepy." It wasn't until after he left Hollywood at the height of his success that Sirk's operatic heightening of the conventions of Hollywood melodrama was recognized. But whether you view it as a committed melodrama with a visual style rife with emotional metaphors bordering on the surreal or an expressionist exaggeration of genre conventions – or both – this cinematic aria is just as irresistible and expressive today as it was in 1954.
Criterion's two-disc edition is beautifully mastered at a "Superscope" widescreen ratio of 2.00:1 from an excellent print, sharp and clear and saturated in the magnificent hues of Technicolor (apart from a few brief shots, lasting only seconds, of soft, oversaturated footage from what appears to be an inferior print). The commentary by film scholar Thomas Dohery is well researched and prepared, and his presentation is engaging and accessible. Allison Anders and Kathryn Bigelow offer tributes to Sirk and his influence on their work in short video interviews. The second disc features a fine print of the original 1935 adaptation of the Lloyd Douglas novel directed by John Stahl and starring Irene Dunne and Robert Taylor, and the 1991 feature-length documentary
From UFA to Hollywood: Douglas Sirk Remembers
, featuring on-camera interviews with Sirk (speaking in German, with English subtitles). The accompanying booklet features an essay by Geoffrey O'Brien.
For more information about
Magnificent Obsession
, visit
Criterion Collection
. To order
Magnificent Obsession
, go to
TCM Shopping
.
by Sean Axmaker