DVDs from TCM Shop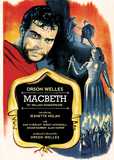 Macbeth A Scottish warlord and his... MORE&nbsp> $17.95 Regularly $24.95 Buy Now blu-ray
Quotes
The Three Witches


Double,double,toil and trouble; fire burn, and cauldron bubble.

Witch


Macbeth! Be bold,bloody,and resolute; laugh to scorn the power of man; for none of woman born shall harm Macbeth.

Macbeth


Tomorrow, and tomorrow, and tomorrow, creeps in this petty pace from day to day; to the last syllable of recorded time; and all our yesterdays have lighted fools the way to dusty death. Out, out, brief candle! Life's but a walking shadow; a poor player that struts and frets his hour upon the stage, and then is heard no more. It is a tale told by an idiot, full of sound and fury, signifying nothing.

Macbeth


I will not yield, to kiss the ground before young Malcolm's feet, and to be baited with the rabble's curse. Though Birnam wood be come to Dunsinane, and thou opposed, being of no woman born; yet I will try the last. Lay on Macduff, and damn'd be him that first cries, "Hold,enough!"