DVDs from TCM Shop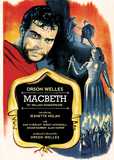 Macbeth A Scottish warlord and his... MORE&nbsp> $17.95 Regularly $24.95 Buy Now blu-ray
NOTES
Onscreen credits note that the viewed print was "restored by UCLA Film Archives and The Folger Shakespeare Library in Washington, D.C." At the end of the cast credits, Brainerd Duffield, Lurene Tuttle and Peggy Webber are listed twice: once for their individual roles, and again in their roles as "The Three Witches." In a spoken foreword, producer, director and star Orson Welles describes the film as a "study of the political conflicts and religious troubles of an ancient time." Welles reworked and altered several elements of William Shakespheare's play. The character of the "Holy Father," who is given lines orignally assigned to omitted minor characters, was Welles's invention. Welles changed the sleepwalking scene by having Lady Macbeth be awakened by Macbeth's kiss, and her subsequent suicide, which is only reported in the play, is depicted onscreen. In addition, Welles rearranged the first and second acts, forming them into one, and abridged or combined a number of speeches. According to an unidentified contemporary article in the file on the film in the MPAA/PCA Collection at the AMPAS Library, Welles had been planning to produce the film ever since he staged his highly successful Macbeth in 1936 at the Lafayette Theatre in Harlem, New York, with an all-black cast. The article also notes that Welles wrote the screenplay first and then adapted it to the stage. Before filming took place, Welles spent two weeks recording the entire text for "study and playback purposes." He considered the film a "test case" and hoped to demonstrate that while the audience for the classics was admittedly limited, it was large enough for a reasonable return on the company's investment. For this reason, Welles chose to produce the film for Republic, rather than for Alexander Korda, who had "guaranteed him a much flossier, fancier production in England."
A New York Times news item dated April 27, 1947 indicated that Welles staged a second production of Macbeth in Utah in May 1947. According to modern sources, the play ran from 28 to May 31, 1947 as part of Salt Lake City's Centennial Festival and was intended by Welles as a rehearsal for the filmed version. The New York Times news item also noted that Welles was planning to cast Everett Sloane as "Banquo," and sought Tallulah Bankhead for the role of Lady Macbeth but was unable to secure her services. In an interview conducted in 1968, Welles stated that his first choice for Lady Macbeth was Vivien Leigh, but "[Laurence] Olivier wouldn't hear of it." According to an July 11, 1947 Hollywood Reporter news item, Betty Brewer and Thais Wilson were also slated to appear in the film, but their appearance in the completed film has not been confirmed. Welles cast his daughter Christopher as Macduff's child. This film marked Jeanette Nolan's film debut and Dan O'Herlihy's first appearance in an American feature. According to modern sources, John McIntire, Jeanette Nolan's husband, was to have played the Holy Father. Modern sources also credit writer Charles Lederer in the role of a witch, and include Robert Coote in a minor role in the cast.
According to a June 12, 1947 Hollywood Reporter news item, the film's revolving set, which "represents a castle carved out of a mountain top," was similar to a set used in Welles's New York production. Art director Fred Ritter, working from sketches and a model supplied by Welles, shot in continuity, "using several cameras." According to modern sources, the set was an extension Welles's stage production set for Julius Caesar which, in turn, was inspired by Greek theatrical models. A June 22, 1948 Hollywood Reporter news item reported that the technical staff of the film spent one year in research, and that "more than 600 sound effects were used in each reel-compared to the 25 or 30 usually required...every sound effect was specifically recorded, with no use being made of stock footage." In addition to Welles's onscreen director and producer credit, a Los Angeles Daily News article dated September 28, 1950 credits him with editing, set design and costumes. A modern source credits art director Ritter and Welles with men's costume design.
When Macbeth was previewed in October 1948 in Denver, Salt Lake City and San Francisco, many critics complained that the actors' heavy Scottish accents rendered the dialogue incomprehensible. The Hollywood Reporter review called the admittedly experimental film "one of the most disastrous of motion picture enterprises." As noted in Daily Variety on July 15, 1949, Republic decided to recall all release prints of the film until the "problem" could be corrected. Because Welles had left the country shortly after production concluded, associate producer Richard Wilson was put in charge of the re-editing demanded by Republic. After nine months of re-recording, the studio re-released the film in September 1950, with a running time of 86 minutes. The Los Angeles Daily News article of September 28, 1950 indicates that sixty-five percent of Welles's original soundtrack was re-recorded. A Daily Variety article dated April 18, 1980 notes that UCLA archivists restored 21 minutes of original footage which had been removed from the film during the re-recording of the dialogue. In addition to this lost footage, archivists restored eight minutes of musical overture and three-and-a-half minutes of exit music by the film's composer, Jacques Ibert.
Among the many American feature film adaptations of Macbeth are a 1908 Vitagraph production directed by William V. Ranous and starring Ranous and Paul Panzer (see AFI Catalog. Film Beginnings, 1893-1910; A.09189) and a 1916 version supervised by D. W. Griffith, directed by John Emerson, and starring Herbert Beerbohm Tree and Constance Collier (AFI Catalog of Feature Films, 1911-20; F1.2696). Other versions include Akira Kurosawa's Throne of Blood (Japan, 1957) and Roman Polanski's Macbeth (United States-Great Britain, 1971).