DVDs from TCM Shop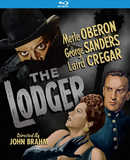 The Lodger The inhabitants of a boarding house fear the new lodger is... MORE&nbsp> $20.95 Regularly $29.95 Buy Now
Home Video Reviews
Twentieth Century-Fox's 1944
The Lodger
, a remake of Alfred Hitchcock's 1926 silent film, is in many ways a better movie - deeper, more fluid and more richly nuanced. In fairness, it's only somewhat a "remake." Both pictures are based on the same 1912 novel by Marie Belloc Lowndes in which a new lodger in a London home draws suspicion that he is Jack the Ripper. Lowndes' novel and Hitchcock's film are each set in contemporary London, and neither mentions "Jack the Ripper," instead naming their killer "The Avenger" even though it's clear that he's based on the Ripper. The novel furthermore merely suggests at its end that the lodger may be the killer, while Hitchcock's movie makes him innocent. The 1944 version, on the other hand, calls the killer "Jack the Ripper," sets the tale in historically accurate late-Victorian London, and leaves no question in our minds from the very first time we see him that the lodger is indeed the guilty party.
The Lodger
, then, is certainly not a whodunit, and it's actually more of a character piece than a suspense film, though it does build to a riveting and suspenseful climax. The rest of the characters (mainly the family who owns the house and a Scotland Yard detective) don't figure out the lodger's guilt as quickly as we do, and for them the story
is
a whodunit. Director John Brahm and screenwriter Barre Lyndon intelligently make the movie, for us, about something deeper. They're more interested in exploring the lodger's state of mind and his inner demons, and they do so without grinding the story to a snail's pace.
As portrayed by Laird Cregar, this Ripper (who goes by "Mr. Slade," a name he makes up from a street sign), is wonderfully creepy and menacing. Cregar smartly doesn't play him as a simple madman, giving him sensitivity and soft-spokenness to go along with some twisted sexuality: he seems to lust after his own dead brother, declaring that "the beauty of women led him to his destruction." As a result, Slade hates women, especially showgirls and actresses who peddle their sex appeal to attract males. (While the real Jack the Ripper murdered prostitutes, the Hays Code prevented that element from figuring into this film - hence actresses.)
John Brahm remains an underrated director with interesting pictures like
Tonight We Raid Calais
(1943),
Guest in the House
(1944),
Hangover Square
(1945) and
The Locket
(1946) to his credit. He was highly skilled in creating vivid atmosphere and detail, and
The Lodger
shows him in fine form. An opening crane shot takes the audience through foggy, cobblestone streets one night, casually and intriguingly gliding over a large group of mounted policemen, sitting and waiting atop their horses in the street. There is an overwhelming police presence throughout the entire film, in fact, which does a great deal to make the Ripper murders even more shocking because it makes us marvel at the fact that the killer could elude detection.
Even with the constant police presence, Brahm and his ace cameraman Lucien Ballard are still able to give us a sense of the dark loneliness of the London streets. The scenes with Cregar tend to emphasize the actor's hulking size (unsurprisingly), and his lighting is consistently ominous and sinister, making for a nice clash with his soulful eyes and well-dressed appearance. More satisfyingly, Brahm and Ballard often find ways to depict Slade's tormented mental state via composition and lighting. The scariest scene in the movie involves a murder which is presented from Slade's point of view as he approaches a woman so terrified she literally can't even scream; the camera shakes as it dollies forward, creating a "handheld" effect unusual for the era.
Elsewhere in the cast are Sara Allgood and Cedric Hardwicke as the couple who own the house, Merle Oberon as their showgirl daughter Kitty, and George Sanders as the detective. Allgood is wonderful, Sanders is adequate despite not getting much chance to offer his trademark sarcasm, and Oberon is fine and beautifully photographed by Ballard. (The following year, Ballard would marry her.)
Fox Home Entertainment has packed
The Lodger
with two other films in a somewhat curiously titled boxset: "Fox Horror Classics Collection." Only one title,
The Undying Monster
(1942) qualifies as a horror film.
The Lodger
is more of a Gothic noir, and
Hangover Square
(1945), which reunited the director, writer, producer and two stars of
The Lodger
, is a noir melodrama quite similar to
The Lodger
. Regardless, these are good movies, all directed by Brahm and all worth seeing, and they have been very well transferred and given many extras.
The Lodger
comes with a making-of featurette which offers intelligent analysis and historical perspective; a trailer which even shows a snippet of a scene that was cut; a superb stills gallery; a radio version starring Vincent Price; a "restoration comparison"; and workmanlike commentary from film noir experts Alain Silver and James Ursini.
For more information about
The Lodger
, visit
Fox Home Entertainment
. To order
The Lodger
, go to
TCM Shopping
.
by Jeremy Arnold