DVDs from TCM Shop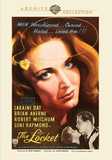 The Locket A dark personal secret drives... MORE&nbsp> $16.95 Regularly $19.99 Buy Now
USER REVIEWS
See Detailed Ratings
Acting of Lead Performers

Acting of Supporting Cast

Director

Music Score

Title Sequence

Screenplay

Cinematography

Historical Importance

Would You Recommend?

0 Member Ratings
Rate the acting of the Lead Performers

Rate the acting of the Supporting Cast

Rate the Director

Rating of the Music Score

Rating of the Title Sequence

Screenplay

Creatively uses the camera to tell the story

Importance in Cinema history

Would you recommend for fans of this genre
Submit Ratings
Cancel
Write a Review
Read Reviews
NO REVIEWS AVAILABLE
The title has not been reviewed. Be the first to write a review by clicking here to start.
Mixed Review?

One reviewer here stated this movie was inferior to "Mildred Pierce" & "Leave Her to Heaven": I disagree. Those movies, in my opinion, were the worst of the worst for their antagonists, actresses, directors, noir factors, etc. As a Psych student all these are enjoyable: clearly identifiable personality disorders in those comparable movies while this one suggests psychotherapy was called for. In other words, Day could have been "treated" finding a full recovery~~Mildred's daughter & Tierney, not so much. This one was at least as good or better; thrill factor, psychological factors accounted for. Another said this screenplay had holes as big as golf courses; with this I agree. A bit too unbelievable finding a jewelry box in a pile of bricks with no other surviving furnishings of an apartment. And what happened after that? It skips to the husband in a hospital. Did she hit him on the head? I guess that's a point of suspense, trying to figure it out ~~Thank goodness it came to a conclusion/ending fast afterward. That section of the movie was among the most disappointing (along with an unbelievable character/performance of Mitchum). I love this movie for the promises it has in a remake; I agree with someone who said this should have been remade. It's one though that got me excited and all of the sudden my electricity went out. I had to wait till the next day to finish it! I also want to have everyone I know watch this movie. A great movie for several reasons; ability to critique it with classic fans is among those. Can't get more "mixed" of a review, right?

the locket

Watchable psychological thriller/noir, but not a classic of the genre. Maybe that's because of Sheridan Gibney's stiff, declamatory, occasionally bombastic screenplay, without an ounce of humor. (A noir without wisecracks is like a quart of cheap Scotch. It'll get you drunk, but it doesn't go down easy.) Or maybe it's that Robert Mitchum is simply not believable as a suicidal artist. (Joseph Cotton would have been better.) I did like John Brahm's deft handling of the triple flashbacks, and certain scenes, particularly the one with Nancy's mother and her odious employer, and the one where Brian Aherne finds the stolen jewelry in the ruins of a bombed out building in the Blitz, linger in the mind. And, although I hate to admit it, I liked the performance of Mrs. Leo Durocher. (I'm a Dodger fan.) Her bright, perky, guilt free take on kleptomaniac greed is a welcome diversion from the standard histrionics of, say, Ann Savage in "Detour," ( which, however, is a much better noir.) Let's give it a B. P.S. Surprised there wasn't a remake, with Winona Ryder.

A True Classic of it's kind!

The direction in this film is as good as any made in that era..all the performances are excellent (Mitchum is wonderful as the tortured artist). The "flashback within flashback" is handled expertly, and the lighting/cinematography is as expected from the greatest of ALL the noir cameramen...perfect.This film is clearly a CLASSIC OF ITS KIND. I have not seen one quite like it (although "Marnie" comes to mind as similar), and it stands alone I think as a masterpiece of its ilk. A "one-off" if you will in terms of subject matter and theme.The film is not just a study in "what makes crazy people crazy"...it is a commentary on male-female expectations in relationships, and how THOSE EXPECTATIONS can sometimes cause what is loosely termed, "mental illness". The real question underlying this film is...who are really the insane people in our society? The so-called patients, or the doctors? Do men "go crazy" because they can't control their wives/lovers, and then accuse their lovers of insanity because they won't do what they are told?!A brilliant film on many levels...

Not good

I see that a lot of people disagree with Maltin's review. I agree with him, though. Mitchum is totally miscast and his last act quite unbelievable. The ending ruined the film: it was extremely clumsy and disappointing, and predictable to boost given the Hays Code. As a post-war psycho drama with domestic wicked ladies, this film is not even close to "Leave Her to Heaven" or "Mildred Pierce". The stealing jewelry motif was also lame, compared to the acts of other psycho ladies.

Excellent!

I don't know what movie Leonard Maltin saw, but it wasn't this one. It is an absorbing and suspenceful psychological thriller. The flash back within flash back structure works beautifully with the material, and the cast is great. Loraine Day is so good as the beautiful, sweet psychopath. Highly recommended!

Exceptional!

This is a truly suspenseful film noir and nothing whatsoever plays out as you expect at any time in the film! I am a stickler for viewing and commenting on film in the context of when they were made or the time they depict but absolutely nothing, no matter what happened to you in your childhood in any decade, would justify what Lorraine Day's character does in this film! She is completely amoral and, finally, it catches up with her and off she goes to an institution where her character probably remained forever. The biggest shock to me was that none of the men she became involved with didn't kill her but, instead, killed themselves as Robert Mitchum did. This film is so tightly drawn and the scenes so expertly knitted that I can't believe it hasn't received more play on TCM! It's simply a real winner and one not to be missed!

THOUGHT PROVOKING

FIVE STARS

LOVED THIS ONE.

SAW THIS FOR THE FIRST TIME RECENTLY. IT WAS GREAT. NEVER SURE WHAT WILL HAPPEN NEXT. I WISH TCM WOULD PLAY IT AGAIN. I'LL HAVE TO PURCHASE IT.

I LOVE A PSYCHOLOGICAL DRAMA

I love this movie. The flashbacks are easy to understand and the movie flows along nicely. I have one question, does John know that Nancy was once living in the house and the daughter of the maid? I think probably not as the social classes would not allow such a marriage. I did have to watch the movie a couple times before I realized that John Willis, and everyone else except Mrs Willis, leaves the house with Nancy. For one person who reviewed this as just another psychological drama should watch the movie again and look at the high ratings other reviewers have given it.

That Precious Locket!

Laraine Day stars in what some movie critics may call her meatiest and most memorable role she ever had, that of a lying, manipulative, unbalanced young lady whose world can be turned over by the slightest change. Because of an event in her childhood, she holds steadfast to anything and anybody she can and won't give up without a fight. But of course, we really don't know this from the beginning. Now pay attention. We see Gene Raymond on his wedding day, set to marry Laraine. But there's an interruption. Brian Aherne has something to tell him that may make him think twice about marrying her. By way of a flashback, we see his story. Almost immediately we see Robert Mitchum, who has to tell Brian of how he met Laraine. Yes. Another flashback. Then in that one, Laraine tells Robert about her childhood. Another flashback. It may seem muddled to some, but this is a fascinating and a star-making role for Laraine Day. Anyone who's seen it is not likely to forget it or Ms. Laraine Day. I would get into more detail, but this film's crust is too delicious to read about. Watch and enjoy the many faces and facets of Laraine Day. How she lies! 5 out of 5 stars

The Locket

This movie is a 5 star for me. I saw this movie many years ago before computer searches were so easy. I have been looking for it every since I saw it. I've explained the plot to many people trying to find someone else who had seen it, no one had. Finally tonight I look it up and there it is. I can't wait to watch it with my mom and friend. It is a "Essencial" for me. The way the main charicter was treated as a child proves can grow up to be just what they are treated as when they are young. MUST SEE!

The girl can't help it

This film has style and mood aplenty going for it, plus Mitchum and Day make a fine couple. But the plot holes could be used for a golf course.The villainess, pardon, victim of this movie is so traumatised cause she had to give back a locket as a child, she becomes a jewel thief. After killing a man, letting another frie for it and driving a third one to suicide, it turns out all she needs is a lotta love and understanding! Life can be so simple sometimes.Oh yes, why didn't the Mitchum character change his testimony to save the poor butler? Probably those big blue eyes.

great film noir

This film is so good! I would love this for my collection. TCM Can you make it happen?

The Locket (1946)

I saw this yesterday....Great movie! Robert Mitchum is good as the first husband. I will check to see if it is on DVD.

The Locket

This is a wonderful movie. Hard to believe that it was very poorly received when it first came out with most critics complaining about what they considered way too many flashbacks. Larraine Day's terrific performance was also overlooked. It's a shame that she never got a chance to shine again as she does in this film. A DVD is way past due.

Awesome film noir!

If you love classic film noir, you'll love this picture. It was played in the past sparingly & every time it comes on, I'm sure not to miss it.

I finally found this classic

I stumbled across this movie a long time ago at the point when, in the movie, Robert Mitchum left the scene....wow...I was shocked!. I have never seen the whole thing in its entirety but this film had me riveted.

The locket!

Just put it on my ipod! Please release the dvd!

Th Locket: Where oh where is the DVD?

The Locket is a wonderful Film Noir story with great performances bt Loraine Day nd Robert Mitchem. I have been so disappointed that there is no DVD of this film. Surely by 2010 fans of this dark and terrific film will be available. Please make it happen, TCM!!

Where Is The DVD???

I love this movie, why isn't it on dvdMy vhs off the tv is getting old.Pleaseoh please put this on dvd.

I love this movie!

I can't believe it's 2009 and this movie STILL is not on DVD. Other more obscure and horrible movies come on out DVD all the time....why not this one that everyone seems to love? I keep waiting and hoping.

Superb Movie

This movie is one of my favorites and I hope it will be available soon on DVD. The ensemble cast is excellent and it deserves to be seen by all movie buffs, both young and old. They don't make them like this anymore!!

Great movie

Would like to see this movie played again, hopefully soon. Better yet would be to have it come out on dvd.

Excellent Movie

This is a classic - it really needs to be put on DVD. They don't make movies like this one (or any of the oldies) anymore. Please TCM - get this on DVD.

The Locket

This is the best film I have ever seen! How can I get a copy of the film? Or a copy of the book it is based on, "What Nancy Wanted", by Norma Barzman?I can't believe that this movie did not get any awards or that I never heard of it before today, when I saw it on TCM.

The Locket - Larraine Day

This is one of the best classics out there and I don't know why it is not shown more or available on DVD. I have heard the original film is in bad shape. Please, please, TCM, get this movie on your schedule so others can enjoy Larraine Day, Robert Mitchum & Brian Ahern in this awesome classic!

EXCELLENT SUSPENSEFUL MOVIE

THIS IS ONE OF THE BEST OLD MOVIES THAT I HAVE EVER SEEN. LARAINE DAY SHOWS HER TALENT. BETTER THAN "FOREIGN CORRESPONDENT"
*We protect your personal infortmation and will not provide it to anyone without your consent. For a complete explanation, please refer to TCM's Privacy Policy. By submitting your contribution, you agree to TCM's Terms of Use.