DVDs from TCM Shop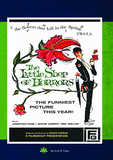 The Little Shop of Horrors A clumsy young man nurtures a... MORE&nbsp> $10.95 Regularly $14.99 Buy Now
NOTES
The working title of the film was The Passionate People Eater. Opening and closing actors' credits differ slightly in order, and actress Dodie Drake is credited only in the opening credits. Some of the opening crew credits also appear in the end credits. Crew member Archie Dalzell is credited as "Cameraman" in the end credits and "Photographer" in the opening credits, and screenwriter Charles B. Griffith is listed in the closing credits as "Charles Griffith." The last name of the character "Seymour Krelboin," which does not appear onscreen, is spelled different ways in various sources.
Although the film was not copyrighted at the time of its release, it was registered to Santa Clara Productions, Inc. in 1985 under the number PA-301-210.
Before the opening title card, the voice-over narration of Wally Campo as "Det. Sgt. Joe Fink" begins describing how "the most terrifying period" in the history of his "beat" began at Mushnik's shop. Line drawings of the skid row neighborhood appear under the title and credits at the beginning and end of the film. Campo speaks in a style parodying the character "Sgt. Joe Friday" of the television series and film Dragnet (see entry above). Campo's voice is heard occasionally in narration at other points in the film. At one point, he tells a character, "Just the facts, ma'am," which is one of Joe Friday's famous lines.
In another joke in the film, "Audry" and Seymour refer to Luther Burbank, a California botanist who cross-bred plants, and in the same joke mention Burbank, Glendale and Pasadena, three cities in the Los Angeles area. The film includes several sight gags, among them: Seymour and "Dr. Farb" dueling with the dentist's equipment; Seymour slipping on a banana peel thrown by a prostitute trying to attract his attention; and, in the scene set in a yard of toilets and sinks [which a modern source reported was shot at the Santa Fe train yards], Seymour disguising himself by placing a toilet seat around his neck. Several characters speak in malapropisms.
Although in the screen credits and other contemporary sources only Griffith is credited as the screenwriter, in modern interviews, producer/director Roger Corman stated that he was also a co-writer. Corman continued that, contrary to legend, the script was carefully adhered to during shooting, although there were some improvisational exchanges between various characters. In a modern source, Griffith stated that he played the burglar and when he and actor Mel Welles, who portrayed "Mushnik," forgot their lines during the robbery scene, they improvised.
According to the Variety review and a December 30, 1959 Hollywood Reporter news item, The Little Shop of Horrors was shot in two days in late December 1959 for about $22,500, using two cameras and working from 7:00 a.m. to 9:00 p.m. Although an December 18, 1959 Hollywood Reporter news item reported that production began on December 21, 1959, Corman stated in his autobiography that the film was shot between Christmas and New Year's Eve of 1959. According to modern sources, Corman shot for two days on a soundstage, while Griffith debuted as a second unit director to film exterior shots. (Some modern sources state that portions of the film were shot late in the night.) Griffith hired street people and asked his father Jack to play bit parts, and his grandmother, the former radio performer Myrtle Vail, played Seymour's mother. Modern sources also add Bobbie Coogan to the cast.
One of the film's most memorable scenes depicts a masochistic patient of Dr. Farb, portrayed by future Academy Award winning actor Jack Nicholson, who had appeared in only a few films prior to Little Shop of Horrors . In a modern source, Nicholson stated that the part was written for a forty-year-old, but he asked to audition for it. The "character" of Audry, Jr. was worked using monofilaments, according to a modern source. Modern sources state that Corman's inspiration for the film came when his brother and fellow producer Gene offered him the use of a storefront set and wagered that he would not be able to use it.
The Daily Variety review described the film as a "serviceable parody of a typical screen horror...[it is] one big `sick' joke, but it's essentially harmless and good-natured and there's an audience for it. [The] film comes up with several good laughs via its wild disregard for reality and its wacky characterizations....Horticulturalists and vegetarians will love it." At the box office, the film was moderately successful, but it covered the cost of the negatives plus a modest profit, according to a modern source. According to a May 1961 Variety article, The Little Shop of Horrors was shown out of competition at the Cannes Film Festival.
An unsourced April 1961 news item found in the file for the film at the AMPAS Library reported that The Little Shop of Horrors was pulled from general release and then shown in art houses. For thirty years, it appeared at midnight showings on college campuses and art houses, leading to its "cult" status. Like audiences for the 1975 The Rocky Horror Picture Show, audience members for The Little Shop of Horrors would sing along and shout out key lines. In modern sources, Corman stated that he believed The Little Shop of Horrors was his best loved film. In 1982, after the film's success on video, Alan Menken and Howard Ashman created an off-Broadway musical based on the film, which became an international success and was mounted on Broadway in 2003. In 1985, as noted in a March 1985 Los Angeles Times news item, Rhino Records issued a soundtrack of the film featuring Fred Katz's jazz-style score.
In 1986, Corman negotiated a licensing deal with Warner Bros., the studio that released a 1986 musical film version called Little Shop of Horrors based on both the 1960 film and the Broadway musical. That film was directed by Frank Oz and starred Rick Moranis as Seymour and Steve Martin as Dr. Farb. The 1986 agreement stated that Corman could "put back his [original] film into the domestic theatrical marketplace six months after the new film was released" and that Warner Bros. would acquire certain rights to the property, including video rights to the 1960 film in 1991, following the expiration of Vestron Video's video rights in that year. A March 1987 Billboard article reported that Corman threatened to sue public domain video suppliers of the film who refused to remove the black-and-white and colorized versions of the film from their catalogs. No further information about this action has been found.