DVDs from TCM Shop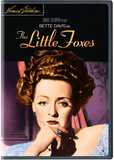 The Little Foxes An ambitious woman takes on... MORE&nbsp> $11.21 Regularly $14.98 Buy Now
USER REVIEWS
See Detailed Ratings
Acting of Lead Performers

Acting of Supporting Cast

Director

Music Score

Title Sequence

Screenplay

Cinematography

Historical Importance

Would You Recommend?

0 Member Ratings
Rate the acting of the Lead Performers

Rate the acting of the Supporting Cast

Rate the Director

Rating of the Music Score

Rating of the Title Sequence

Screenplay

Creatively uses the camera to tell the story

Importance in Cinema history

Would you recommend for fans of this genre
Submit Ratings
Cancel
Write a Review
Read Reviews
NO REVIEWS AVAILABLE
The title has not been reviewed. Be the first to write a review by clicking here to start.
outstanding

With Bette Davis, Herbert Marshall and Theresa Wright, this is a film of great quality. Herbert Marshall's performance is truly outstanding. He was an elegant actor. Bette Davis is about as sinister and cruel a character in this film as any actress could portray. And there is no such thing as a bad film with Theresa Wright in it. It's hard to believe this was her first feature film. She is wonderful.

One of Bette's best

At her best once again being bitchy, conniving and brilliant. It's a feast for her fans.

odd plot for a "liberated" female writer.

I gave the film 5 stars. It is one of my favorite films, the characters seem real. The character played by the wife, in the 1941 version, is one of the most evil female leads. I am not a southerner, but I sometimes get sick of the south playing the eternal stupid, vain, and greedy and racists. I lived in the rest of the country, and can not see where their is plenty of racial and ethnic prejudice. If you want to see prejudice against everyone, visit Russia, and get of the tourist track, but don't be surprised if you have a visit from the political police.As for individual greed, the female ranks a step above her two brothers. Her sick husband, daughter and her boy friend are complete opposites, proving nice people do live in the south. It always struck me as one of Hellman's oddest plays. I should be given an award for separating the work of art, from the politics of the writer.

Simple yet profound

Simple story about greed and independence. Excellent actors.

3rd time is the charm

Bette Davis & William Wyler's 3rd collaboration is their best! Jezebel & The Letter are fine films with excellent performances, but The Little Foxes takes the cake (or the crown, rather). This is partly because it is not strictly a Bette Davis vehicle. It's an ensemble piece, like All About Eve- and as in All About Eve, Bette Davis dominates & commands the screen & our attention (yet she isn't acting in a vacuum). We can't take our eyes off her, even when she's surrounded by a wonderful supporting cast. Her economy of expression in this film speak volumes. Her Regina Giddens simultaneously attracts & repels, yet fascinates the viewer throughout. The film is replete with excellent performances (& interesting characters), a brilliant screenplay that is delicious to the ear, beautiful deep focus cinematography by Gregg Toland (who shot Citizen Kane the same year) & great sets, costumes & production values by Samuel Goldwyn. This film is one of the most successful film adaptation of a stage play. It is mostly faithful to the play, yet is supremely cinematic, thanks to the genius of William Wyler. Bette Davis deserved to win the Oscar that year, certainly more than Joan Fontaine in Suspicion- and The Little Foxes deserved the Best Picture award far more than How Green Was My Valley. This film has stood the test of time, which can't be said for many films of that era.

This film/play begs the question...

Aunt Charlotte Vale

4/10/13

The statement by Horace Giddens that "I'll die my on way, and I will do it without making the world any worse".Sums up the substance of this movie for me. Written over seventy years ago, it is as revelent today as it was in 1939. Greed is not good, but money is actually neutral, it's the character of the person/people in possession of the money that determines how it will be utilized. And so Horace's statement, "I'll die my on way, and I will do it without making the world any worse". When you wake up in the morning, is the devil happy or mad? What legacy will your time on the earth leave?

Great Acting by Everyone

The TCM article says that Miriam Hopkins wanted to play Regina. Now that's great food for thought!Bette Davis is genius in this film, but Hopkins would have been just as brilliant! It's definitely a role I would have loved to see Hopkins do.

Best of the Davis and Wyler Made Films

Armed with one of Lillian Hellman's greatest scripts of all time, director William Wyler, to date the most successful director of all time, and Bette Davis, notably the First Lady of American Cinema, "The Little Foxes" is the most superb drama. The third film made by both Davis and Wyler, Davis was in her element as Regina. Wyler on fire directing Davis. He was the actor's director who drew their best performances out of them on film. The two perfectionists, working as a team, to convey the great screenwriter Lillian Hellman's signature screenplay, even though other's tamed it down significantly to make Regina more tame supposedly to appeal to the 1940's audiences, nailed Hellman's tell tale story of her family's rivalry over money. Davis could have taken the screenplay and turned it into a one woman film, her role's so large, central and significant. This is the film to see of Wyler's direction impact on his favorite actress, Bette Davis. It's in the sceen with Herbert Marshall who's playing Regina's estranged and dying husband. Wyler's the director who taught Davis, beginning with their Oscar winning"Jezebel," how to be expressive without making motions...staying nearly still. Go to the mid-film scene between Davis and Marshall to watch how Wyler's direction is played out by Davis as Regina. Her face speaks a range of unspeakable emotions, yet only her eyes move while those emotions are rapidly changing. I can see what she's feeling and thinking. So will you. It's a moment in filmmaking mastery. So I have no choice but to consider it the Hellman, Davis, Wyler best of all time.

Maravilhoso filme de Bette Davis em DVD

Este um importante filme de Bette Davis em sua parceria com o diretor William Wyler que se tornou um clssico e fez com Bette fosse indicada ao Oscar de melhor atriz. O filme j est disponvel em DVD e Bette Davis est maravilhosa. Uma diva. Espero ver este filme no TCM.

The Little Foxes (1941)

One of Bette Davis' five greatest performances, and certainly one of her most sinister. The scene with Herbert Marshall and his medicine is one of the greatest acting scenes of all time. Every cast member gives a strong performance. Patricia Collinge is particularly memorable. A wonderful drama, superb direction by William Wyler, outstanding score and top notch production.

WOW!!

Great screenplay, great message. The acting is superb, as is the direction. Just top-notch all the way

The Type of Film You Wait a Lifetime For

I can only add that the sublime acting of Bette Davis and Herbert Marshall are worthy of great praise, but the secondary roles of Teresa Wright, and especially Patricia Collinge, give this film fullness. I would also add that the costumes, hair, and makeup designed for Miss Davis add enormous depth to her characterization. Magnificent film.

Wyler and Davis at their Best

Even with the blessed gift of this magnificent (adapted) Lillian Hellman screenplay, Little Foxes was a tough drama to pull off well. That is because it is purely drama. The whole film depends upon acting, acting, acting. And who's got the most weight of that acting on their shoulders? The one, who in 1941 is at the apex of her acting career and can deliver: Bette Davis. In order to become Regina Giddens, Wyler felt it necessary to water her down considerably.Davis protested for artistic reasons but followed her favorite director's insight.That may have been what made Davis' performance the "King Lear" of her fine career. Script was taken away from her tha Hellman had intended for Regina. Davis improvised as only she could,"doing without doing," (as Lao Tsu would say. Nearly motionless, using her famous eyes to express the most intense emotionsof the entire film, Wyler directs his best actor the way he wants to see her perform: at her very best.

Hellman's, Wyler's and Davis' Victory

So far, I'd pick this melodrama as the best performance by Bette Davis. She must've been in heaven with a fantastic Lillian Hellman script and her favorite director, William Wyler. Davis was the most sought after "queen of Hollywood," at the time, so a lot was expected from her. Bette Davis had a work ethic of always delivering whenever her heart was into it ("Beyond the Forest," is an example of her last for Warners that she did begrudgingly). The reason I'd vote this Davis' finest acting is due to her lack of need for words to convey such intense emotions. Wyler taught her early in their working relationship that she should be still and use subtle facial expressions. Davis did this expertly well during the scene while she sits and Herbert Marshall crawls begging her for heart medication. That's GREAT acting!

Torn Between Two Loves (for Films)

Having just watched both this classic & "Now, Voyager," I'm not able to pick which of the two I think is best. They'renot similar at all. But both films leave me with the same sense of just having seen extremely well made classics. This 1 was released before the other. Lillian Hellman's very successful stage play was adapated for the screen and the part of Regina, the lead, was watered down (much to the chagrin of Bette Davis who plays the role). Knowing the director William Wyler was part of 'taming the shrew', I have an incling about that: he knew how to draw the finest performances out of his lover, Bette Davis. The best way to do that was to take the words away from her and force her to act! Forcing Davis to get around "Willie's" toning down of the script would mean he would have to direct her to react, respond and really perform through her gorgeous eyes, her lovely physique with body language, and through her supremely expressive face. Check it out for yourself and see what you think.

Bette Davis' 9 Oscar Nominations Classic

Maybe we should start counting Bette Davis' classic films' total tally of Oscar nominations, wins & all other awards. Between this film & "All About Eve" there are 23 Oscar nominations alone(plus those awarded elsewhere). Where Bette Davis acted an abundance of Oscar nominations followed. William Wyler had a heavy hand as this film's director. Lillian Hellman's script writing is stamped all over it with her trademarks. Notables in the cast are sparse, with only Herbert Marshall & Teresa Wright with Davis. Those 3 main characters have such strong script lines & scenes that other characters are more like filling in a donut. Davis as Regina is one of themost memorable of her characters. This performance earned 1 of her 5 Oscar nominations in a row, right after a win for "Jezebel," in 1938, followed by her 4classics in 1939. How hot does an actor have to be for folks to know she's sky rocketing? Seems like calling her "the queen of Hollywood" during that period's a gross understatement. Plus, Davis was at the littler studio: Warner Brothers.

If I had to Choose...

...& only if forced to pick 1 of the many classics by Bette Davis, I'd be inclined to pick this film. Davis could have easily won an Oscar for her powerhouse performance. This is another of the films Davis plays the lead in that comes neatly together. I wonder how much her presence on set, with such greatacting skill, lent to that phenomenon? What I am most fond of in this film is Lillian Hellman's woman-centered script & how Davis conveys the spirit of it, albeit scoured to tame her character. Instead of using words to indicate how Regina's nature, Davis uses an impressiveabsence of gestures & movements, leaving facial expressions, especially through her eyes, to reveal both harsher & gentler natures of her character. Going to the scene where Herbert Marshall is crawling towards stairs for medication & notice Davis' stillness & face.

Foxy Woman Out Smarts Conniving Men

All the men, brothers, nephew and husband alike wanted Regina Hubbard Giddens (Bette Davis) to play the meek, mild gender role cast in iron and shackled to women; especially southern US woman. Every man in her life wants her share of the family's money. Even her severely ailing husband, who elicits sympathy for a time, turns cold, cruel & will do anything to keep Regina from inheriting a cent from him when he dies. He's so mean about it, he rubs it in her face. Meanwhile, the Hubbard brothers and a son steal many of Regina's dying husband's savings from his bank security box. He accuses Regina of stealing from him. All of this turns Regina's daughter against her mother, making her truly isolated. No one is on her side. She has only herself to depend upon; plus, she cares about her daughter's long term future. This is the predicament playwright Lillian Hellman places her protagonist in. Director Wm. Wyler draws Regina the survivor out of Davis. How she survives, wrangling through the webs she's been entrapped in, is what this masterpiece of a film is mainly about. Being a woman in a man's world was a very dangerous place to be during Regina's lifetime. This is the type and caliber of Bette Davis' performances that audiences, producers & co-actors came to expect because Davis delivered again & again & again. For this film alone, an impressive 9 Oscar nominations,with the best yet to come.

Hellman's Script Performed by Davis: A+

With Her favorite director, Wm. Wyler, at the helm of "The Little Foxes" and Most of Lillian Hellman's brilliant script about her own family, Bette Davis had a key part in a classic that's rivetting. She's Regina. The Hubbard sister of wealth who struggles to compete with her conniving greedy brothers to have an equal share in the family's fortune as their business expands. With all of the odds and every person against her, Regina prevails. So does Davis. The cast is marvelous, the direction is perfect, the script is a brilliant composition, and settings are lovely and so forth. But it's the top powerhouse performance by Bette davis that makes this film a classic.

Big Foxes

Bette Davis as Lillian Hellman's Regina Hubbard Giddens has her life full of cut throat Hubbard brothers. Money's their big issue. Merging with another company takes some hefty cash for all of the Hubbard syblings to be counted in on the deal and what will be the profits. The men do every cunning thing possible to keep their sister from getting in on the deal. But, she turns out to be the bigger fox who out smarts them in the long run. Davis' performance is one of her very best and most classic ever. She should have won the Oscar she was nominated for. Time does tell this.

A Huge Success for Hellman, Davis & Wyler

Lillian Hellman knew full well what she was writing and why when she created this screenplay. It's based upon recollections of her own family. (I wonder if any of them were alive when the Broadway hit was running or this film was released?) Whomever Hellman based the character of Regina Hubbard Giddens upon, composite or not, must have been one heck of a woman. I've read many reviews of this film; most of them view Regina as evil or something along that malevolent vein. We disagree. I view Regina as the family's survivor. The one who was up against all of the greedy men who were trying to take her for a fool. A husband who was supposed to be pittied because he was unwell and yet he was plenty strong enough to do everything he could to leave her with next to nothing. It was twist the knife into Regina's back as far as all of the men were concerned. Any wonder with all of that sexism that Regina became so clever? Hellman, Wyler and Davis gave a woman credit for prevailing over all of the male obstacles trying to prevent her from entering "their" realm as an equal business competitor--which she had every right to be. This is Bette Davis' all time classic and then some.

No Guess Work Needed

When starting anew on a website reviewing performance art and artists, the first name that comes to my mind is Bette Davis. She's at the top of the list of all time great performers. The next question I face is knowing which film to start with of hers. That's oh so simple for me. This is the one: "The Little Foxes." Three major elements of filmmaking came together in a remarkable way: first and foremost, Lillian Hellman's script. It's as if she wrote this screenplay for Bette Davis. Next, the director who envisioned how the script would look on film: William Wyler, the best dramatic character actor director of his time. Old fashioned good character development. Last, but definitely not the least of these, the lead actor: Bette Davis. She's the one, the only one, who could make the character of Regina Hubbard Giddens her own as well as who Hellman intended for her to be: the shrewdest Hubbard, a woman, and one who would suffer the consequences for violating gender conventions.

Hellman Knew

The playwright Lillian Hellman knew that creating a woman to be the powerful Hubbard family member who trumps them all would be controversial. Women were supposed to stay in their tiny little kitchen or domestic sphere. There weren't supposed to know about business dealings. They were supposed to be subservient to their husbands, no matter what. Not Regina Hubband Giddens, no not by a long shot. Bette Davis is the perfect actor for this role. William Wyler is the master of directing complex character development, working with the great actors and great scripts, and landing the blows of the plot with a powerful punch. "The Little Foxes" does all of this and so much more. Make not mistake, this is a Davis and Wyler masterpeice. If not theeeeee masterpiece of both of their careers.

Brilliant Script, Direction & Acting

Without a great script it would very challenging to have a great production. If the director blew it the result wouldn't be anywhere close to as great as "The Little Foxes." Without the incredible acting talent of Bette Davis (as Regina) this film wouldn't be a classic.

When the AFI Gets it Wrong

Now that 68 years have passed since "The Little Foxes" was made famous as a classic by director William Wyler and the lead woman actor, Bette Davis, it is painfully obvious that the AFI got the Oscars of 1941 wrong. Blessed with Lillian Hellman's adapted screenplay and nominated for 9 Oscars, this enormous classic won zero. How embarassing for the film institute today. Bette Davis' powerhouse performance as Regina, the Hubbard sister who would have her way no matter what or who got between her and her goal to control the family's wealth, is one of the most Oscar worthy performances Miss Davis ever gave. By the way, award or not, this was the best picture of 1941 and it was largely due to its great director and script.

Favorite Film of College Students

During a recent Bette Davis film festival at the university where I teach this film was shown. Overwhelmingly, of all the Bette Davis films the students watched this was their favorite. Their reasons were too widely varied to post. I was encouraged by the interest they expressed. If I had them read a text by Lillian Hellman, some would have done so and others would not. By having this film to view, it gave them a taste of Lillian Hellman's work. To my surprise they all loved Bette Davis' performance regardless of their gender.

Don't Bother to Move, She's Passing Thru

Nothing the 'boys' could have done would have prevented Regina (Bette davis) from becoming the primary holder of the Hubbard family's fortune. She'd set her sights on having the controlling interests and nobody or nothing would or could stop her. Her brothers may as well have stepped aside and let her pass through since they wasted their energies conniving themselves out of two-thirds of the wealth. Regina's feable and cruel husband did the right thing, at the right time, by dropping dead! Regina's daughter was the only real fool. Had she stuck by her mother she'd have become as powerful and wealthy, plus, she could have still married the man she loved. Wyler directed this masterpiece. Davis takes the show and runs away with it. Hellman's screenplay was made into an on screen classic after enjoying Broadway's acclaim. Warning: it does take several viewings to really get into the full impact of the fast-paced, near perfect dialogue. Watching the film and getting it only takes one viewing. Notice Davis' facial expressions while her husband is crawling towards the staircase. She transforms her appearance without making any but the very slightest of facial muscle movements that are hardly detectable. That's truly great acting. That's Bette Davis.

The Masterpiece of Film

Director Wm. Wyler & actor Bette Davis may have had their disputes about the way certain scenes were played, filmed, or scripted, but in the long run, Bette Davis went along with her favorite director. I wonder what the playwright of "The Little Foxes," Lillian Hellman, thought about having her script for the character Regina rewritten to be tamed down. Davis' performance is so powerful that she is the show. All eyes have to be on her because she's the one around which the whole plot centers. As usual, the Wyler & Davis combination is very hot stuff on film. To me it's a three way masterpiece for Hellman, Wyler & Davis. I'd have loved to be on that set while it was being filmed.

a powerful woman among conniving men

the character of regina who was created by the major playwright, lillian hellman, provides a remarkable example of a woman who is determined to maintain her independence, play hard ball with finances in a man's world, not put up with a husband who damns her for being strong willed and self-determined, cutting her out of his will, preventing her from investing in hers and their daughter's future, denying her any sense of autonomy. if any man did that to a woman now i would hope she'd make him crawl to get his own heart medication rather than wait on him like a servant after he's made it clear that unless she's subservient to him she's not his wife. hellman had written the script for regina to be even more strong-willed but it was 'toned down' by at least two men who didn't feel the public could handle such a strong woman! i bet that bette davis could have managed portraying regina as hellman had originally scripted her part and as she was played with raves reviews on broadway. interestingly, as long as the strong women were serving the weaker men, the men expected that. even when regina's daughter takes control of her father's health crisis and is called 'her mother's daughter'. double standard. never underestimate the woman empowerment of a hellman script or davis performance!

What an extraordinary film

jayne in baltimore

6/8/09

As a huge movie fan, and Bette Davis fan as well, I cannot believe I had never seen this movie before. Thanks TCM.

MASTERPIECE

What is an artistic masterpiece? A work of such great social value that has become recognized by the public as historically significant. In this case, director William Wyler had a modified screenplay by the great playwright Lillian Hellman to work with. On stage, the uncensored play had been the career defining Broadway sensation for Hellman. With Bette Davis cast as the lead, Regina (Hubbard) Giddens, giving an Oscar nominated powerhouse performance, and a splendid supporting cast, this film version of "The Little Foxes" is a master work of performance art. Davis goes into character so completely that she captivates with Regina's wide variety of personality traits. I believe it's the best film I've ever viewed. It's like seeing the "Mona Lisa."

The Best Movie I've Ever Watched

I am so glad that TCM showed "The Little Foxes" this weekend. I had no idea it would be my kind of movie. My whole family was glued to it. Bette Davis is the best actress I've ever watched. Thanks TCM for giving us the chance to see this movie. It's unforgettable.

Bette Davis and William Wyler Classic

Thank you TCM for broadcasting "The Little Foxes." This time I watched in a very different light. Regina didn't seem wicked! She seems shrewd. With every man trying to leave her lacking and out of the business deal the Hubbards are getting into, why shouldn't Regina want to be part of it? She doesn't let Robert (Herbert Marshall) die on the stairs and could have after he'd verbally assaulted her and been as cruel as could be. She showed him more mercy than he showed her in the long run. Her face shows she was seriously thinking about letting him die and couldn't. The dialogue goes so fast. Davis switches from feigning frail to cunningly clever to trying to be warm and loving to protective of her daughter and so forth. Wyler's direction pulls all of the cast together. Hellman's adapted screenplay is a marvel. This film has the word classic all over it.

Wyler's direction, Davis' master class

Maybe "The Little Foxes" will be thought of as William Wyler's masterpiece. I doubt that it would have been without the master class performance of Bette Davis as Regina Giddens. So Regina was a tower of many strengths which included having great business sense. That she is a woman in a man's world, surrounded by men who domineer women, or believe they should and can, is the point that interests me the most. Regina's all-but-missing husband, Robert (Herbert Marshall) is just as domineering as her brothers. His style is simply more refined so that he's a more sympathetic character. After he's told Regina he's cutting her out of his will and making it impossible for her to engage in business dealings that will finanically secure her future, even after a rotten nephew (Leo) steals thousands from Robert, I can understand why she's quite angry with him. What woman today would put up with that? When he's begging for his heart medication, after screwing her out of everything, I don't blame her a bit for letting him crawl for it himself. Any man who treats a woman like that doesn't deserve to be waited upon by her, even if it means he's got to crawl to his own death. I empathsize with Regina and believe Hellman, who created her, did too.

Thanks TCM, This Film's So Classic

Even if the only way some of Bette Davis' classic films were programmed and advertised on TCM was via a celebration of the direction of William Wyler, I'll take the greatest classics any way I can get them! Lillian Hellman's "The Little Foxes" was destined to become a classic from the moment it hit Broadway. Once Wyler got a hold of the somewhat altered screenplay and Bette Davis was cast as the lead, Regina, this film was destined to become one of the great timeless classics. The role of Regina is not an easy one to play. It took great acting skill and direction to bring her to life on screen. This is a Wyler and Davis masterpiece.

Best Direction and Best Lead Acting

equals a formiddable film, to be sure. Combine those two key elements necessary to make a classic film with the beswt possible script by a great screenwriter, Lillian Hellman. Davis had Hellman's intent down pat. it can be see on Regina's (Davis) face when her husband, (Marshall) is having a heart attack. As if in no motion turned slightly to slow motion, watching her face build up with tension without hardly moving is one of the most respectable moments of acting on film. Classic Bette Davis directed by classic William Wyler. Even as highly rated as this film still is, I believe it has still been quite under-rated. The most under-rated part of all is the portrayal of Regina by Bette Davis.

Wyler's and Davis' Masterpiece

Consider this film the masterpiece co-created by William Wyler and Bette Davis. It is a very complex film with quite a bit of dialogue primarily written by the great playwright, Lillian Hellman. Bette Davis has made this film into one of her timeless classics because of her portrayal of Regina, the conniving protagonist. Acting doesn't get better than this. With all the special effects, graphics, bags of tricks Hollywood can do with cameras, lights and film editing through computers, none of it compares to simply great acting. I am beginning to believe this may be my favorite Wyler and favorite Davis film.

Shocked TCM's Showing a Classic Today!

Even though it's programed to be on at 9:30AM EDT on a Saturday morning in the summer, when most viewers of classics won't be watching, with DVR recorders some of us can record "The Little Foxes" and watch it at a decent hour. Too bad it wasn't advertised by TCM as one of Lillian Hellman's, Bette Davis' and William Wyler's greatest dramatic film achievements...ever. Bette Davis' film acting career was the supreme one in Hollywood in 1941. For her portrayal of Regina Habbard Giddens, Davis was nominated for a Best Actress Oscar, which would make history as one of 5 in a row for Davis. All 5 of those character portrayals Davis was nominated for have now become classic performances in classic films. Time isn't as easily seduced and fickle as the AFI! Time selects what is a classic and dismisses the rest. So it's 9:30AM and I have to run to watch this classic.

Hellman's, Goldwyn's, Wyler's or Davis'..

.Regina? Apparently Sam Goldwyn hired screenwriters to water down the script for Hellman's Regina. Then, Wyler became the director of "The Little Foxes" film after it had been a hit on Broadway. I've always wondered what the difference is between the Broadway version of Hellman's Regina and Goldwyn & Wyler's. Since Bette Davis left the set for 3 weeks after disagreeing with her favorite director about her part as Regina, it makes me even more curious. Regina's the big fox with her brothers being little ones. Davis' performance is one that's watchable countless times. How Davis goes so deeply into character is always a marvel. Davis' Regina is stone-faced using only the most subtle of and nearly undetectable movements to convey the callousness of her character. Much ado is made of Davis' characters' rages. But what Davis brings to this character is cunning so clever, patient and confident that she can switch like a scorpion into kindliness. What tremendousskill. This is the most classic Bette Davis performance.

Bette Davis' Regina

It's amusing that the men at the helm of making a film of Lillian Hellman's screenplay couldn't seem to accept that a woman could outwit, out wile, undo, domineer, and financially conquer men. So much so both the producer (Goldwyn) and the director (Wyler) insisted that both the screenplay character and the actor downplay Regina Hubband Giddens' determination to have the bulk of the family's wealth as well as the controlling shares: power. Was it so unthinkable or taboo in 1940 for a fictional woman to be bent upon becoming powerful? Sure seems like the men in charge of this film's making believed it was. To her credit, Bette Davis used so skillful acting that she did not underplay her character's lust for power. Davis' Regina's so well portrayed that her character makes this film a major classic.

Lillian Hellman Via Bette Davis

Lillian Hellman's original screenplay, before Samuel Goldwyn made the lead character, Regina Hubbard Giddens, into a tamed shrew, was better before it was rewritten for the screen. Director William Wyler apparently agreed with Goldwyn's opinion that Hellman's Regina was too vicious. Just as Bette Davis disagreed with the two men, so do I. Hellman knew from her own family's history that a woman was capable of anything a man was. Davis knew the same. Thus, there was likely a gender gap that caused Regina to be tamed before she made it to the screen. We, the public viewers, were presumed to be too particular about our expectations of women. Regardless, "The Little Foxes," in my view, is the finest of all the classics by Bette Davis. Her acting, her stone cold facial expressions, motionless, calculating while her husband's crawling up a steep southern mansion's staircase is chilling. Her laughter while she wheels and deals with her greedy brothers is disarming. Her commanding demeanor makes them all succumb to her power over them. Davis still channeled Hellman's Regina, no script necessary. That's one way to get around censorship: act, go into character, regardless of the missing words. Regina wasn't the only woman who over-powered the greedy men!

8 Oscar Noms: Davis' 6th, 3 of 5 in a Row

(1941)Best Actress in a Leading Role Oscar Nomination for: The Little Foxes' Regina Hubbard Giddens (Bette Davis);(Bette Davis Won 1941)Most Cooperative Actress Golden Apple Award.A Hellman screenplay, director William Wyler & playing the lead, Bette Davis proved to be quite a potent blend. But, not without a major blow-out between Davis & Wyler over Wyler's 'softening' of Regina (which Samuel Goldwyn had already asked Hellman to do). Davis stormed off the set for 3 weeks! (Note Davis' Golden Apple Award above). What would be interesting to know is who compromised what of the Regina character.Since she's Hellman's protagonist & Hellman didn't do the written 'taming of the shrew', did Wyler have his way with Davis?

Wyler's Regina

Besides being the man she loved, William Wyler was the best director to work with Bette Davis. As a team they were Oscar after Oscar winning and or nominated. For this film they had the tremdenous screenplay by Lillian Hellman to work with. Even on paper those three seem like a dream team. The film gradually but rapidly unfolds to reveal the rivalrous greed between the mercantile Hubband siblings. On the brink of upgraded their cotton business for the turn of the 20th century, all of the Hubbard brothers & their sister want to equally invest to make a fortune. With the powerhouse role of Regina, directed by Wyler, with a brilliant Hellman script, Davis ignites into the grand dame of opportunists who patiently wait for all of the bumblers and weaklings to faulter. Each time she siezes on those moments. That's the plot. Davis' acting has hit full stride. Watch her facial expressions. They are tell-tale and most remarkably classic Bette Davis. One of her top ten performances.

Hellman's, Wyler's & Davis' Intensity

On a Broadway stage, Lillian Hellman's play was her 1st great smashing success. It's based on her own family's dynamics. On film, directed by Wyler & starring the best actor of the US cinema of that era, Bette Davis, Hellman's screenplay becomes scathingly intense. The supporting cast is certainly admirable, with Herbert Marshall among them. Nothing, however, is comparable to the acting intensity of Bette Davis as Regina Hubbard Giddens. As the Hubbard brothers and their sly sister, Regina, invest to expand their profitable family corporation, money's the huge issue. Follow Regina's path to the money. Wearing gorgeous turn of the 20th century dresses, managing her wiley brothers as they jockey for the biggest money pile, Regina's husband controls her share of the investment. After her nephew steals her husband's bonds, her husband dies leaving the ball in Regina's court. And she does hold court with her brothers. Davis' facial expressions speak volumes throughout this film. A great all time classic!

Oh Lillian and Regina ala William Wyler

There's nothing quite like the combo of director William Wyler and Bette Davis tackling a classic screenplay by the great Lillian Hellman. Bette Davis was nominated for 11 Oscars and deserved all of them. This one takes 1st Prize as her best performance of a wicked woman. It's all too easy to give the actors all the credit for such a smashing success. I don't want to come across as doing that here. Credit it due to Herbert Marshall'sperformance. A picture perfect set design. Impeccable direction. A classic story based partly in fact. Regardless, it's still a "Bette Davis Film." She takes the lead with a commanding presence that still resonates as true.

My Best Bette Davis Film Pick

Performing in a film with the screenplay by Lillian Hellman is no easy job. Hellman's characters are quite complex. Her scripts are ingenius, classic and difficult to take on. Hellman herself was a genius of letters. Combine her skill with that of Bette Davis' by 1941. Then add the Oscar-winning best actor-director combination: William Wyler and Bette Davis. Ta boot, this story is a tell all tale based in Hellman's family's relations. The supporting cast is top drawer. The plot's based upon family greed and rivalry for controlling power. A heavy, deep & dark drama, with the cream of the crop who are all at the top points of their careers, I'm singling this one out as the best Bette Davis film of them all.

Acting, Direction and Script

Bette Davis had the best director and script imaginable, recognized both as great and acted accordingly. She knew that her genuis as an actor took having more than on screen acting technique, memorable mannerisms or a famous name. Under the critic's spotlight and with tons of competition, Davis carefully chose how to steer her career and life. Doing so required that she sacrifice her personal life for her career because then a woman couldn't have both. Hre character in this film wanted it all and damn near got it the wicked way. Davis didn't dare take such deviant short cuts.History's kind to her because she achieved all she did 'the hard way'. Regina Hubband Giddens probably never worked a moment in her life! Davis had to. Her work was a vital as her pulse.

Alchemy: William Wyler and Bette Davis

It can't be claimed that her favorite director, William Wyler, brought out the best performances from Bette Davis due to Davis possessing impeccable acting techniques. But, Wyler and Davis created volcanic alchemy on screen. Armed with screenwriter, Lillian Hellman's best script, Davis embodies the beguiling Regina Hubbard Giddens. With an ailing estranged husband horace Giddens (Herbert Marshall) holding 1/3 of the Hubbards' business shares, a fortune to gain and nothing but their daughter, Alexandra Giddens (Teresa Wright), to lose, 'the little fox who spoils the vine' rivals the Hubbard family's men as sly as the shrewest of rogues to control 75% of their wealth. Davis' depiction is classic as is Wyler's film & Hellman's screenplay.

Wyler, Davis and Hellman's Feat

Few films are this well done. Lillian Hellman's screenplay on Broadway made her name. William Wyler's direction helped to pull Hellman's spirit of the play together in the film. But when it comes right down to the brass tacks to what makes "Little Foxes" a classic, the performance of Bette Davis cannot be overrated. Davis captivates by bringing Regina Giddens almost to life. Anyone who's come from an atistocratic family that fights over the family's fortune will recognize Regina. There are many people like her. I surmise that is why she was so well liked and disliked at the same time.

Hellman's Breakthru Script, Davis' Film

As Regina Giddens, the multi-Oscar-winning & mega nominated Bette Davis takes on the lead in Lillian Hellman's breakthru masterpiece script. Hellman claims to have based the story upon events & attitudes among her own family members. Surrounded by men of wealth who are constantly in want of more, Regina's the sister who has to compete to maintain her own portion of the family's holdings. In one of her most underplayed and yet most insidiously sinister roles, Davis' performance is absolutely cunning. Face it, it took a genius within to pull out this performance of Regina.

Wondering Which Hellman Regina Is

Screenwriter Lillian Hellman's Broadway break came with this script. She said that it's based upon her own family. I've wondered ever since reading that, who Regina Hubbard (Bette Davis) is in the Hellman family. Maybe Regina is just a composite character that Hellman created to depict the ultimate greed in her family. If not, however, whomever Regina represents was so determined to capture the family's wealth that I wouldn't have put anything beyond her grasp. Bette Davis gave one of her finest film performances to convey Hellman's resounding message of warning.

Plot, Script & Acting Genuis

"The Little Foxes" was playwright Lillian Hellman's breakthru Broadway sensation. On screen the Hellman & Davis chemistry brings "...Foxes" to a slow rolling boil. As Regina Hubbard, of a family like Hellman's own, that rivaled amongst themselves for the power of $$$, she's literally a femme fatale. Engulfed by men who are no match for her subtle greed, Regina's determined to have her way over all of them. Davis' performance makes Regina seem like the perfect host, a graceful but strong lady, until her fangs appear. She's the most vacuous characater Davis ever portrayed. Genius!

A Bravura Performance

Remember when Margo Channing (Bette Davis) says in "...Eve", "Max you sly puss"? Ever time I watch this film that's exactly the phrase that comes to mind about Hellman's and Davis' Regina. She's one sly puss. The ever so subtle lengths she goes to in order to capture the bulk of her family's fortune are carried out so smooth. While all the men around her are jumping through various blatant hoops, Regina's slyly conniving and taking steps that go nearly unnoticed. Brilliant script and even better acting by Miss Davis.

Hellman's Script's Made for Davis

There are a few instances in film history when a screenplay and actor are so in sync that when they are conjoined a character seems to come to life. That's what happened when Bette Davis portrayed Hellman's Regina. What's most surprising is that a woman conceived of a woman being so nefarious. It's not at all surprising that Bette Davis would prove to be the perfect actor to embody such an amoral character. Davis liked portraying women who weren't frail. She prefered more meaty roles that challenged her acting abilities. This is the caliber of script she sued to have.

The Kind of Script She Sued to Get

When 25yo Bette Davis took on the 4 Warner Bros., she did so to get better scripts. She lost the battle & won the war! Lillian Hellman's script for this film offers proof. I agree with the previous reviewer that the combination of Hellman's talent as a playwright & Davis' skill as an actor, makes "Little Foxes" a superb dramatic view of the greed of US Southern culture. In "Born Yesterday" Wm. Holden tells Judy Holliday that there's always been a struggle between the selfish and the giving. Davis as Hellman's shrew punctuates that point to perfection.

Davis and Hellman Combine Talents

Take a screenplay by the great Lillian Hellman, add the US cinema's greatest actor and what's produced is an absolute classic. Doubtless one of Davis' best performances, this time she's a rich woman surrounded by rich men in the South. The men are jockeying for the best position to get the most of the family's money. Their mistake was underestimating their sister, Regina (Davis). In this film Davis incarnates a kind of wickedness that's so restrained that only a finest of actors could have made the subtlest of moves to incrementally unless deadly greed.

Best Actress Oscar Number 3 for Davis

Or, at least, it should've been. Lillian Hellman's screenplay was a perfect vehicle for Bette Davis. Her performance as the slyest member of a greedy family is among her (many) near perfect ones. Icey, steely, manipulative, conniving all of the men grabbing for gold, Davis' character gets it by hook and crook both. Davis, who was anyone but a money grubber or social climber, had to personify a wicked woman, who doesn't really seem all that bad until a crucial moment when her nature is revealed. Great performance, great script.

One of the greatest films ever made.

I think that this film is one of the greatest ever made. And Bette Davis played one of the best heroine/villans of all time. She gave the most frightening stares of any characters in cinema history. I know that I am prejudiced in my regard as I think she is one of the greatest actresses of all time.

The most wicked role ...

Bette Davis played. Most riveting scene: Herbert Marshall dragging himself up the stairs to get his medicine as Davis sits and stares ahead with frightening intensity.
*We protect your personal infortmation and will not provide it to anyone without your consent. For a complete explanation, please refer to TCM's Privacy Policy. By submitting your contribution, you agree to TCM's Terms of Use.