DVDs from TCM Shop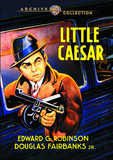 Little Caesar A small-time hood shoots his... MORE&nbsp> $13.46 Regularly $17.99 Buy Now blu-ray
NOTES
Motion Picture Herald notes that the opening weekend of this film's release broke the all-time attendance record for Warner Bros.' Strand Theater in New York, grossing $50,000 in eleven performances. Both Edward G. Robinson and Douglas Fairbanks, Jr. made personal appearances at the New York premiere, for which the top ticket prices were two dollars. According to his biography, Jack Warner wanted Clark Gable for the role of Rico. According to modern sources, the character of Massara was based on actor George Raft, who was associated with Owney Madden, the man who organized the taxi racket in New York City. Although The Doorway to Hell, a gangster film released by Warner Bros. in 1930 (see AFI Catalog of Feature Films, 1921-30; F2.1414) was a big hit at the time, most sources consider Little Caesar to be the film which started a brief craze for the genre in the early 1930s. Little Caesar was Robinson's first starring role and won him wide public attention, typecasting him for a while in gangster roles.
The MPAA/PCA collection at the AMPAS library include a letter from MPPDA official Maurice McKenzie to Colonel Jason S. Joy reporting New York Congressman F. H. LaGuardia's strenuous objections to the portrayal of Caesar as an Italian. McKenzie wrote, "...he is going to publicly denounce Mr. Hays as a hypocrite, and the picture business as a bad business...[he states that] Mr. Hays would not dare to produce such a picture with a Jew as that character-he would lose his job if he did...." According to modern sources, in some release prints, Rico's last words, "Mother of God, is this the end of Rico?" were changed to "Mother of mercy, is this the end of Rico?" to avoid objections from the United Council of Churches. The film was budgeted at $700,000 according to modern sources.
Little Caesar received an Academy Award nomination in the Best Writing (Adaptation) category. Modern sources list additional credits as Al Hill (Waiter), Ernie Adams (Cashier), Larry Steers (Caf guest) and George Daly (Machine gunner).