DVDs from TCM Shop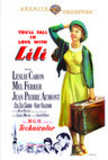 Lili A French orphan gets a job... MORE&nbsp> $17.56 Regularly $21.99 Buy Now
USER REVIEWS
See Detailed Ratings
Acting of Lead Performers

Acting of Supporting Cast

Director

Music Score

Title Sequence

Screenplay

Cinematography

Historical Importance

Would You Recommend?

0 Member Ratings
Rate the acting of the Lead Performers

Rate the acting of the Supporting Cast

Rate the Director

Rating of the Music Score

Rating of the Title Sequence

Screenplay

Creatively uses the camera to tell the story

Importance in Cinema history

Would you recommend for fans of this genre
Submit Ratings
Cancel
Write a Review
Read Reviews
NO REVIEWS AVAILABLE
The title has not been reviewed. Be the first to write a review by clicking here to start.
Love Lili

Beloved movie from my childhood still makes me cry when I see it all these years later. Thank you, TCM!

Pedofiles

Ban this movie! It glorifies pedophilia! Who cares if everyone loves it? It offends me so it must be banned.

I love this movie

If ever there was a movie to make you cry it was Lili. She stole my heart from the beginning. Only Leslie Caron could have played Lily and it was very touching. It is one film l'm sure to watch everytime its on. Thanks to TCM for keeping it alive for future generation's and Please play it more often.

Perfection

Love, love, love this sweet, charming, simple movie. Please show it more often, TCM! Leslie Caron, Mel Ferrer, and the entire cast are superb. The story is so sweet and appealing. What a pleasure to watch a simple sweet film with none of the violence, special effects, noise, crass sex and cursing we're forced to endure these days. Perfection!

the ticket

a man by the name of mike lupica once said to a certain extent..if there was a ticket that you could buy for an event that made you feel like you really made the moment happen.. you would pay any price for it. movies do not quite work that way. they can ..at their best.. make you feel the story. make you believe in the moment. what this story represents.. is a for the time made in.. grimm or Anderson fairy tale with a happy ending. no amount of money can really promise greatness. hard work. .talent.. and ..luck.. kismet.. consider that part what you want.. it all made for a very sweet and classic story. people can poke holes in to the premise of this story. I think the people who made it thought about the heart of the story. stories are made all the time.. good ones and bad ones. what should make an audience mad is when no effort is given.. when your money and time are stolen. this did not steal anything. it gave. more stories will be made. really different types of people will star in them. some of them will be great ..maybe one will have impact like this. kurt Russell once said something to an extent an a documentary..it does not matter the crowd.. the feeling is the same. this was the best movie performance mel ferrer ever gave..it was further proof that old story telling could be updated and work..it even got a good performance from zsa zsa gabor..do not say this was not special ever.

Sweet film, lovely performance by Ms. Caron

Such a sweet, tender film and Ms. Caron's performance so lovely. A delightful film to watch...

great movie

Sweet movie that will leave you with a warm glow. The best. rm

For those clamoring for the release of LIL on DVD

This is a thoroughly enchanting film. For those lamenting its absence on DVD, you should be aware that Warner Brothers has released it (in 2012) as part of their MOD Archive Collection DVDs. It looks wonderful, and now I can watch it any time I want!

Lili

An entertaining and enchanting gem. Caron was nominated for an Oscar as an orphan who gets a job with puppet carnivals. Won an Oscar for its score; the story has it's moments of greatness, but has too many eye-rolling, "can you believe this" scenes. If viewers can expand their believability for the events in the film, this is their film. I give it a 3.5/5.

An overlooked GEM!

I honestly don't believe the public thought a film about a very naive girl falling in love through a story told by the shy lover's four puppets would be worth watching; however, it is most definitely engrossing, sweet and touching without being maudlin. How very difficult it must have been to make this film, as puppetry art is extremely hard to put over but it is done here magnificently and expertly. Caron gives what I believe is her finest performance in a difficult role. She is such a sympathetic character here and you simply fall in love with her before Mel Ferrer does! This is a four star film for me!

A Movie Worthy of Harry Winston's Window

I saw this movie in 1953 in NYC when it opened.The second time I saw it was the following day. This movie is an elegant gem. If it ever becomes available as a DVD I'll buy at least 100 copies and everyone on my Christmas list will enjoy it. It is difficult to imagine how it could be improved.

Love this movie!

Every time I see it, I enjoy it more.

Lili (1953 with Leslie Caron)

Love this movie since I first saw it as a child in the 1950's, it is a magical classic, a wonderful movie! Leslie Caron and Mel Ferrer are just great in it, Pleae help in getting it out on DVD.

LiLi

Love this movie, I hope they release it to DVD soon. I'm waiting.

best movie ever

I fell in love with this movie when I was a child. I was able to share this movie with my daughter and she fell in love and now my granddaughter is almost old enough to fall in love with this movie - but I may never get the chance to have the experience with her. How sad would that be - SO PLEASE RELEASE THIS FILM ON DVD - don't let a classic like this just die

Lili (1953)

My favorite Leslie Caron movie with Fanny. Lovely movie with wonderful performances. Please release to DVD very soon.

Lili (Leslie Caron)

I will keep this short! If you haven't seen this film and love a good-tear-maker, then this is it. If you can deal with the truth about life (that beautiful children can become orphans and be lost in the world) and then watch it transformed into something joyful, then again this is it. How anyone could watch this film and not fall in love with the face of Leslie Caron is beyond me! Her haunting eyes make you believe in her fantasy whilst forever altering your cynical view of this world and yet, it's only a movie. There is your enigma: to allow yourself to be open to the sentimentality whilst suspending reality is what this genre of film is all about. Let it happen.

Lili

Having been waiting for this for ages. Family friendly and fantastic.

A classic love story for the young and old.

I saw this movie as a kid. I NEVER forgot it!! Then it happenedto be on when my children were young (like it happened for me)and I was able to tape it. My children NEVER forgot it either!!Here it is another 20 years and NO DVD for Lilli. COME ONwhat do we have to do to have this beautiful, memorable,movie put on DVD. This is a hidden gem and many wouldsOO enjoy purchasing it!!!!!

Interesting dichotomy.

Of the three films I am interested in, Count Three and Pray, Red Dust, and Lili, only two of them have EVER been released. I know Red Dust and Lili have been released, as I own copies on VHS. I would like to own them on DVD, as they last much longer. I originally saw Count Three and Pray when it came out in the theater, back in 1955. Red Dust was a bit before me, but I have since seen it on television, then bought the tape. Lili I saw in the theater, then bought the tape. Still waiting for Count Three, Mr. Turner.

I wish my grandkids could experiance "Lili"

I can remember going to the movies and seeing "Lili". I will always have a fond memory of this movie. I would enjoy very much sharing the experiance with my grandkids.

Lili is the best!

Please make this charming musical available on Home Video. It is too lovely to keep hidden!

Lili... Please... Lili

A beautiful,charming, and enchanting movie. Please in the name of all the children and the young at heart, please release it on DVD.

Shame not on DVD

This one of the most beautifully put together movies ever. It completely draws you into the world of each character and the story glides along. I never feel there is a dull spot as I watch Leslie and Mel together on screen. Please lets get it to video so i can buy and watch as much I would like to.

An absolute charmer!

A beautiful film. Leslie Caron's performance as the innocent and lovely Lili will touch you heart. Her conversations with the wonderful puppets will make you believe in them too. How can this film not be available on DVD?

Where's the DVD?

LILI is perhaps one of the most beautiful films ever made. Leslie Caron's sensitive performance is one of the finest ever captured on film - deserving of the Academy Award nomination she received and the Best Actress award she won from the British Film Academy.The film itself is a classic. There is so much mediocrity available on DVD today, yet a classic film such as LILI remains missing on DVD. It should be made available so that future generations can experience a wonderful film, a beautiful performance, and a memorable score!!

Lili Doesn't Disapoint!

As usual, Lelie Caron is her usual innocent funny faced heroine. She shines in this movie and the puppets help make for a heart warming storyline. Don't miss it as it will make your heart warm and your face smile!

Lili get this heartwarming story to us on DVD.

I loved this movie when I first saw it in the theater in the '50s. When my daughters were young we viewed it on TV and they never forgot the song Hi LiLi. I would like to own this movie on DVD for my Grandaughter. I love Leslie Caron and all of her movies and dancing. Lili is one close to my heart because of the loving story it tells. Get the DVD out to us!

Please bring Lili to DVD

Lili was the 1st movie my mom introduced me to. I was about 6 years old. It was shown on TV on a Saturday afternoon back in the mid 1960's. I never forgot the movie or it's vibrant characters. I give this movie credit for getting me interested in classic films to this day. The screenplay is wonderful, so much better and less violent than Paul Gallico's book 'Dance of the Seven Dolls' from whence the movie is based on. All I can say is please put this movie on DVD.. there is a whole generation of children who have not been exposed to this wonderful movie. Leslie Caron, is completely enchanting and winsome as the orphaned Lili. When all her options have run out, Lili is taken in by a couple of kindly puppeteers who are with a traveling carnival. She learns about life love and truth the hard way, but in the end finds true happiness from the one person who secretly adores her. Please please please bring this movie to DVD. it is long over due

Thank you,

I have been waiting for this movie to be shown on TCM for so very long! I am glad that you will be showing it soon.I am going to go to work late on that day so that I can sit and enjoy Lili that morning!Thanks again!

Want to buy Lili

I wasn't even born when this movie came out - i am 33. I saw it for the first time 2 years ago and love it. So much better than the junk out there today. Such a sweet love story. Should definately be available DVD from TCM, just like The Glass Slipper!!!!

Lili put on DVDI

I love the movie Lili as a little girl I loved watching the movie & would like to have it on DVD so I can watch it all the time.

PLEASE RELEASE

This is one of great movies and I don't understand why this isn't released on DVD for rental or purchase.

There should be a DVD

This movie is really great. It's my all time favorite from the classic movies. It brings so much joy to me and as I can see, to others as well. I sing "Hi-li Hi-li Hi-lo" to my niece and she loves it. I'd like this movie to be out on DVD, so I can show my niece where I got this song from. It would be so nice to have right now. Please. :)

Why No DVD?!

This is complete madness I tell you! Absurd! My mind cannot comprehend as to why this masterpiece has not yet been released on DVD! All the other junk being released yet this one terrific/wonderful film hasn't even been given a chance! Great Ratings & Reviews, I just don't understand why its not on dvd. More people need too see this movie, Spread the Word!!

"I want my D-V-D."

Apologies to Dire Straits and MTV for the headline. It is just plain silly to not show this movie or have it on DVD. (I could use stronger words, but we try to maintain a G rating.) TCM's partner, Movies Unlimited, boasts loudly and proudly about their 800 page catalog with tens of thousands of titles. I've looked, and they've got a LOT OF JUNK. I have to be honest, I have not seen the entire movie, just bits and pieces over the years. I have a very pleasant memory of the music and the puppets from childhood. But it's one of my wife's favorites. This movie won both a Golden Globe and an Oscar, for heaven's sake. The following is courtesy this very website: Misc Notes for Lili (1953)1953 Golden Globe Award Winner for Best Screenplay.Shown at Laemmle's Monica in the series "MGM Musical Festival" in Los Angeles November 16-22, 1990.Voted One of the Year's Ten Best American Films by the 1953 National Board of Review.Voted One of the Year's Ten Best Films by the 1953 New York Times Film Critics.Winner of the 1953 Academy Award for Best Score. Also nominated for Best Actress (Caron), Best Director, Best Screenplay, Best Color Cinematography, and Best Color Art Direction.As they say, that ain't chopped liver. This film could easily appear during "31 Days of Oscar". TCM has, rightly I think, started repeating a movie at different time slots within a few days of each other. But, that also means they have time slots available. Unless somebody's misplaced all the prints and the negative has disintegrated, what's the problem? Maybe Kermit the Frog should have taken up the cause for his puppet ancestors from 1953, and picked it as tonight's guest programmer.

WHY IS THIS NOT OUT?!

This is one of my favorite movies! I'm a young person and I want this! I will buy five copies once it's out because EVERYONE I know is waiting for this DVD release. PLEASE!!!! End the agony and release this!

PLEEEEEEAAAASSSEEEE!!!

For the love of all things classic, release this on DVD! I'm only 19, and even I have grown up renting and watching this film. So, please, Please!! The masters of classic film, release it so I can spread the joy of this film with my friends, I talk about it all the time, they're starting to question the existance of this film. You don't want that, do you? DO YOU?!

Who will buy---I, I, I

This is a wonderful movie and a wonderful memory. I would buy it in a nanosecond. Please release it---soon. I get older every minute.A good-feeling movie for all and it needs to be available.

An all time favorite

Margaret Anderson

5/23/07

I have loved this movie since I saw it many years ago. Would love a DVD of this movie.Leslie Caron and Mel Ferrer were both great.Please, Please let us have the DVD.

Lili is Magical

I woke up in the middle of the night and turned on this classic. After a box of tissues and bushels of tears, who can forget such a special romance. I need to have a DVD...please...

A "reel" clasic

I saw this movie when I was 14 years old with my parents and everyone was singing "HI LILI HI LOW" every where I went. It is a beautiful love story that teens can watch without parental supervision,(a rarity these days) Leslie Caron was so poingnet as the waif-looking French orphan. The story is both sad and uplifting and has a surprise wonderful ending. This movie really needs to be offered on DVD please!

An Timeless classic!

MUST BE PUT ON DVD PLEASE.This movie enthralls me everytime I watch it, it is a beauty. Wish they still made movies like this. I find myself borrowing it from the Library every month. I hae watched many classics, and even own quite a few, but this film I can't wait to own.

A screen GEM!! Must HAVE!

They don't make them like this anymore, a wonderful, clean, family musical with catchy songs and a charming story. A favorite of mine for years! I would LOVE to own it on DVD so that it could be shared in the future.

MUST BE PUT ON DVD !

TCM, PLEASE CONTACT MGM, AND TELL THEM TO GET THIS FABULOUS FAMILY MUSICAL ON DVD, ASAP ! IT IS ONE OF THE MOST ENCHANTING,AND COLOURFUL MUSICALS EVER MADE, AND IS LONG OVERDUE TO BE RELEASED TO THE PUBLIC ! ALSO SUGGEST TO MGM A JUDY GARLAND AND MICKEY ROONEY BOX SET WITH ALL THEIR GRAT MUSICALS TOGETHER, IE- STRIKE UPTHE BAND, AND BABES IN ARMS, WITH BIOGRPHIES ON BOTH, WOULD ALSO SELL LIKE CRAZY, AND IS LONG OVERDUE !!

This movie is a pearl!

Needs to be shown more often!

Turner, please release on DVD.

Can't imagine why this film has not been released on DVD. It is a classic movie musical and long overdue. Hopefully it would include interviews with the stars, Leslie Caron and Mel Ferrer. Please release the movie on DVD -- we have waited a long, long time.

Loved this movie.

I loved watching this movie, but I would like to enjoy it even more if I owned it. I wish it would come out on DVD for me and my family to enjoy.

LOVED IT

I LOVED WATCHING THIS FILM. I WISH IT WAS ON HOME VIDEO. PLEASE PUT IT ON YOUR SCHEDULE.
*We protect your personal infortmation and will not provide it to anyone without your consent. For a complete explanation, please refer to TCM's Privacy Policy. By submitting your contribution, you agree to TCM's Terms of Use.