DVDs from TCM Shop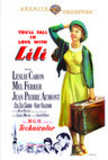 Lili A French orphan gets a job... MORE&nbsp> $17.56 Regularly $21.99 Buy Now
NOTES
In Paul Gallico's original short story, "The Man Who Hated People," the puppet show is not a carnival attraction, but rather a popular television program, and Crake, the puppeteer, is a former hockey player whose face was badly scarred in an accident on the ice. His assistant is a young actress named Milly, who develops a deep bond with the puppets, only to realize that she really loves their misanthropic creator. A modern source suggests that the story May have been inspired by the very popular television program Kukla, Fran and Ollie and star Fran Allison's improvised conversations with the puppets operated by Burr Tillstrom. In 1954, Gallico expanded his theme in a novella entitled Love of Seven Dolls, which introduced the French carnival setting but made the relationship between the puppeteer and the orphan girl darker and violent.
According to modern sources, Vincente Minnelli was originally asked to direct the film. In his autobiography, Minnelli wrote, "The sentiment wasn't that far removed from An American in Paris, and I wanted to take another creative path." Pre-production news items in Hollywood Reporter reported that Leslie Caron would co-star with Ralph Meeker, Fernando Lamas and Ann Miller. According to an internal memo contained in the file on the film in the MPAA/PCA Collection at the AMPAS Library, the studio had "someone along the lines of Michael Wilding" in mind for the role of "Marc."
In a modern interview, Caron claimed that taking the unglamorous role of the waif "Lili" was regarded by many as a disastrous career move: "I heard later that the whole studio laughed at me." Caron also related that M-G-M producer Arthur Freed approached her during filming one day and said, "I don't know what they're doing to you, but they're ruining the image I worked hard to create....I've got to do something to restore you to stardom. Any ideas?" Later Caron proposed a film adaptation of Gigi, having previously appeared in a nonmusical stage version of the Collette story in London. Freed eventually agreed, and the 1958 film Gigi became one of M-G-M's most successful musicals.
According to Hollywood Reporter's June 11, 1953 "Trade Views" column, M-G-M feared that the picture "might not have the necessary mass appeal." In his autobiography, Dore Schary, M-G-M's head of production, confirmed that executives in the studio's sales and distribution departments in New York dismissed the film as "an art-house picture" and declined to set a release date. Schary's friend, New York theater owner Harry Brandt, offered to run the film at his Trans-Lux Theatre if he was given exclusive New York exhibition rights, and Schary agreed. Lili went on to play for a year at the Trans-Lux, making it one of the few films to play so long at one theater. Schary recalled that under the terms of their agreement, M-G-M had to pay Brandt for the right to distribute Lili in Europe. Lili won the Academy Award for Best Score and received the following nominations: Best Actress (Caron), Best Direction, Best Screenplay, Best Cinematography (Color) and Best Art Direction (Color). Caron lost to Audrey Hepburn, who was at that time married to Caron's co-star, Mel Ferrer. The film was also honored as the best-written musical of 1953 by the Screen Writers Guild.
Lili was later adapted as the stage musical Carnival, which opened on Broadway on April 13, 1961 and starred Anna Maria Alberghetti and Jerry Orbach. The film score, including the popular song "Hi-Lili, Hi-Lo," was replaced by an original score by Bob Merrill that featured the theme song "Love Makes the World Go Round." The musical ran for more than seven hundred performances and brought Alberghetti a Tony Award for her portrayal of Lili.