DVDs from TCM Shop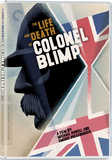 The Life and Death of Colonel Blimp An aging military man looks... MORE&nbsp> $19.47 Regularly $29.95 Buy Now blu-ray
Quotes
DVDs from TCM Shop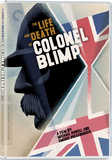 The Life and Death of Colonel Blimp An aging military man looks... MORE&nbsp> $19.47
Regularly $29.95 buy now
Theo Kretschmar-Schuldorff


What is your first name, Miss Cannon?

'Johnny' Cannon


Angela.

Theo Kretschmar-Schuldorff


What a lovely name. It comes from Angel, doesn't it?

'Johnny' Cannon


I think it stinks. My friends call me Johnny.

Theo Kretschmar-Schuldorff


You know that, after the war, we had very bad years in germany. We got poorer and poorer. Every day retired officers or schoolteachers were caught shoplifting. Money lost its value, the price of everything rose except of human beings. We read in the newspapers that the after-war years were bad everywhere, that crime was increasing and that honest citizens were having a hard job to put the gangsters in jail. Well in Germany, the gangsters finally succeeded in putting the honest citizens in jail.

Clive Candy


Are you mad? I know what war is!

Theo Kretschmar-Schuldorff


I don't agree. I read your broadcast up to the point where you describe the collapse of France. You commented on Nazi methods, foul fighting, bombing refugees, machine-gunning hospitals, lifeboats, lightships, bailed-out pilots, by saying that you despised them, that you would be ashamed to fight on their side and that you would sooner accept defeat than victory if it could only be won by those methods.

Clive Candy


So I would.

Theo Kretschmar-Schuldorff


Clive! If you let yourself be defeated by them, just because you are too fair to hit back the same way they hit at you, there won't be any methods BUT Nazi methods! If you preach the Rules of the Game while they use every foul and filthy trick against you, they will laugh at you! They think you're weak, decadent! And if you lose there won't be a return match next year, perhaps not even for a hundred years!

Theo Kretschmar-Schuldorff


You mustn't mind me, an old alien, saying all this. But who can describe hydrophobia better than one who has been bitten - and is now immune.

Theo Kretschmar-Schuldorff


Do you remember, Clive, we used to say: "Our army is fighting for our homes, our women, and our children"? Now the women are fighting beside the men. The children are trained to shoot. What's left is the "home." But what is the "home" without women and children?

Hoppy


I was awfully sorry to hear about your leg.

Hoppy


Jumping Jehosaphat! They're both there!

Clive Candy


What the hell did you think I was standing on?

Hoppy


They told me in Bloemfontein that they cut off your left leg.

Clive Candy


Can't have, old boy. I'd have known about it.