DVDs from TCM Shop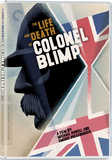 The Life and Death of Colonel Blimp An aging military man looks... MORE&nbsp> $19.47 Regularly $29.95 Buy Now blu-ray
Home Video Reviews
It is hard to overstate the beauty of Michael Powell and Emeric Pressburger's collective cannon.
Black Narcissus
(1946),
A Matter of Life and Death
(1946), and
The Red Shoes
(1948) are wondrous concoctions of light, music, and otherworldly Technicolor. Now, the Criterion Collection's new transfer of one of Powell and Pressburger's relatively unknown masterpieces,
The Life and Death of Colonel Blimp
(1943), is finally given its due.
Colonel Blimp
is a satirical comedy/drama that is far removed from the exotic and the fantastic milieus Powell and Pressburger would explore in their later color films, which is ironic since the film is based on a popular black and white political cartoon character, Colonel Blimp. Regardless of the film's newsprint origins, Powell and Pressburger's take did not start as a straight adaptation of David Low's cartoonish creation. The idea actually took root in a discarded scene in one of their earlier films
One of Our Aircraft is Missing
(1942), where an elderly bomber crew member reminds a younger soldier that he too was once young.
Criterion pays tribute to the film's newsprint heritage with "David Low's Colonel Blimp." This excellent supplement delves into Low's creation, with textual information that gives the history of the character overlapped with a gallery of noteworthy cartoons. Colonel Blimp first appeared on April 21, 1934, in London's
Evening Standard
, and within eighteen months, according to
The Times
, "passed into the mythology of our country, to share the timeless existence of beings like Sherlock Holmes." No doubt, Low himself may have been amused with the comparison to the gentleman thinker-sleuth. Low said he "conceived Colonel Blimp as a symbol of stupidity. Not of colonels, nor of stupid colonels in particular. Not of Authority, nor especially of stupid Authority. Not exclusively of the Right Wing nor the Left. Stupidity has no frontiers, domestic or foreign, partly, professional or social."
Stupid may be as stupid does, but Powell and Pressburger's interpretation of the character was satirically smart and biting enough to give even the highest of UK VIPs some pause, as is revealed in an exchange of memos and letters between the producers and leaders in the British government. When the film was ready for distribution, Winston Churchill himself, no small critic of the film, attempted to block its disbursement to the public and to the Army, thinking it "detrimental" to morale. But producer Arthur Rank stood up to the old lion by showing it in his Odeon cinema circuit and even advertising it with the headline, "See the banned film!" Naturally, the controversy only engendered more curiosity, which translated into record ticket sales at the British box office. But some censorship edits were imposed by an arguably well meaning British wartime government. This truncated version was released in America in 1945.
Colonel Blimp
was restored to its original length in 1983, forty years after its original release in Great Britain.
As is usually the case with a Criterion production, supplemental materials are plentiful for
Colonel Blimp
, including a 1988 audio commentary featuring Michael Powell and Powell & Pressburger champion Martin Scorsese; a 24-minute video documentary,
A Profile of the Life and Death of Colonel Blimp
; and rare behind the scenes production stills from Michael Powell's private collection. To purchase the DVD visit
TCM Shopping
.
by Scott McGee