DVDs from TCM Shop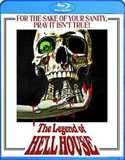 The Legend of Hell House Scientists and psychics team to crack the secrets of a... MORE&nbsp> $17.95 Regularly $24.97 Buy Now
Articles
SEE ALL ARTICLES
The Legend of Hell House (1973)
There's no "welcome" mat at the Belasco House. Once you walk through the gate to approach the fog-enshrouded mansion the first thing you will notice are bricked-up windows, so that no one can see in or out. This place has a bad reputation as a den for "Drug addiction, alcoholism, sadism, bestiality, mutilation, murder, vampirism, necrophilia, cannibalism, not to mention a gamut of sexual goodies." It's also where twenty-seven dead bodies were found back in 1929. Even decades later ominous voices can be heard, objects move around on their own, ectoplasmic formations spindle through the air, chandeliers suddenly crash to the ground, flames burst through the fireplace like giant tongues, plates and other dishes turn into flying daggers, unwelcome ghosts make sexual advances on the human guests, and even the local pussycat can be more dangerous than a hungry mountain lion.

Mr. Deutsch is a dying millionaire who wants to know if there's life after death. He offers three psychic phenomena specialists a large sum of money to carry out experiments in parapsychology at this property he owns that has the reputation of being the "Mount Everest of haunted houses." Mr. Fischer (Roddy McDowall) is a physical medium and also the sole survivor of a previous incursion into the house in 1953 well...there were a few others who came out "alive," technically, but they were rendered insane and permanently disabled. Miss Tanner (Pamela Franklin, the British child star from The Innocents, 1961) is a mental medium whose tender psyche is perfect for channeling spirits and conducting sances. Dr. Barrett (New Zealand actor Clive Revill) is a physicist who wants to bring in a large machine to "de-energize" Hell House. Also tagging along is Dr. Barrett's gorgeous wife, Ann (Gayle Hunnicutt).

Prolific writer Richard Matheson is no stranger to adapting his printed works into screenplays. He did it with The Incredible Shrinking Man (1957, adapted from The Shrinking Man), The Last Man on Earth (1964, adapted from I Am Legend), the made-for-TV Duel (1971), and The Legend of Hell House (1973, adapted from Hell House) others also followed.

The director of The Legend of Hell House, John Hough, got his start as an assistant director on the snappy British spy show The Avengers (1968). From there he covered a wide range of films veering from a Hammer production (Twins of Evil, 1971), to a successful car chase film (Dirty Mary, Crazy Larry, 1974), some fondly remembered Disney films (Escape to Witch Mountain (1975), the sequel Return from Witch Mountain (1978), and The Watcher in the Woods, 1980), and more horror films (The Incubus (1981), American Gothic, 1987).

According to Roger Ebert, Matheson's work from the 1950's and 1960's "anticipated pseudorealistic fantasy novels like Rosemary's Baby and The Exorcist" this last title being a film that was released the same year as The Legend of Hell House. But, fortunately for Hough, his film came out six months before The Exorcist and thus was spared the fate of being completely eclipsed by the mammoth success of Friedkin's film for those few months. But there's no denying that The Exorcist tapped into the horrors of the zeitgeist with more zeal. Next to the terror of watching a small girl get possessed by the devil and spew out all manner of bile, a big house with ghost issues seems quaint by comparison. Seven years later, Stanley Kubrick would remind people that yes, in fact, a "haunted house film" could still scare the pants off of a modern audience.

In all likelihood, Kubrick even cribbed a thing or two from The Legend of Hell House, such as its striking reminders of day and time, not to mention inspired cinematography that places viewers into all kinds of odd crooks and crannies and which allows the large and ornate interiors to resonate in full view. In terms of the former, The Legend of Hell House uses subtitles that go in chronological order, starting with "FRIDAY, DECEMBER 17TH, 4:08pm," and that go all the way up to "FRIDAY, DECEMBER 24th 4:59pm" (with about twenty other subtitles in-between). Kubrick's approach is, admittedly, more unsettling, because what he does in The Shining (1980) is give his time-markings their very own title-cards which, as the pacing gets more delirious, appear at odd intervals to herald "Tuesday" or "Saturday" or "3:00pm" as if to say, it just doesn't matter what day or time it is, you're never going to escape.

The Legend of Hell House and The Shining are definitely kindred spirits of the haunted kind. It also speaks volumes that in both you have actors delivering some over-the-top performances while possessed by evil spirits. In The Shining, Jack Nicholson becomes forever burned in our minds as the ax-wielding madman breaking through a door while in Hell House, you have Roddy McDowall flopping onto the carpet with what looks like a tortured yoga pose while emitting a high-pitch squeak. While the Overlook Hotel is more subtly creepy than the Belasco House, both of these places generate a palpable energy that is both intoxicating and hard to escape.

Executive Producers: James H. Nicholson & Susan Hart
Producers: Albert Fennell & Norman T. Herman
Director: John Hough
Screenplay: Richard Matheson
Cinematography: Alan Hume
Film Editing: Geoffrey Foot
Cast: Clive Revill (Dr. Lionel Barrett), Gayle Hunnicutt (Ann Barrett), Roddy McDowall (Benjamin Fischer), Pamela Franklin (Florence Tanner).
C-95m.

by Pablo Kjolseth


back to top
---
The Legend of Hell House (1973)
In The Legend of Hell House, the English investigators approach a mansion that was filmed at Wykehurst Park in East Sussex. In Matheson's novel the house was in the U.S. in Maine, and investigated by Americans.

Although the film was released in the U.S. with a P.G. rating, in the U.K. it was originally slapped with an X and this despite the fact that Matheson's script significantly cut back on the graphic sexuality that was in his book.

The embalmed corpse of Emeric Belasco is played by veteran British actor Michael Gough (American audiences might recognize him as Alfred Pennyworth from Tim Burton's Batman, 1989).

The electronic soundtrack was provided by two composers: Delia Derbyshire and Brian Hodgson, whose background was in the BBC Radiophonic Workshop. Derbyshire engineered the first Doctor Who theme from a composition by Ron Granier.

In regards to former child actor Roddy McDowall, The Legend of Hell House was made between his appearances in two of the popular Planet of the Apes movies - Conquest of the Planet of the Apes (1972) and Battle for the Planet of the Apes (1973), and on Hell House he was joined by another former child actor: Pamela Franklin (from The Innocents, 1961).

The tales of hedonism and debauchery behind Hell House were loosely based on stories surrounding Satanist Aleister Crowley.

by Pablo Kjolseth

SOURCES:
Wikipedia
IMDB
The Legend of Hell House (1973) go in, or don't! by Mark A. Hodgson, Black Hole DVD Reviews


back to top
---
The Legend of Hell House (1973)
Shaun of the Dead (2004) creators Edgar Wright and Simon Pegg were obviously influenced by The Legend of Hell House for their contribution to the fake trailers that were sandwiched in the middle of Tarantino and Rodriquez' Grindhouse features. For their faux trailer to Don't!, we see three people approach a gate to a fog-enshrouded mansion one of the characters even sports the same droopy '70's glasses that Roddy McDowall wore in The Legend of Hell House.

The Legend of Hell House was one of the first horror films ever made to feature sex with an invisible ghost. A few years later The Entity (1981) would revisit this disturbing concept with even more harrowing results involving a rapist poltergeist.

James H. Nicholson was the prolific producer who helped found American International Pictures and this was the only film presented by Nicholson for his newly formed Academy Pictures. It is also Nicholson's last credited film (as executive producer) before he died of a brain tumor in 1973. Nicholson was also a (uncredited) producer on director John Hough's follow-up to The Legend of Hell House: Dirty Mary, Crazy Larry (1974).

In-between the ghostly attacks of Hell House, here are some of the offerings you would find on its bookshelves to help you kill the time: Obsessive Acts and Religious Practices (Sigmund Freud), The Worship of Priapus (Richard Payne Knight), The Psychology of Sex (H.H. Elliot), Sin and Sex, Conation Volition, Sex and Celibacy (T. Long), The Anatomy of Abuses (Philip Stubbs), and Phallic Worship and Autoerotic Phenomena in Adolescence (K. Menzies). Aside from Freud, Knight, and Stubbs, you might have a hard time finding the other authors at your local bookstore.

Musical appropriations of dialogue from The Legend of Hell House have been sampled by avant-industrial Skinny Puppy, techno superstars Orbital, and the English Black-Metal band Anaal Nathrakh.

The art used for the DVD of The Legend of Hell House contains spoilers; one is a shot of Gayle Hunnicutt's character lying dead on the ground, right next to the letter she scrawled out with her own blood to tip everyone off as to who is behind all the ghostly happenings.

Two oft-cited influences on The Legend of Hell House are Shirley Jackson's 1959 novel The Haunting of Hill House (Robert Wise directed the first film version) and the psychological ghosts in Henry James's 1898 book The Turn of the Screw.

Goof: Belasco's body holds a glass of un-evaporated wine in its left hand this despite being dead over 20 years.

by Pablo Kjolseth

SOURCES:
The Psychotronic Encyclopedia of Film by Michael Weldon, Ballantine Books
Wikipedia
The Legend of Hell House (1973) go in, or don't! by Mark A. Hodgson, Black Hole DVD Reviews
IMDB
The Legend of Hell House by Richard Scheib, Moria The Science Fiction, Horror and Fantasy Film Review


back to top
---
The Legend of Hell House (1973)
"The Legend of Hell House...brims with "psychic phenomena" that, a foreword insists, "are not only very much within the bounds of possibility but could well be true." Perhaps. But it's an unconvincing legend on screen despite this sober note and a pseudo-scientific approach to ghouls, poltergeists and the like. And if John Hough, the director, and his small, willing cast maintain mild tension during their harried visit to this haunted "hell house," the few chills they provide are of little help...the young, decorative Pamela Franklin, as a "mental medium, and Gayle Hunnicutt, as the physicist's well-endowed wife, add an unusual, titillating facet to this film genre when they occasionally serve as sex objects for those dastardly ghouls. The rampaging spirits, however, are hard to believe, and we must agree with the realistic, unflappable Clive Revill when he exclaims: "It's impossible, I can't accept this.""
- A. H. Weiler, The New York Times

"Richard Matheson's disappointing adaptation of his own rather disappointing novel...Trivialising the theme, saddled with some terrible dialogue, needlessly tricked out with a lot of countdown-style dates, it founders into innocuous routine. Pamela Franklin, however, gives a convincing performance as the 'mental medium'."
- David Pirie, TimeOut Film Guide

"Adapted by the legendary Richard Matheson from his novel Hell House, this unnerving combination of old-fashioned haunted house tricks with modern scientific jargon and (comparatively mild) sex and violence makes for a memorable, atmospheric experience.... Apart from one misstep involving a cat attack (almost as goofy as the one in Dario Argento's Inferno, 1980), the manifestations are well handled and often frightening, such as the ectoplasm appearance. Though all four performances are excellent, Franklin and McDowall (who gets some of the choicest, most quotable dialogue) stand out with two of the best performances of their careers, delivering an avalanche of potentially difficult lingo with committed gusto."
- Nathaniel Thompson, Mondo Digital

"Richard Matheson's scripting of his novel Hell House builds into an exceptionally realistic and suspenseful tale of psychic phenomena. John Hough's direction maintains this spirit as his cast of characters arrive at the deserted Hell House with an assignment from its present tycoon owner to learn the truth about survival after death, a secret he believes the house with its terrifying history may hold."
- Variety

"...in spite of some atmospheric sequences, the film doesn't overcome the script's failure to establish the necessary conflict between science and occultism, relying instead on a mechanical succession of spectacularly staged shocks. As a result, the impact of the climactic revelations about the mad millionaire's perversions are an anticlimax because they are inadequately prepared."
- The Encyclopedia of Horror Movies

"What works best in The Legend of Hell House is director John Hough's depiction of the house's interiors. Every room is moodily lit and characters often take to wandering into pitch-black areas. The director lets the tension build only to provide very little payoff. The movie has several entertaining scenes of dining room tables dancing and flatware flying about, but the overall pace of The Legend of Hell House is as deadly as the ghosts onscreen."
- Scott Weinberg, Apollo Movie Guide

"The Legend of Hell House is a haunted house movie, make no bones about it. It does not saddle itself with anything that does not directly relate to the flow of the story. It wastes little time in getting things going and leaves it to the characters to define themselves rather than do so through needless exposition scenes. There are no romantic subplots, inane one liners littering the script or big action scenes. In essence, it is the exact opposite of what a modern haunted house film can be. That is not to say that is does not have faults. Despite the excellent acting, writing and look of the film, it never really manages to deliver in the scares department. ... Regardless, the film is definitely worth checking out and lack of chills or not, still ranks near the very top of haunted house flicks."
- Shadow's B-Movie Graveyard Movie Reviews



"The Legend of Hell House is a remarkably effective little thriller that provides the bulk of its chills in the first two thirds - the final third is bogged down with the inclusion of a ghost eradicating machine and a semi-goofy final confrontation with the individual behind the malice. A prime example of suggestion over showing, the movie concentrates on the actions of the spirits - opening/closing doors, moving objects, possession - rather than the age-old standby of translucent figures in whiteface. As a result, the audience is treated to a series of hair-raising events that may be the work of the deceased, or might simply be manifestations of the mediums' subconscious. Add to the mix crack performances by all involved, including what may be the Rod's best role, and you've got a can't-miss gem."
- Andrew Hershberger, Mania.com

"The Legend of Hell House was the single best work that Hough ever turned out. There is a certain tendency to rely on shock effect and the film never quite has any scenes as startling and effective as the famous door battering in The Haunting [1963], but Hough creates a tense and uneasy atmosphere from the very beginning. There is a wonderfully eerie scene where ectoplasm emerges from Pamela Franklin's fingertips during a sance, the scene being all the more remarkable for the tone of scientific detachment taken throughout Clive Revill commands the spectral force to leave a sample of ectoplasm in a jar and not too surprisingly it veers off and does so. Alan Hume's photography with shots reflected off rotating records and entire rooms seen in the curved reflection of a polished silver teapot is marvelously stylish."
- Richard Scheib, Moria: Science Fiction, Horror and Fantasy Film Review

"John Hough's The Legend of Hell House is hardly a great work of art, but it is an eerie and intriguing tale of the supernatural... Perhaps the most effective elements of The Legend of Hell House are the director's presentations of the characters' personalities and of their interactions with one another. Florence is nave and idealistic. Fischer is reserved and fearful of the dangers of his environment. Mr. Barrett is cynical and very professional, and his wife is both devoted to him and concerned about the others. The conflicts that arise between these individuals occur because of their different natures and so have a sense of veracity that greatly adds to the tension the director evokes."
- Keith Allen, Movierapture.com

"Overall, The Legend of Hell House is a great production. When considering the competition of the seventies, it may not rank among the best that decade had to offer, but it is still worlds better than the most recent entries. The cast did an exceptional job. Each character stood out and was significant to the plot."
- Melissa McGahee, Scared Stiff Reviews

"While The Legend of Hell House was never quite good enough to enter the upper echelon of classic spookers, it does remain a fascinating film; possibly for what it may be, rather than what is has long been perceived as.""
- Steve Langton, The Spinning Image


back to top
---
The Legend of Hell House (1973)
Opening Title Card: "Although the story of this film is fictitious, the events depicted involving psychic phenomena are not only very much within the bounds of possibility, but could well be true." - Tom Corbett, Clairvoyant and Psychic Consultant to European Royalty

Mr. Deutsch (Roland Culver): My people tell me you're one of the best five in the field. You're fee will be 100,000 pounds. Your assignment; to establish the facts.
Dr. Barrett (Clive Revill): Regarding what?
Mr. Deutsch: Survival after death.
Dr. Barrett: You want me...?
Mr. Deutsch: To let me know if it's factual.
Dr. Barrett: How could I convince you either way?
Mr. Deutsch: Give me the facts.
Dr. Barrett: And where can I find these facts? I'm a physicist. For twenty years I've studied parapsychology I've yet to...
Mr. Deutsch: If they exist you'll find them in the only place I know on Earth where survival has yet to be refuted. The Belasco House.
Dr. Barrett: Hell House?
Mr. Deutsch: (Smiles) Hell House.

Ann Barrett (Gayle Hunnicutt): I want to be there when you prove your new theory. Isn't it just another so-called haunted house?
Dr. Barrett: It's the Mount Everest of haunted houses.

Florence Tanner (Pamela Franklin): It's hideous.
Dr. Barrett: We're not even inside yet, Miss Tanner.

Gramophone recording of Emeric Belasco (voiced by Michael Gough): Welcome to my house. I'm delighted you could come. I'm certain you will find your stay here most illuminating. Think of me as your unseen host and believe that during your stay here I shall be with you in spirit. May you find the answer that you seek. It is here, I promise you. And now, auf wiedersehen.

Ann Barrett: What did he look like?
Benjamin Fischer (Roddy McDowall): His was a frightening visage, like the face of a demon that had taken on some human aspect.
Florence Tanner: Are you quoting?
Ann Barrett: Yes, I am. That is his second wife. She committed suicide in this room in 1927.

Ann Barrett: What did he do to make this house so evil, Mr. Fischer?
Benjamin Fischer: Drug addiction, alcoholism, sadism, bestiality, mutilation, murder, vampirism, necrophilia, cannibalism, not to mention a gamut of sexual goodies. Shall I go on?
Ann Barrett: How did it end?
Benjamin Fischer: If it had ended, we would not be here.

Florence Tanner: All this time a mental medium, and now this. The Lord certainly does move in mysterious ways.Benjamin Fischer: So does this house.

Ann Barrett: (Looking through microscope.) What is it?
Dr. Barrett: A specimen of that teleplasm prepared in water. What the spiritualists refer to as ectoplasm is derived almost entirely from the medium's body. The remainder being an admixture from the air, the medium's costume, fibrous remains, food and dust particles, etcetera, etcetera. But the bulk of it is organic living matter, an organic externalization of thought Mind reduced to matter.

Ann Barrett: (Descends staircase in flimsy night-gown, caresses breasts on statue, and goes toward Benjamin Fischer)
Benjamin Fischer: Mrs. Barrett! Mrs. Barrett!
Ann Barrett: You... me... that girl... Lionel... all together... naked... drunk... clutching... sweating... biting... (takes off gown)Benjamin Fischer: (slaps her) You... you... were walking in your sleep.

Ann Barrett: What's it going to do, Lionel?
Dr. Barrett: You've heard me talk about a power in this house. It's a real power, Ann. A field of measurable energy. Energy that can be reversed and that's exactly what I'm going to do. By this time tomorrow, Hell House will be drained, de-energized. You'll see.
Benjamin Fischer: (Clapping.) That pile of junk you have there Barrett isn't going to do a thing.

Benjamin Fischer: I was the only one to make it out of here alive and sane in 1953. And I will be the only one to make it out of here alive and sane this time.

Dr. Barrett: The house is a giant battery.


back to top
---
The Legend of Hell House (1973)
There's no "welcome" mat at the Belasco House. Once you walk through the gate to approach the fog-enshrouded mansion the first thing you will notice are bricked-up windows, so that no one can see in - or out. This place has a bad reputation as a den for "Drug addiction, alcoholism, sadism, bestiality, mutilation, murder, vampirism, necrophilia, cannibalism, not to mention a gamut of sexual goodies." It's also where twenty-seven dead bodies were found back in 1929. Even decades later ominous voices can be heard, objects move around on their own, ectoplasmic formations spindle through the air, chandeliers suddenly crash to the ground, flames burst through the fireplace like giant tongues, plates and other dishes turn into flying daggers, unwelcome ghosts make sexual advances on the human guests, and even the local pussycat can be more dangerous than a hungry mountain lion.

Mr. Deutsch is a dying millionaire who wants to know if there's life after death. He offers three psychic phenomena specialists a large sum of money to carry out experiments in parapsychology at this property he owns that has the reputation of being the "Mount Everest of haunted houses." Mr. Fischer (Roddy McDowall) is a physical medium and also the sole survivor of a previous incursion into the house in 1953 - well...there were a few others who came out "alive," technically, but they were rendered insane and permanently disabled. Miss Tanner (Pamela Franklin, the British child star from The Innocents, 1961) is a mental medium whose tender psyche is perfect for channeling spirits and conducting sances. Dr. Barrett (New Zealand actor Clive Revill) is a physicist who wants to bring in a large machine to "de-energize" Hell House. Also tagging along is Dr. Barrett's gorgeous wife, Ann (Gayle Hunnicutt).

Prolific writer Richard Matheson is no stranger to adapting his printed works into screenplays. He did it with The Incredible Shrinking Man (1957, adapted from The Shrinking Man), The Last Man on Earth (1964, adapted from I Am Legend), the made-for-TV Duel (1971), and The Legend of Hell House (1973, adapted from Hell House) - others also followed.

The director of The Legend of Hell House, John Hough, got his start as an assistant director on the snappy British spy show The Avengers (1968). From there he covered a wide range of films veering from a Hammer production (Twins of Evil, 1971), to a successful car chase film (Dirty Mary, Crazy Larry, 1974), some fondly remembered Disney films (Escape to Witch Mountain (1975), the sequel Return from Witch Mountain (1978), and The Watcher in the Woods, 1980), and more horror films (The Incubus (1981), American Gothic, 1987).

According to Roger Ebert, Matheson's work from the 1950's and 1960's "anticipated pseudorealistic fantasy novels like Rosemary's Baby and The Exorcist" - this last title being a film that was released the same year as The Legend of Hell House. But, fortunately for Hough, his film came out six months before The Exorcist and thus was spared the fate of being completely eclipsed by the mammoth success of Friedkin's film for those few months. But there's no denying that The Exorcist tapped into the horrors of the zeitgeist with more zeal. Next to the terror of watching a small girl get possessed by the devil and spew out all manner of bile, a big house with ghost issues seems quaint by comparison. Seven years later, Stanley Kubrick would remind people that yes, in fact, a "haunted house film" could still scare the pants off of a modern audience.

In all likelihood, Kubrick even cribbed a thing or two from The Legend of Hell House, such as its striking reminders of day and time, not to mention inspired cinematography that places viewers into all kinds of odd crooks and crannies and which allows the large and ornate interiors to resonate in full view. In terms of the former, The Legend of Hell House uses subtitles that go in chronological order, starting with "FRIDAY, DECEMBER 17TH, 4:08pm," and that go all the way up to "FRIDAY, DECEMBER 24th 4:59pm" (with about twenty other subtitles in-between). Kubrick's approach is, admittedly, more unsettling, because what he does in The Shining (1980) is give his time-markings their very own title-cards which, as the pacing gets more delirious, appear at odd intervals to herald "Tuesday" or "Saturday" or "3:00pm" - as if to say, it just doesn't matter what day or time it is, you're never going to escape.

The Legend of Hell House and The Shining are definitely kindred spirits of the haunted kind. It also speaks volumes that in both you have actors delivering some over-the-top performances while possessed by evil spirits. In The Shining, Jack Nicholson becomes forever burned in our minds as the ax-wielding madman breaking through a door while in Hell House, you have Roddy McDowall flopping onto the carpet with what looks like a tortured yoga pose while emitting a high-pitch squeak. While the Overlook Hotel is more subtly creepy than the Belasco House, both of these places generate a palpable energy that is both intoxicating and hard to escape.

Executive Producers: James H. Nicholson & Susan Hart
Producers: Albert Fennell & Norman T. Herman
Director: John Hough
Screenplay: Richard Matheson
Cinematography: Alan Hume
Film Editing: Geoffrey Foot
Cast: Clive Revill (Dr. Lionel Barrett), Gayle Hunnicutt (Ann Barrett), Roddy McDowall (Benjamin Fischer), Pamela Franklin (Florence Tanner).
C-95m.

by Pablo Kjolseth
back to top
---