DVDs from TCM Shop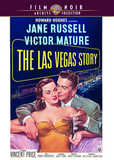 The Las Vegas Story When newlyweds visit Las... MORE&nbsp> $17.56 Regularly $21.99 Buy Now
NOTES
The working title of this film was The Miami Story. According to a Hollywood Reporter news item, the title was changed after RKO dropped plans to shoot some of the picture in Florida. The film opens with voice-over narration spoken by Hoagy Carmichael as his character "Happy."
Contemporary news items add the following information about the film's production: In December 1948, Warner Bros. purchased Jay Dratler's original screen story and hired him to produce the picture. Burt Lancaster was announced as the film's star in April 1949. RKO acquired the rights to Dratler's story in January 1950 and signed Dratler to produce, write and direct. Robert Mitchum and Robert Ryan were each announced as the film's probable star in various news items in January 1950. In November 1950, Samuel Bischoff took over as producer and Victor Mature was cast as the male lead. RKO borrowed Mature from Twentieth Century-Fox, whose contract with the actor required that he appear in one RKO film per year. In order to get out of appearing in one particular RKO picture, Mature reportedly feigned an injury and was suspended for several weeks just prior to being cast in The Las Vegas Story. Robert Stevenson was hired as director in mid-December 1950. Ed Begley was announced as a cast member in early May 1951, but he did not appear in the picture. Rudy Germaine was also cast, but his appearance in the final film has not been confirmed.
Location shooting took place in Las Vegas, NV, at the Moroc Naval Air Base near Mojave, CA, and in the Mojave Desert. Colleen Miller, a Las Vegas chorine who was reportedly "discovered" during production and given an RKO contract, made her screen debut in the picture. Although Hollywood Reporter announced in July 1951 that songwriter-actor Hoagy Carmichael would also compose the film's score, only Leigh Harline is credited onscreen as composer. The film's extravagant Las Vegas opening benefitted the Heart Fund of the Variety Clubs of America. Modern sources note that the picture lost $600,000 at the box office.
Although not credited onscreen, Paul Jarrico co-wrote the film's screenplay with Earl Felton and Harry Essex. According to a March 19, 1952 Daily Variety news item, RKO head Howard Hughes ordered that Jarrico's credit for this film be removed because Jarrico had been blacklisted in 1947 after refusing to cooperate with the House Committee on Un-American Activities. The Daily Variety item and a March 1952 Los Angeles Examiner item note that in July 1951, RKO advised the Screen Writers Guild that it was planning to remove Jarrico from the screen credits, claiming it had discarded all of his work on the script and hired new writers to reformulate the story. However, in September 1951, the Guild, after analyzing the script according to standard Guild criteria, ruled that Jarrico deserved a co-screenwriting credit. On March 18, 1952, in response to Jarrico's public accusation that Hughes had breached his contract by depriving him of his writing credit, RKO filed a lawsuit for "relief from Jarrico's demand for screen credit or a $5,000 settlement." The matter also was considered by a six-man conciliation commission formed by the Screen Writers Guild as part of its pact with the major studios, according to the Daily Variety item. Superior Court Judge Orland H. Rhodes eventually ruled that RKO was within its rights in denying Jarrico's screen credit; in October 1954, Rhodes's decision was upheld by the District Court of Appeals.
According to a 1998 Hollywood Reporter article, Jarrico's credit for The Las Vegas Story was officially restored by the Writers Guild of America West in July 1998, along with credits for three other films, Universal's 1957 release The Girl Most Likely , Paramount's 1960 film Five Branded Women and the 1963 Rank picture All Night Long (see AFI Catalog of Feature Films, 1961-70). Jarrico, who became the leader of the Guild's Blacklist Credits Committee, which undertook to restore credits for blacklisted writers, died in a car crash nine months before the Guild's restoration of his own credits.