DVDs from TCM Shop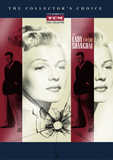 The Lady from Shanghai A romantic drifter gets caught between a corrupt tycoon and... MORE&nbsp> $21.95 Regularly $29.99 Buy Now
Trivia
The yacht on which much of the action takes place belonged in real life to 'Flynn, Errol' . He skippered the yacht in between takes, and can also be seen in the background in one scene outside a cantina.
Orson Welles was very displeased with the score put together by the studio appointed composer. In a test screening, he put a temp stock score on which was supposed to be a model for the composer. He completely disregarded Welles' precisely laid out blueprint. In particular, the final mirror scene was supposed to be unscored... to create the sense of terror.
Welles' original rough cut of "Lady From Shanghai" ran 155 minutes. Numerous cuts made by Columbia Studios executives included a shortening of the famous "funhouse" finale.
Welles reportedly considered making the film from Sherwood King's novel "If I Die Before I Wake" before even reading it. According to legend, one of Welles' producers called him at a hotel, demanding to know what project he would film next. The cleaning lady just happened to be in the room, with a book in her hand, and Welles gestured to her to hold the book up so he could see the title and author.
Director Welles' decision to have Rita Hayworth cut her hair and bleach it caused a storm of controversy.
Columbia head Harry Cohn thought the movie would ruin his star, Rita Hayworth, and held the release of the picture back for one year. Cohn ordered Welles to insert "glamour" shots (close-ups) of Hayworth. With the success of Hayworth's singing in previous movies, Cohn ordered filming of the scene where Hayworth sings "Please Don't Kiss Me."