DVDs from TCM Shop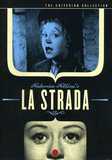 La Strada A traveling strongman buys a... MORE&nbsp> $25.97 Regularly $39.95 Buy Now
Home Video Reviews
"Federico Fellini has here achieved one of those very rare films, of which we forget that they are movies and accept them simply as a masterpiece."
---Andre Bazin, 1956
It is often the case that the importance of a work of art is not fully understood until long after its moment of creation. Such is not the case with Federico Fellini's
La Strada
, however (now available on DVD from The Criterion Collection). Upon its release in 1954,
La Strada
became the centerpiece in a critical battle for the heart and soul of Italian cinema and it precipitated what became known as the Crisis of Neo-Realism.
La Strada
is also the film that first brought international acclaim to Fellini. An inverted "Beauty and the Beast" tale,
La Strada
is a bridge between Fellini's earlier neo-realist films and his later autobiographical and expressionistic ones. The film tells the story of Zampano, a brutal carnival strongman who buys Gelsomina, a simple peasant girl, for 10,000 liras to help him in his act. The picaresque narrative (the film's title means "The Road") follows the two as they wander the countryside. Zampano is cruel to Gelsomina, yet she remains faithful until a chance meeting with a tightrope walker known as the Fool changes everything. Critics have often pointed to the film as an example of Christian allegory, and Fellini has at times encouraged such a view. He once described
La Strada
as "the story of a man who discovers himself."
On the surface the film seems to be a neo-realist film: it is a harsh story about life's underdogs told in a linear fashion, in gritty black-and-white. But the film is too lyrical, too much a fairy tale to be classed with earlier neorealism films like De Sica's
The Bicycle Thief
(1948). And unlike his later masterpieces, such as
La Dolce Vita
(1960) and
8 1/2
(1963), Fellini achieves his unique vision in this film without cinematic tricks or playful sequences. What separates
La Strada
from Fellini's earlier work is his choice of characters and theme. The film has a mythic quality and Fellini symbolically connects Gelsomina to the water, Zampano to the earth and the Fool to the air. The circus, a recurring theme in Fellini's films, gets its first full-scale treatment here. In his youth, Fellini spent a considerable amount of time with a traveling circus troupe and his love and admiration for the performers never left him. (In 1971 Fellini wrote and directed the quasi-documentary
The Clowns
.) According to Roger Ebert,
La Strada
is "the first film that can be called entirely 'Felliniesque'."
The story of the film's production is itself a picaresque tale. Fellini wrote the script with collaborators Ennio Flaiano and Tullio Pinelli and brought it first to Luigi Rovere, Fellini's producer for
The White Sheik
(1952). When Rovere read the script for
La Strada
, he began to weep. Naturally, such an emotional response raised Fellini's hopes. "You like it then?" he asked. Rovere responded: "As a film this wouldn't make a lira. It's not cinema. It's more like literature." While the producer's comparison of
La Strada
and literature is a good one, his prediction that the film would be a box office disaster proved to be more than a little wide of the mark.
Fellini next found a sympathetic ear in producer Lorenzo Pegoraro. Pegoraro gave Fellini a cash advance, but would not agree to Fellini's demand that Giulietta Masina play Gelsomina. So Fellini put the project aside and he, Pinelli and Flaiano began work on what would become
I Vitelloni
(1953). When
I Vitelloni
proved a commercial success, Fellini went back to Pegoraro with the
La Strada
script. Despite the success of
I Vitelloni
, the producer remained adamant that Masina not play Gelsomina. Since the part had been written specifically for Masina, Fellini, emboldened by his recent success, decided to go ahead with
La Strada
and just hope that backers could be found.
While all this was going on, Masina was at work on
Donne Proibite
(1953), co-starring Anthony Quinn. The film was being shot in Rome and when Fellini came by one day to pick Masina up, he noticed Quinn and decided that he had found his Zampano. But when Masina introduced Quinn to her husband, the actor was nonplused. According to Quinn: "I thought he was a little bit crazy, and I told him I wasn't interested in the picture, but he kept hounding me for days."
While he waited for Quinn to say yes, Fellini secured financing through the producers Dino De Laurentiis and Carlo Ponti. They loved the script but wanted to cast Silvana Mangano (De Laurentiis' wife) as Gelsomina and Burt Lancaster as Zampano. Fellini refused. Meanwhile, Quinn was invited to dinner with Roberto Rossellini and Ingrid Bergman. After dinner they watched
I Vitelloni
. According to Quinn: "I was thunderstruck by it. I told them the film was a masterpiece, and that the same director was the man who had been chasing me for weeks." Quinn called Fellini the next day and agreed to do the picture. Ponti and De Laurentiis acceded to Fellini's casting choices and finally,
La Strada
went into production.
But then, just as the film got under way, Giulietta Masina hurt her ankle and the film came to a standstill. Immediately after her recuperation, a new problem presented itself: Quinn was already at work on
Attila
(1954, also produced by De Laurentiis). The solution? Quinn worked on
La Strada
in the morning and
Attila
in the afternoon. The schedule was grueling and Fellini demanding, but as Quinn recalls, the experience was invaluable: "He drove me mercilessly, making me do scene after scene over and over again until he got what he wanted. I learned more about film acting in three months with Fellini than I'd learned in all the movies I'd made before then."
For the character of the Fool, Fellini cast American actor Richard Basehart who was then living in Rome. Basehart and Fellini got on well with one another, often taking Sunday drives around the country together. Fellini thought so well of Basehart that he cast him in his next film,
Il Bidone
(1955).
When the film was released, it was attacked by Marxist critics for its abandonment of neo-realist aesthetics. In the view of these critics, Fellini had abandoned the neo-realist goal of depicting society and had, instead, turned towards the "poetry of the solitary man." Fellini angrily responded to his critics, writing that, "There are more Zampanos in the world than bicycle thieves, and the story of a man who discovers his neighbor is just as important as the story of a strike." Nevertheless, these critics were right to notice Fellini's changed attitude. As he said at the time: "Neo-realism was only a beginning."
As expected, Criterion's presentation of
La Strada
is simply magnificent, using a new high-definition digital transfer with restored image and sound. The extras alone are worth the price of the disc if you're a Fellini fan. For one thing, there's a documentary made for Italian television,
Federico Fellini's Autobiography
(2000), that includes rare behind-the-scenes footage of Fellini directing Anita Ekberg in the Roman fountain sequence from
La Dolce Vita
and other rare clips. There is also a video introduction by Martin Scorsese, an audio commentary by Fellini scholar Peter Bondanella (author of
The Cinema of Federico Fellini
), new improved English subtitles and the option to hear the English-dubbed soundtrack featuring the voices of Anthony Quinn and Richard Basehart.
For more information about
La Strada
, visit
The Criterion Collection
. To order
La Strada
, go to
TCM Shopping
.
by Mark Frankel