DVDs from TCM Shop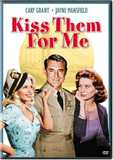 Kiss Them for Me Three navy war heroes are... MORE&nbsp> $7.95 Regularly $14.98 Buy Now
Articles
SEE ALL ARTICLES
Kiss Them for Me (1957)
Cary Grant was nearing the end of his career when he made the World War II comedy Kiss Them for Me (1957) but the charismatic leading man was still one of the most debonair actors on the screen as well as a deft comic player. Kiss Them for Me, which he made between An Affair to Remember (1957) and Indiscreet (1958), leans more on the comic than the debonair.

Based on a 1944 Broadway comedy (itself adapted from the novel Shore Leave by Frederic Wakeman), it concerns three naval fliers recuperating from injuries in a Pearl Harbor hospital who finagle a last-minute shore leave (their first since entering combat) for four days of escape from all things military. Grant is the ringleader of the trio, the wheeler-dealer who secures the leave with nothing more than a verbal okay, arranges transport to San Francisco on a cargo plane, and whips up a party out of nowhere in a lavish hotel suite. "I came here to get drunk and chase girls and that's what I intend to do," he proclaims and he studiously keeps to his goal even while he's pressured to make public appearances as the "war hero" to rouse the patriotism of homefront workers. Ray Walston and Larry Blyden play Grant's fellow fliers and partners in shore leave and Werner Klemperer (who went on to play Colonel Klink in the TV sitcom Hogan's Heroes) is the Navy public relations man who tries to extend their leave and secure himself a comfy corporate position after the war in the process. Written during the war, the novel and the subsequent play satirized the civilian industry that made its fortune on the war and used the soldiers as promotional tools, but after the war ended the theme lost its topicality.

The property had been bouncing around Hollywood for a decade when producer Jerry Wald convinced 20th Century Fox to take a chance on it. He landed Grant by promising that Audrey Hepburn would play opposite him but she was already committed elsewhere. Hepburn recommended a close friend, Suzy Parker, to Wald for the part of the beautiful but practical fiance of a blustery ship building tycoon who captures Grant's attention. Parker was no actress but she was one of the most successful models in America. A favorite of photographer Richard Avedon, the striking, elegant young beauty graced hundreds of magazine covers, from Life to Vogue to Paris Match, and was the unofficial face of Chanel, among her many corporate accounts, and she became the first model to earn $100,000 per year. She made her big screen debut opposite Cary Grant with the billing "introducing Suzy Parker" and carried the role largely by virtue of poise and confidence, which director Stanley Donen emphasized by making her a solid, still, observant presence in the midst of chaotic action.

Jayne Mansfield took co-star billing in the supporting role of Alice Kratzner, a part created on Broadway by Judy Holliday. The voluptuous Mansfield was a cartoonish answer to Marilyn Monroe, all curves and squeaky squeals, and she plays comic relief as a silly but savvy party girl whose affections slip easily from one companion to another. According to Grant biographer Warren Harris, Mansfield was star-struck by Grant and acted like a teenage girl around him on the set. Off the set she was a favorite subject of the paparazzi and created a sensation when she accidentally revealed her ample charms while leaning over in a low-cut gown to greet a seated Sophia Loren in the Italian actress's first visit to Hollywood. The "wardrobe malfunction," captured by a swarm of photographers, upstaged Loren and was plastered across scandal sheets around the world. Grant reportedly warned Mansfield that such tactics were not doing her career any favors. Sure enough, Kiss Them for Me was her last film for a major Hollywood studio.

Stanley Donen came on board as director at the request of Grant, taking the project even though he was unimpressed with the script and had no involvement in the casting. "My first reaction was to say no," the director later recalled. "Cary appealed to me to do it and I found it impossible to refuse." The film was a flop but it paved the way for a winning partnership between Grant and Donen. They got along well on the set ("Cary was easy and friendly, and he loved English music hall humor," Donen said of Grant; "I found him extremely simple to work with, very cooperative with others") and went on to make three subsequent films together: Indiscreet (1958), a sophisticated romantic comedy with Ingrid Bergman; The Grass Is Greener (1960) with Deborah Kerr and Robert Mitchum; and Charade (1963), a sparkling romantic thriller with Audrey Hepburn and Walter Matthau.

By Sean Axmaker

Sources:
Cary Grant, Marc Eliot. Harmony Books, 2004.
Cary Grant: A Touch of Elegance, Warren G. Harris. Doubleday, 1987.
Cary Grant: Dark Angel, Geoffrey Wansell. Arcade, 1996.
Dancing on the Ceiling: Stanley Donen and his Movies, Stephen M. Silverman. Alfred A. Knopf, 1996.

back to top
---