DVDs from TCM Shop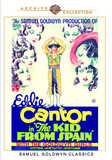 The Kid from Spain An innocent man accused of... MORE&nbsp> $18.95 Regularly $21.99 Buy Now
NOTES
DVDs from TCM Shop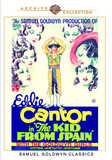 The Kid from Spain An innocent man accused of... MORE&nbsp> $18.95
Regularly $21.99 buy now
Actor Paul Porcasi's credit was misspelled onscreen as "Paul Porcassi." According to the picture's pressbook and a Los Angeles Examiner article, two years before production began, Eddie Cantor discussed with producer Samuel Goldwyn the idea for a film in which he would portray a "pop-eyed Jewish brat from Brooklyn who grew up to become the world's greatest bullfighter." Cantor loosely based the idea on the life of his friend, Sidney Franklin (not to be confused with director Sidney Franklin), who was the only prominent American bullfighter at the time. Franklin appears in the film as himself in the bullfighting sequences.
According to an unidentified but contemporary news item in the production file for the film at the AMPAS Library, Al Rogell was scheduled to direct The Kid from Spain but quit just before shooting began due to disagreements over the story lines with Goldwyn. The news item noted that Edward F. Cline and A. Edward Sutherland were being considered as possible replacements. Another unidentified but contemporary news item reported that toreadors Eduardo Castro and Francisco Alonso were to be in the film. Alonso, who was the father of actor Gilbert Roland, is incorrectly identified in the news item as Roland's brother. Their participation in the completed picture, however, has not been confirmed.
A October 7, 1931 Film Daily news item stated that Lily Damita was being considered as the leading lady opposite Cantor. A later Film Daily news item reported that Diane Sinclair had been signed as the feminine lead opposite Cantor, and a Variety news item noted that Goldwyn changed his mind and returned her to M-G-M, from which she had been borrowed. Hollywood Reporter news items noted that Sidney Toler was to be in the film, but was prevented from doing so due to contract disputes with Paramount. He is included in one Hollywood Reporter production chart, however. According to a Film Daily news item, Vivian Mathews and Betty Bassett were to be in the film, but their participation in the completed picture has not been confirmed. Popocatpetl, which is the word "Eddie" is supposed to tell the trained bull, "Max," is the name of a volcano in Mexico.
A Hollywood Reporter news item and the Variety review reported that Goldwyn was handling distribution for the roadshow and New York run himself, and that United Artists would distribute the film during its general release. According to a September 30, 1933 Motion Picture Herald article, Goldwyn sent a specially equipped train to tour the South and exhibit Whoopee (1930) and The Kid from Spain in cities where there were either no projection facilities or where no rental agreement could be reached with the local exhibitors. Goldwyn also intended to roadshow Roman Scandals in this manner (see below). A Hollywood Reporter news item noted that Goldwyn sent sixteen chorus girls to present a live prologue to the film in selected theaters. According to the Variety and Hollywood Reporter reviews, the picture cost over one million dollars to produce. According to a Hollywood Reporter news item, the Los Angeles roadshow engagement was called off because audiences refused to pay the $1.50 ticket prices. The Variety reviewer noted that tickets for the New York roadshow were priced at $2.20. In a September 30, 1933 Motion Picture Herald article on Sergei Eisenstein's film Thunder Over Mexico (see below), it was stated that novelist Upton Sinclair, who financed Eisenstein's film, had been accused of selling "parts of certain bull-fight episodes" shot for Thunder Over Mexico to Goldwyn for use in this picture. Sinclair denied the charge and stated "neither Eisenstein nor Eddie Cantor had any labels on their bulls."
According to modern sources, before filming began, Goldwyn sent Cantor, his songwriters and musical director Alfred Newman to San Francisco for a week to try out ideas for the script in front of a live theater audience. Goldwyn borrowed one million dollars to produce the film, which was the first seven-figure loan given by Bank of America for a motion picture. Modern sources also assert that Fred Zinnemann assisted Busby Berkeley with the dance direction, and note that after viewing The Kid from Spain, the Marx Brothers asked for Leo McCarey to direct their next film, Duck Soup. Modern sources include the following actors in the cast: Edgar Connor (Bull handler); Leo Willis (Thief); Harry Gribbon (Traffic Cop); Eddie Foster (Patron); and Patricia Farnum, Betty Grable and Ruth Hale (Goldwyn girls). Although modern sources also include Virginia Bruce in the cast as a "Goldwyn Girl," her appearance in the released picture is unlikely, as she was filming the M-G-M production Konga, in which she had a co-starring role, simultaneously to the production of The Kid from Spain.