DVDs from TCM Shop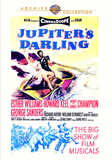 Jupiter's Darling A beautiful Roman mounts a... MORE&nbsp> $17.56 Regularly $21.99 Buy Now
NOTES
DVDs from TCM Shop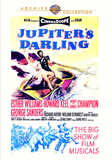 Jupiter's Darling A beautiful Roman mounts a... MORE&nbsp> $17.56
Regularly $21.99 buy now
The opening credits contain the following written prologue: "In 216 B.C., Hannibal the Barbarian marched on Rome. The history of this great march has always been confused. This picture will do nothing to clear it up." The Carthaginian general Hannibal began his march into Rome in 218 B.C., with the outbreak of the Second Punic War, using a caravan of elephants to ferry supplies over the Pyrenees and the Alps. Despite losing several key battles to Hannibal's army, the Romans, under the leadership of dictator Quintus Fabius Maximus Verrucosus Cunctator, kept the invaders at bay long enough to rebuild their military strength. In 201 B.C., Carthage capitulated to Rome.
According to the Hollywood Reporter review, M-G-M originally bought the rights to Robert E. Sherwood's play in 1926, intending to film it with Greta Garbo. Hollywood Reporter production charts include James Whitmore in the cast, but he was not in the film. According to March and April 1954 Hollywood Reporter news items, stunt swimmer Vicki Mann and body builder Art Maltsman were cast in the film, and Frank Schoen, Vic Merito and Richard Sabre were testing for roles, but the appearance of these actors in the final film has not been confirmed. Portions of the film were shot on location in Silver Springs, FL, and at Santa Catalina Island and Sky Valley Ranch, CA. According to a June 17, 1954 Hollywood Reporter news item, cinematographer Charles Rosher withdrew from the production and was replaced by Paul Vogel. Both men are credited onscreen. Jupiter's Darling marked the last feature film of long-time cinematographer Rosher (1885-1974), whose son, Charles Rosher, Jr. also became a cinematographer.
In a November 14, 1954 article written for New York Times, director George Sidney reflected on the technological advancements that had taken place in film since he directed swimmer Esther Williams in her first starring role, the 1944 M-G-M film Bathing Beauty (see AFI Catalog of Feature Films, 1941-50). Citing various improvements in the photography of underwater sequences, Sidney recalled that although the camera operator on the earlier film had to work with his head above the surface of the water, "for Jupiter's Darling the entire crew wore aqualungs and had as much freedom beneath the water as above." In her autobiography, Williams wrote that she ruptured her left eardrum during filming and was fitted with an ear and nose prosthesis "made out of French latex and glued on with eyelash adhesive that completely covered my aural and nasal openings." Jupiter's Darling was Williams' last swimming role, and her last film for M-G-M.