DVDs from TCM Shop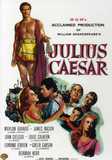 Julius Caesar An all-star adaptation of... MORE&nbsp> $14.95 Regularly $19.98 Buy Now
Quotes
Julius Caesar


Et tu, Brute? Then fall, Caesar!

Marc Antony


Friends, Romans, countrymen, lend me your ears; I come to bury Caesar, not to praise him. The evil that men do lives after them, The good is oft interred with their bones; So let it be with Caesar.

Mark Anthony


This was the noblest Roman of them all. All the conspirators save only he that they did in envy of great Caesar. He only, in gentle honest though, and common will for all, made one of them. His life was gentle, and the elements so mixed up in him that the nature might stand up and say to all the world, This Was A Man!