DVDs from TCM Shop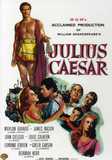 Julius Caesar An all-star adaptation of... MORE&nbsp> $14.95 Regularly $19.98 Buy Now
NOTES
The film's opening credits read "William Shakespeare's Julius Caesar." The opening credits also include the following quotation, attributed to the popular Ancient Roman biographer and historian Plutarch, but possibly paraphrased from his writings: "Upon Caesar's return to Rome, after defeating Pompey in the civil war, his countrymen chose him a fourth time counsel and then dictator for life...Thus he became odius to moderate men through the extravagance of the titles and powers that were heaped upon him." Although there is no onscreen credit for screenplay or adaptation, publicity material in the film's production file at the AMPAS Library indicates that producer John Houseman and director Joseph L. Mankiewicz worked independently to edit Shakespeare's play for the screen, then consolidated their changes in one final script, which was prepared by Mankiewicz. The opening cast credits differ in order from the closing credits, which list the cast members in order of appearance. In the opening credits, the principal actors are listed in the following order: Marlon Brando, James Mason, John Gielgud, Louis Calhern, Edmond O'Brien, Greer Garson and Deborah Kerr. Although the character's name is usually spelled "Marc Antony," the onscreen credits list it as "Mark Antony."
According to modern sources, Orson Welles had been planning to film Julius Caesar when M-G-M began working on its version. In a modern interview, Welles said that he had been offered financing by Egypt's King Farouk to film a modern-dress version of the play, adding that he hoped to cast Richard Burton as "Brutus." Houseman, who had collaborated with Welles on the acclaimed 1937 Mercury Theatre stage version, which drew parallels between the events in ancient Rome and the rise of fascism in Europe, recalled in his memoir that he received a letter from Welles in July 1952. Houseman wrote that Welles suggested either a collaboration or a financial settlement between himself and M-G-M, a proposal the studio's legal department promptly rejected. Houseman also noted that M-G-M's production was delayed because, although Shakespeare's play was in the public domain, independent producer David O. Selznick held the rights to the title "Julius Caesar"-having registered it with the MPAA-and refused to relinquish them. As a November 10, 1952 Los Angeles Times news item explained, the MPAA administered title registration "under a priority-rights system which, while not legally binding, is usually honored as a gentlemen's agreement by majors and indies alike." The news item added that M-G-M first considered filming Julius Caesar in 1934, but opted to make Romeo and Juliet instead. By the time M-G-M again became interested in Julius Caesar in 1946, ownership of the title had passed to independent producer Edward Small, with Selznick next in line. Selznick then acquired the rights, but when he failed to put the film into production within the time period specified by the title registration bureau, the title went to M-G-M.
A August 24, 1951 news item in Hollywood Reporter reported that M-G-M intended to film Julius Caesar on location in Rome, financing the production with frozen lira from The Great Caruso and other successful releases. Plans to shoot the film on location did not materialize, however. According to modern sources, Bronson Canyon in Hollywood substituted for the battlefields of Philippi. According to May 1952 Hollywood Reporter news items, M-G-M originally considered Laurence Olivier for the part of "Julius Caesar" and sought Leo Genn for a role in the film. A October 29, 1952 item in Hollywood Reporter's "Rambling Reporter" column claimed that Marlon Brando was cast as "Mark Antony" because Richard Burton was not available. Modern sources contend that British stage actor Paul Scofield, who was originally considered for the part of Brutus, had already been scheduled to test for Mark Antony when Houseman proposed Brando for the role. A biography of Brando states that the studio wanted Stewart Granger to play Mark Antony. According to a August 5, 1952 Hollywood Reporter news item, John Dehner was originally cast in the role of "Messala." Hollywood Reporter news items include Wilton Graff, Morris Ankrum, Victor Wood and Mervin Williams in the cast, but their appearance in the final film has not been confirmed. A October 10, 1952 Hollywood Reporter news item adds fencing coach Jean Heremance to the cast, but his appearance in the film has not been confirmed.
A May 28, 1953 Hollywood Reporter news item reported that Johnny Green, head of M-G-M's music department, was composing an overture for the film. According to a 1977 article in Films and Filming, Mankiewicz and Houseman had wanted composer Bernard Herrmann to write the music for the film, but were forced to use M-G-M contract composer Miklos Rozsa when Green and studio head Dore Schary refused to pay Herrmann's salary. The article adds that Rozsa wrote and recorded an overture, but Green replaced it with Tchaikovsky's Capriccio Italien. The overture in the released film was not by Tchaikovsky, however, and only Rozsa is credited onscreen with the film's music. In May 1953, a spoken-word recording of Julius Caesar, assembled from the film's soundtrack, was released by a subsidiary of M-G-M.
According to information in the film's production file, Mankiewicz shot each scene of Julius Caesar in sequence. Houseman's memoir adds that Mankiewicz insisted on rehearsing for three weeks on the actual sets, in part to achieve strict control over the sound-recording process so that the actors' lines would not have to be re-recorded. Houseman wrote that their adjustments during rehearsals paid off: "In the final print of Julius Caesar there are not more than two dozen lines of 'looped' dialogue." Houseman also wrote that he and Mankiewicz decided against making the film in color or CinemaScope "on purely dramatic grounds," explaining that Shakespeare's tragedy called for "intensity and intimacy rather than grandeur; for direct violent confrontations that do not benefit from a lush, polychrome background." Moreover, Houseman noted, shooting the film in black and white enabled them to use scenery from M-G-M's 1951 Roman epic Quo Vadis "and still avoid an appearance of duplication that would be painfully obvious in color."
A number of modern sources maintain that veteran Shakespearean actor John Gielgud, who made his American film debut in Julius Caesar, coached Brando in his first classical role. In his memoir, Gielgud acknowledged that Brando asked him to make a tape-recording of one of Mark Antony's speeches for him to study, along with other recordings. "He had tapes of Maurice Evans and John Barrymore and three or four other actors and listened to them every day to improve his diction," Gielgud wrote. Brando won praise for his performance, and the film received generally strong reviews, both in the United States and England. The British publication News Chronicle wrote, "It is maddening to be forced to admit it-but it has been left to Hollywood to make the finest film version of Shakespeare yet to be seen on our screens." The Saturday Review (of Literature) review asserted that the film featured "the best Shakespearean acting yet seen on film." Julius Caesar was chosen best picture of the year by the National Board of Review and received an Academy Award for Best Art Direction (Black and White). The film was also nominated for the following Academy Awards: Best Picture, Best Actor (Marlon Brando), Best Cinematography (Black and White) and Best Scoring of a Dramatic or Comedy Picture.
Julius Caesar had already been adapted for film a number of times, most recently as a 16mm student film produced by David Bradley at Northwestern University. Made primarily for educational purposes, the low-budget film, which featured Charlton Heston as Mark Antony, was released theatrically in 1950 (see AFI Catalog of Feature Films, 1941-50). A 1970 British version again featured Heston as Marc Antony, with Jason Robards as Brutus and Gielgud as Caesar. The play has also been adapted for television many times. Modern sources name Phil Rhodes and Ken DuMain as Brando's stand-ins.