DVDs from TCM Shop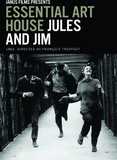 Jules and Jim A tempestuous beauty comes... MORE&nbsp> $9.95 Regularly $19.95 Buy Now blu-ray
Home Video Reviews
Synopsis:
The long friendship of Jules and Jim, a German and a Frenchman, spans from 1912 to the 1930s. Pursuing an ideal of free love, they each have relations with various women. However, their lives are changed by the appearance of the mercurial and enigmatic Catherine. Jules marries her and they have a child together, but Catherine refuses to be tied down, pursuing relationships with other men--including Jim. Their unconventional path proves fraught with perils, emotional and otherwise.
Jules and Jim
(1962) was Francois Truffaut's third feature and remains his finest work. The 1953 novel of the same name by Henri-Pierre Roche is now regarded as a minor classic of French literature and has been translated into many languages, but it is fair to say that it would have languished in relative obscurity if not for the international success of Truffaut's film. During his lifetime Henri-Pierre Roche (1879-1959) was known mainly as an art historian and collector, befriending the likes of Pablo Picasso and Marcel Duchamp. (Famously, it was Roche who introduced Picasso to Gertrude Stein.) The novel, written when Roche was already in his seventies, is noteworthy for its spare, almost telegraphic style. As has since become widely known,
Jules and Jim
was semi-autobiographical, its fictional trio mirroring Roche and his friends Franz and Helen Hessel. Roche's second--and last--novel,
The Two English Girls and the Continent
(1956) was adapted by Truffaut in 1971.
Truffaut's film of
Jules and Jim
differs from the novel in a few significant respects. Kathe, whose name indicates she is of German origin, has been transformed to the French "Catherine." As one might expect, some episodes have been deleted and others have been condensed or transposed. For example, the episode in which Catherine pours a bottle of vitriol down the sink was originally assigned to another character, Odile. But there is also deeper transformation at work, which has to do with fundamental differences between cinema and literature, differences to which Truffaut and his co-screenwriter Jean Gruault were keenly sensitive. While the great realist novelists of the nineteenth century--among them Balzac and Dickens--created a vivid impression of reality through the accumulation of external details, Roche is mainly concerned with expressing his protagonists' inner lives. In that respect, Roche represents a parallel novelistic tradition which goes back at least as far as Samuel Richardson's
Pamela
. However, Roche's deliberately spare style raises this focus on inner life to a remarkable degree of abstraction. For example, he devotes only a few lines to the First World War.
Truffaut and Gruault clearly appreciate what Roche is striving for, since the film opens on a black screen with a female voice reading: "You said to me: I love you. I said to you: wait. I was going to say: take me. You said to me: go away." (This passage was in fact taken from
Two English Girls and the Continent
.) On the soundtrack Truffaut also reads lengthy passages of voiceover narration taken directly from the novel. But the images that accompany the voiceover narration are necessarily more concrete in their handling of setting, costumes and behavior, lending the film a historical grounding that the novel pointedly avoids for the most part. While Roche barely mentions the war, Truffaut depicts it at length through stock combat footage combined with staged scenes. Thus Truffaut incorporates the two competing novelistic trends into an overarching cinematic vision.
Pauline Kael considered
Jules and Jim
"among the great lyric achievements of the screen," and I would have to agree. It's not just a question of Raoul Coutard's exquisite cinematography and Georges Delerue's haunting musical score; if that were the case, then
Jules and Jim
would be little more than a glorified perfume ad, something akin to
Elvira Madigan
(1967), albeit spiced up with a daring menage-a-trois. Rather, Truffaut's lyrical cinematic style, with its many aerial shots, zooms and freeze frames, enriches both the intimate and the historical dimensions of the film. In an oblique way, the personal trajectories of the main characters parallel the historical trajectory of Europe: the carefree years of the Belle Epoque--as refracted through the prism of nostalgia--progress, with many digressions, toward the bleak era after First World War, when Europe's illusions about itself had been shattered.
At the same time, Truffaut manages to convey the fluidity of time through his masterly use of voiceover narration and editing. In some places he compresses the passing years into a montage of fleeting images, including deftly interwoven stock footage; elsewhere he uses overlapping editing to expand single gestures in time, so that they loom large in our memory in the same way that they do for the characters. In this respect,
Jules and Jim
shares an underlying affinity with great Modernist writers such as Marcel Proust and William Faulkner and philosophers such as Jean-Paul Sartre: a concern with the passing of time and its impact on human consciousness. Ultimately, while Truffaut's debut feature
The 400 Blows
is in its own way a perfect film,
Jules and Jim
is far deeper and more resonant, deservedly counted among the greatest films ever made.
Criterion's new transfer, approved by cinematographer Raoul Coutard, is as luminous and delicate as one might expect. In particular, I was struck by how textures stand out in the settings and the characters' costumes. There are some minor scratches on the print, but nothing to hinder one's enjoyment. The mono sound is clean and clear.
The two-disc set contains a wealth of special features, including two separate commentary tracks: one with scholar Annette Insdorf and Truffaut's collaborators Jean Gruault, Suzanne Schiffmann and Claudine Bouche, and another with Jeanne Moreau and Serge Toubiana, co-author of the definitive Truffaut biography to date. Other features include excerpts from a 1985 documentary entitled
The Key to Jules and Jim
, a fascinating interview with descendants of Henri-Pierre Roche and Franz and Helen Hessel and various interviews with Truffaut, Coutard, and scholars Dudley Andrew and Robert Stam. The booklet contains a brief essay by John Powers and a reprint of Pauline Kael's marvelous review, which perfectly captures the spirit of the film. This set is a must for any DVD collection.
For more information about
Jules and Jim
, visit
the Criterion Collection
. To order
Jules and Jim
, go to
TCM Shopping
.
by James Steffen