DVDs from TCM Shop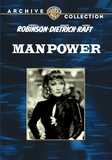 Manpower Power linemen feud over the... MORE&nbsp> $14.95 Regularly $17.99 Buy Now
NOTES
The film's working titles were Hard to Handle, Hard to Get and Handle with Care. News items in Hollywood Reporter add the following information about the production: Claire Trevor was considered for the Marlene Dietrich role. Broderick Crawford and Victor McLaglen were considered for the part played by Edward G. Robinson. According to memos and telegrams reproduced in a modern source, Humphrey Bogart was to have been cast in the role of "Hank McHenry," but George Raft refused to make the film if Bogart was his co-star. Hollywood Reporter review mentions that a fistfight between Raft and Robinson was shot by a Life magazine photographer who was visiting the film's set.
A letter from Warner Bros. executive Roy Obringer to the Screen Actors Guild, which is reproduced in a modern source, confirms that Raft made a strong verbal attack against Robinson regarding a line of Robinson's dialogue. After the attack, the letter continues, Robinson left the set and the production was stopped for several hours. Several days later, Raft pushed Robinson around the set and again verbally attacked him. Again filming was stopped, this time for an entire day. Modern sources add that Raft was romantically interested in Marlene Dietrich at the time and believed that Robinson was also interested in her. Some sources include a second song, "I'm in No Mood for Music," but only one song was credited on the film and only one song was heard in the viewed print. Although Richard Macaulay and Jerry Wald are credited with an original screenplay, the film's story closely resembles that of the 1931 Warner Bros. film Other Men's Women and the studio's 1932 film Tiger Shark (see AFI Catalog of Feature Films, 1931-40; F3.3293 & F3.4651).
The 1991 TriStar film Bugsy featured a sequence in which Ben Siegel pays a visit to his friend George Raft on the set of Manpower and meets actress Virginia Hill, who subsequently became his mistress. Edward G. Robinson, Marlene Dietrich and George Raft reprised their roles in a March 16, 1942 Lux Radio Theatre broadcast of the story.