DVDs from TCM Shop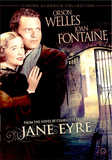 Jane Eyre A governess at a remote estate... MORE&nbsp> $15.96 Regularly $19.98 Buy Now
NOTES
DVDs from TCM Shop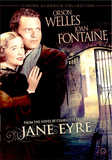 Jane Eyre A governess at a remote estate... MORE&nbsp> $15.96
Regularly $19.98 buy now
The opening title card of the film reads: "Twentieth Century-Fox presents Jane Eyre by Charlotte Bront." Throughout the film, offscreen narration is spoken by Joan Fontaine as "Jane Eyre," and at the end of the picture, she paraphrases the book when describing the partial recovery of "Rochester's" sight: "And then one day, when our firstborn was put into his arms, he could see that the boy had inherited his own eyes, as they once were-large, brilliant and black." The character "Dr. Rivers," played by John Sutton, was created for the film and does not appear in Bront's book. On October 6, 1941, New York Times announced that independent producer David O. Selznick had joined United Artists and intended to produce Jane Eyre for release through UA. Other contemporary sources note that Selznick began preparations on Jane Eyre in early 1941, and that director Robert Stevenson, who was a member of the Bront Society, had been interested in making a film adaptation of Charlotte Bront's novel for several years. A February 1942 Hollywood Reporter news item noted that Selznick was testing Sir Cedric Hardwicke for the role of "Brocklehurst," and that K. T. Stevens, Burgess Meredith and Gene Kelly would also test for the film. In April 1942, Hollywood Reporter announced that Ronald Colman was "out" of the production, and that Selznick would test Alan Marshal to replace him. In July 1942, Hollywood Reporter first speculated that Walter Pidgeon, Colman and Marshal were all "strong contenders" for the role of "Edward Rochester," then announced that Selznick had offered the role to Orson Welles, who had played the part previously in radio performances. An unsourced but contemporary article in the film's file at the AMPAS Library reported that Fontaine, Vivien Leigh and Katharine Hepburn were "neck-to-neck contenders" for the part of "Jane Eyre."
In October 1942, however, Selznick began efforts to sell a number of his literary properties, and it appeared that Paramount would purchase the rights to Jane Eyre. The deal was not struck, however, and in November 1942, Selznick sold the completed script of Jane Eyre to Twentieth Century-Fox, along with the rights to Claudia and Keys of the Kingdom. Information in the Twentieth Century-Fox Records of the Legal Department, located at the UCLA Arts-Special Collections Library, discloses that Keith Winter and DeWitt Bodeen May have contributed to the completed script, and a contemporary guide for teachers quoted director Robert Stevenson as crediting Bodeen with doing "a good deal of our research work." In addition to the screenplay, Selznick sold the completed production designs executed by William Pereira and arranged for Twentieth Century-Fox to employ Pereira, Fontaine, Stevenson and cinematographer George Barnes on the picture. For more information about the sale of Selznick's properties to Twentieth Century-Fox, please see the entry above for Claudia.
According to a memo from Selznick reprinted in a modern source, Selznick suggested the casting of Vivien Leigh's daughter, Suzanne Holman, as young Jane. A January 1943 Hollywood Reporter news item announced that although Peggy Ann Garner had been scheduled to play Jane Eyre as a child, the part was re-assigned to Margaret O'Brien, who was borrowed from M-G-M, because the studio "changed the casting for a different type." In the finished film, however, Garner does play Jane, and O'Brien portrays "Adele." In February 1943, Hollywood Reporter noted that Vincent Price was being tested for the role of Brocklehurst. Although a February 1943 studio press release announced that Glen Gallagher had been cast in the picture, his appearance in the completed film has not been confirmed. According to a modern source, Igor Stravinsky was engaged to write the film's music score but did not finish due to disagreements with studio production chief Darryl F. Zanuck. Stravinsky's compositions did not appear in the completed picture, and modern sources report that composer Bernard Herrmann was hired upon the request of Selznick and Welles.
In discussing the studio's production plans, a December 20, 1942 New York Times article noted that writer Aldous Huxley had intentionally decided to depict "Bertha Rochester" as an off-screen character who was discussed rather than seen so that "the inherent menace in the character will be more effective." The article also noted that "English censorship restrictions on the depiction of lunacy will also be satisfied by the off-screen device."
Although no producer is listed in the onscreen credits or the SAB, Hollywood Reporter production charts list Kenneth Macgowan as the producer and Welles as the associate producer. A January 22, 1943 Hollywood Reporter production chart erroneously listed William Perlberg as the film's producer, even though several earlier news items had credited Macgowan. An April 8, 1943 Hollywood Reporter news item noted that Goetz had announced that Welles would receive an onscreen credit as associate producer. In a April 17, 1943 memo to Goetz, reprinted in a modern source, Selznick protested Welles's proposed associate producer credit, claiming that it would detract from the achievement of Stevenson, who Selznick believed had largely acted as producer since the sale of the Jane Eyre screenplay. The Hollywood Reporter review commented, "As several producers had a hand in bringing Jane Eyre to its glorious fulfillment, screen credit to any one individual was waived by all."
Soon after the completion of Jane Eyre, Welles served as a consultant on the studio's two-reel short subject entitled Three Sisters of the Moors. The short, starring Sir Cedric Hardwicke, Mollie Lamont, Lynne Roberts and Heather Angel, told the story of the Bront sisters and was intended to interest moviegoers in Jane Eyre. According to Hollywood Reporter, in February 1944, Monogram announced that it would withdraw from circulation all prints of its own feature-length Jane Eyre, which was originally released in 1934. The Hollywood Reporter news item noted that "despite requests to reissue the picture in various territories, Monogram feels it would be unethical to do so at this time while Twentieth Century-Fox is releasing its new version." A Lux Radio Theatre broadcast of the Twentieth Century-Fox production, starring Welles and Loretta Young, aired on June 5, 1944. Other Lux Radio Theatre broadcasts aired on June 27, 1938 in a version starring Helen Hayes and Robert Montgomery, and on June 14, 1948 with Montgomery reprising his role as Rochester.
In addition to numerous stage presentations, Bront's novel has been adapted for the screen several times, one of the earliest of which was produced by Thanhouser Film Corp in 1910 in a one-reel version starring Marie Eline and Gloria Gallop (see AFI Catalog. Film Beginnings, 1893-1910; A.07844). Lisbeth Blackstone and Dallas Tyler starred in the 1914 Whitman Features Co. version, and in 1918, Edward Jose directed Alice Brady and Elliott Dexter in Woman and Wife for Select Pictures (see AFI Catalog of Feature Films, 1911-20; F1.2264 and F1.5064). In 1921, Hugo Ballin Productions released their version of Jane Eyre, which was directed by Ballin and starred Norman Trevor and Mabel Ballin (see AFI Catalog of Feature Films, 1921-30; F2.2782). The 1934 Monogram production was directed by Christy Cabanne and starred Virginia Bruce and Colin Clive (see AFI Catalog of Feature Films, 1931-40; F3.2203). Ethel Griffies played "Grace Poole" in both the Monogram and Twentieth Century-Fox productions. Other versions of the story include a 1970 British production starring Susannah York and George C. Scott, and directed by Delbert Mann; a 1996 European production directed by Franco Zeffirelli and starring William Hurt and Charlotte Gainsbourg; and a 1997 British television co-producion, starring Samantha Morton and Ciaran Hinds.