DVDs from TCM Shop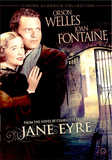 Jane Eyre A governess at a remote estate... MORE&nbsp> $15.96 Regularly $19.98 Buy Now
Home Video Reviews
Joan Fontaine's recent death at the age of 96, on Dec. 15, 2013, has prompted renewed interest in her career, and by coincidence a great example of her work was recently issued for the first time on Blu-ray:
Jane Eyre
(1944). Fontaine made it hot on the heels of the three films for which she received Oscar nominations --
Rebecca
(1940),
Suspicion
(1941, for which she won), and
The Constant Nymph
(1943) -- and her performance as Charlotte Bronte's famous heroine is certainly of a piece with what's considered to be her screen persona: shy, vulnerable, nervous, yet possessing surprising depths of passion and resolve.
Jane Eyre
has been the source of many film and TV adaptations over the years -- most recently, a 2011 version starring Mia Wasikowska -- but it's this 1944 edition that has best stood the test of time and is acknowledged as staying especially true to feel of Bronte's novel. (Note:
Jane Eyre
was released in England in late December 1943, but it was a 1944 U.S. release and bears a 1944 copyright in its on-screen credits, so it's officially considered a 1944 picture.) In the story, young Jane is raised in a foreboding school for impoverished girls after her parents die and her abusive aunt, Sarah Reed, kicks her out. After suffering for years at the hands of the malicious Mr. Brocklehurst, Jane finally departs the school a grown woman and takes a job at another sinister place: Thornfield Hall, where she works as governess to the young adopted daughter of Edward Rochester (Orson Welles), a mysterious, brooding, harsh and unpredictable figure who comes and goes erratically. Thornfield is a place of strange goings-on, with odd noises and an attic that is off limits and seems to be imprisoning someone. Jane and Rochester begin a relationship that moves into friendship and more, yet seems defined by undercurrents of repressed passions and deep secrets.
It's a real testament to the screenplay by Robert Stevenson, John Houseman and Aldous Huxley that their 96-minute film is able to fully keep the qualities that make Bronte's novel such a classic, even if the film does wrap things up a bit too quickly. Stevenson also directed the film, which has such a beautifully atmospheric look -- with deep-focus compositions, expressionistic black-and-white photography, and extravagantly gothic sets -- that it has often been attributed more to Orson Welles, who some assume exerted his own artistic influence onto a weak-willed Stevenson. But according to scholars who have actually studied the two men and this film, nothing could be further than the truth.
Several of the extra materials on this Blu-ray delve into this "controversy," including Julie Kirgo's superb liner notes, which inform viewers that the chain of influence among artists was much more complex than meets the eye. Welles had done his own radio adaptation of
Jane Eyre
in 1940, and several of his Mercury Theatre collaborators were involved in the 1944 film -- Agnes Moorhead, John Houseman and Bernard Herrmann among them -- but Stevenson and his cinematographer, the great George Barnes, were talented artists in their own right. Welles' cameraman on
Citizen Kane
(1941), Gregg Toland, had previously assisted Barnes and thought of him as a mentor. As Kirgo writes: "the question is begged: who was influencing whom? And does Eyre look Wellesian or, perhaps more accurately, does
Kane
look Barnesian?"
It's also said, understandably, that
Jane Eyre
is very reminiscent in look and narrative of the film
Rebecca
, which also starred Fontaine, but in fact,
Rebecca
author Daphne Du Maurier had been inspired in writing her 1938 novel by Bronte's
Jane Eyre
, published 91 years earlier. Nonetheless, producer David O. Selznick, who developed the
Jane Eyre
movie, sold it as a package -- talent included -- to Fox, because he ultimately decided it
was
too similar to
Rebecca
, which he had also produced.
Jane Eyre
features a dazzling roster of supporting players, starting with a trifecta of remarkable child performances. Peggy Ann Garner is brilliant as a young Jane, in a performance that feels of a piece with Fontaine's turn as the grown Jane, and Margaret O'Brien and an uncredited Elizabeth Taylor are every bit Garner's equal. Taylor is all of 11 here, and already luminously beautiful in a touching performance. She would shoot to stardom one year later in
National Velvet
(1944), and O'Brien and Garner would be honored with special Academy Awards in 1944 and 1945, respectively. Also in the cast: Agnes Moorhead as Jane's cruel aunt Sarah Reed, Henry Daniell as the autocratic Mr. Brocklehurst, Sara Allgood as the loving maid Bessie, Hillary Brooke as the socialite and romantic rival Blanche, and John Sutton as the kindly Dr. Rivers.
The DVD and Blu-ray market for classic films has altered dramatically in recent years, with the major studios shifting more to made-on-demand DVD-Rs. The distributor Twilight Time, however, has developed a business model of releasing limited-edition Blu-rays of select Fox (and other) classic titles, and has become a gold standard for movie fans, up there with distributors like Criterion, Kino and Cohen. Twilight Time's
Jane Eyre
is a good case in point. The film was originally released onto standard DVD by Fox Home Entertainment in 2007, and Twilight Time has retained all the original, generous extras for this high-definition version, which looks and sounds excellent, and is limited to just 3000 copies.
Among the extras: an isolated score track so that one of Bernard Herrmann's finest scores can be appreciated in its glory; fine liner notes by Julie Kirgo; the original theatrical trailer; the 19-minute featurette "Locked in the Tower: The Men Behind Jane Eyre," about Stevenson's and Welles's involvement with the film; the 45-minute propaganda film
Know Your Ally Britain
(1944) which was also directed by Robert Stevenson and stands as a fascinating, very well executed documentary narrated by Walter Huston and produced by Frank Capra, designed to educate Americans about the history and culture of their wartime British ally; two insightful commentary tracks, one with film historian Joseph McBride and actress Margaret O'Brien, and the other with film historian Julie Kirgo, Herrmann biographer Steven C. Smith, and historian Nick Redman -- who, with Brian Jamieson, formed the Twilight Time distribution label.
By Jeremy Arnold
Jane Eyre
may have been written in 1847, but it plays as if it was originally written for the screen. A key Gothic drama, this inspiration for 1001 heavy-breathing women's novels has been adapted into at least twenty screen versions. Fox's 1944
Jane Eyre
is still probably the most notable and satisfying adaptation. It's a moody B&W thriller with a good sense of mystery, even if the acting and execution are a bit uneven. The movie has remained alive in film discussions due to the presence of Orson Welles as an actor directed by the efficient and creative Robert Stevenson. And nobody forgets Bernard Herrmann's incomparable soundtrack score, which carries the story of injustice and longing into new regions of emotion.
Synopsis: Cruelly treated by her guardian, Mrs. Reed (Agnes Moorehead), the orphan Jane Eyre (Peggy Ann Garner) is sent to the oppressive Lowood School to be further abused by the near-maniacal Henry Brocklehurst (Henry Daniell), whose pious cruelties hurry the death of Jane's beloved best friend Helen Burns (Elizabeth Taylor). Refusing a teaching position when she comes of age, Jane (Joan Fontaine) takes a job as a governess at the mysterious house of Edward Rochester (Orson Welles), a man brooding over dark secrets. Odd happenings in the house culminate in Jane saving Rochester from a mysterious fire set in his room. They grow to like each other's company but Rochester openly woos Blanche Ingram (Hillary Brooke), a beautiful but unpleasant neighbor. Rochester eventually declares his love for Jane and they plan to marry. All goes well until the ceremony is interrupted by Mr. Mason (John Abbott), who states that he has reasons why Edward Rochester cannot marry -- anybody.
A satisfying and superior entertainment overall,
Jane Eyre
has some odd aspects. The opening section with the sensitive child actress Peggy Ann Garner (
A Tree Grows in Brooklyn
) is almost perfect, condensing the events of the book without detracting from them in any way. Agnes Moorehead's imperious guardian and Henry Daniell's schoolmaster are a terrible pair of tormentors, and young Jane must endure humiliation and injustice. The stylization of these scenes evokes Jane's ordeal with masterful ease, with Jane and her friend Helen (the unbilled Liz Taylor) forced to march in the rain or stand on a stool amid a maze of German-inflected shadows. Perhaps the only sign of haste is in the quick pass-by of Sara Allgood's Bessie, who clearly played a much bigger part in the book. There is also some clever fudging with the "Dr. Rivers" character enacted by John Sutton. Writers John Houseman, Aldous Huxley and Robert Stevenson substituted his character for some relatives Jane encounters late in the tale.
When Jane 'grows up' to become Joan Fontaine, the movie and book begin to diverge. Fontaine is directed to play Jane too much like the ultra-shy and passive
Rebecca
from Fontaine's earlier career-making Alfred Hitchcock hit. Brontë's Jane is much more forceful and independent. After her stifling childhood the Jane of the book is determined to retain her personal independence, even though she welcomes marriage with Rochester. She is wary of being "bought," while the movie's Jane is all smiles when being fitted for a trousseau. Joan Fontaine's acting is always good, yet her character in this movie suffers from being altogether too similar to her roles in
Rebecca
and the later
Suspicion
.
That brings us to Orson Welles, in his first starring role (sort of) directed by someone else. As always, Welles makes a firm impression, but there's something funny about it -- he never lets us forget that, even though A Big Actor is on screen Doing Dramatic Things, that we shouldn't be fooled, it's really him. Welles can be great in character roles where his bombast and eccentric behavior brighten otherwise dull plot corners. In
Jane Eyre
, the unnecessarily meek Fontaine follows Welles around as if she were walking a big dog that she can't control.
Welles aficionados stress his creative influence over the film. Having Agnes Moorehead and Erskine Sanford in the cast, along with Bernard Herrmann's score certainly provides links to Welles' classic: one music cue comes direct from
Citizen Kane
). Equally strong is the film's period sensibility, carefully manufactured on interior studio sets, a feeling perhaps influenced by Val Lewton's RKO films. Just the year before, Lewton's
I Walked with a Zombie
had been immediately recognized as a version of
Jane Eyre
transposed to the West Indies. Director Stevenson may have been as impressed with Lewton's 'small strokes' approach to period detail as were the British filmmakers Michael Powell and David Lean, who in the next few years would turn out a number of highly accomplished literary and period classics using the diminished resources of tiny English studios. The Mrs. Fairfax character is played by Edith Barrett, Lewton's actor from both
Zombie
and
The Ghost Ship
. Henry Daniell wouldn't be associated with Val Lewton for another year, in his
The Body Snatcher
.
Jane Eyre
wraps itself up in a big hurry, which is a good decision. From the unsuccessful wedding forward, the story becomes progressively sketchy, barely touching on Jane's adventures away from Rochester's house. The original book managed to find an unexpected inheritance for Jane -- another Romance Novel "must" -- and a potential husband candidate, albeit a missionary with no romantic appeal. The movie hurries to the memorable moment when a supernatural voice calls to Jane over the moors. Since Orson Welles is one of the best disembodied voices of the 20th century, that moment works beautifully. The high drama of Herrmann's dynamic music does the rest of the heavy lifting.
Hillary Brooke (the possessed mother in
Invaders from Mars
) is Jane's rival, and Adele Jergens (
Day the World Ended, Try and Get Me!
) has a bit as a 19th-century party girl.
Fox's
Cinema Classics Collection
disc of
Jane Eyre
begins with a disclaimer about imperfect transfer elements, but less-than-optimum visuals are noticeable only once or twice. Whatever the problem was, it doesn't interfere with our appreciation of the show on any level. The disc is loaded with extras. Joseph McBride carries most of one commentary aided by Margaret O'Brien, who plays Rochester's little ballerina of a daughter. O'Brien's most memorable comment is that she got to wear fancy costumes, while Peggy Ann Garner acted in rags. A second commentary combines the observations of Nick Redman, Steven Smith and Julie Kirgo and is a bit livelier.
Bernard Herrmann fans will be interested in the film's isolated "M&E" (music and sound effects) track, which makes this disc a dynamite soundtrack experience as well. The parts I listened to sounded like raw music cues, including audio slates.
Jane Eyre
is one of Herrmann's most accomplished traditional scores.
A fairly lengthy John Cork featurette,
Locked in the Tower
, examines the film's contested paternity. It has a problem in that two of the interviewees are relatives of credited director Stevenson, and the discussion is heavily weighted in his favor. Welles is characterized as an insecure prima donna followed by an entourage, supposedly to intimidate others into thinking he was in charge. The docu says that Stevenson was not overpowered by his famous collaborator, a fair enough statement. The interviewees try to equate the cinematic accomplishments of the two directors, which is silly.
One terrific and unexpected extra is Stevenson's WW2 propaganda film
Know Your Ally Britain
, a hearty morale-booster (narrated by notables like Walter Huston and Orson Welles) that might seem more appropriate to a war-themed feature. A restoration comparison, trailer and galleries of stills and promotion artwork follow.
In the box cover image Joan Fontaine looks as though she can't wait to get away from Orson Welles. A gigantic castle on the package back looks more like Sleeping Beauty's crib than any place where Plain Jane might hang her hat.
To order
Jane Eyre
, click
here
. Explore more Bronte Sisters adaptations
here
.
by Glenn Erickson