DVDs from TCM Shop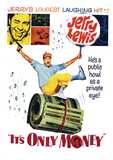 It's Only Money Lester is a clumsy and awkward... MORE&nbsp> $14.45 Regularly $24.95 Buy Now blu-ray
Home Video Reviews
Lester March (Jerry Lewis) is a television repairman who is also crazy about detective novels. In a story that could be pulled from one of those dime store mysteries, Lester finds himself trapped in a loopy conspiracy when he discovers he is the heir to a massive fortune in the Frank Tashlin comedy
It's Only Money
(1962).
A television news report announces the death of a local millionaire inventor. Unless his long-ago vanished son can be located, his millions will go to his sister, the effervescently silly Cecilia Albright (Mae Questel). Cecilia is engaged to smarmy, suntanned lawyer Gregory DeWitt (Zachary Scott) who has agreed to marry Cecilia in the nefarious hope of gaining access to her fortune. Also on the hunt for the fortune's heir, is private eye Pete Flint (Jesse White). Pete teams up with Lester -- who has just repaired Pete's TV, naturally -- to find the missing heir, who turns out to be Lester himself. Complications ensue when Gregory and his butler accomplice Leopold (Jack Weston) first get a glimpse of Lester on the grounds of the Albright mansion and decide to do away with him, thus ensuring the fortune stays in their hands.
Director Frank Tashlin and star Jerry Lewis paired up for a total of eight films. Some of the classic features of the Lewis and Tashlin team-ups are present here, including the inexplicable animal attraction Lewis's nebbish characters seem to always inspire in women. Lester, the humble, bumbling television repairman is aggressively pursued by Cecilia's personal, va-va-voom nurse Wanda Paxton (Joan O'Brien). Audiences are left to wonder if Wanda's interest in Lester is purely physical, or more motivated by his money bags.
But Wanda isn't the only one pursuing Lester. Lester also has a series of comical run-ins with mechanical devices. At various points in
It's Only Money
Lester is pursued by the automatic vacuum cleaners that patrol the Albright mansion environs. He is also set-upon by a vicious group of automatic lawn mowers with lacerating teeth who launch a borderline nightmarish attack on Lester in one of
It's Only Money
's most uniquely funny and disturbing moments.
Much of the comic meat of
It's Only Money
are Road Runner-style comic bits (Tashlin, after all, got his start in cartoons) where the murderously blood-thirsty butler Leopold concocts new ways to murder Lester. Exploding boats, runaway cars, threats of decapitation are all foiled by Lester who escapes more via dumb luck than anything attributable to wit or resourcefulness.
It's Only Money
was the second Frank Tashlin film in which Lewis played a hapless television repair man, a profession that offered Lewis the chance to wrangle enormous, unwieldy, delicate hunks of metal and also afforded a degree of self-referentiality about TV and movie show-biz. Though certainly not the best collaboration in the Lewis and Tashlin pairing,
It's Only Money
has some charming moments. As the deliriously clueless potential heiress, Mae Questel (who voiced both the Betty Boop and Olive Oyl cartoon characters) lends her own brand of slapstick comedy to the proceedings. Zachary Scott is also memorable in his role as a money-obsessed creep. Dusting off the oily cad Monte Beragon he played in the iconic
Mildred Pierce
(1945) Scott maintains an attitude of nonchalant despicableness and amused contempt that nicely offsets Questel's lunacy.
For fans of the Tashlin and Lewis oeuvre,
It's Only Money
is certainly required viewing. All others will have to decide how many pratfalls, sight gags and absurdity they can stomach.
For more information about
It's Only Money
, visit
Olive Films
. To order
It's Only Money
, go to
TCM Shopping
.
by Felicia Feaster