DVDs from TCM Shop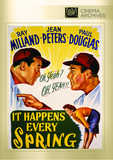 It Happens Every Spring A scientist invents a baseball... MORE&nbsp> $18.36 Regularly $19.98 Buy Now
NOTES
Shirley Wheeler Smith, the chief financial officer at the University of Michigan, originally wrote the short story used in this film for presentation at University Club festivities several years before it was published in the Summer 1946 issue of Michigan Alumnus. According to documents in the Twentieth Century-Fox Records of the Legal Department at the UCLA Arts-Special Collection Library, screenwriter Valentine Davies acquired all rights to the story in March 1947. Davies agreed to pay Smith fifty percent of all monies received, excluding his fee for writing a screenplay. In April 1948, Twentiethc Century-Fox bought a treatment Davies had developed from the story for $40,000. Davies was subsequently hired to write a screenplay, which then became the sole property of the studio. Davies retained publication rights to the treatment, however, and, incorporating material from the screenplay, produced a novel whose publication coincided with the film's release. Onscreen credits state that Davies wrote the screenplay "Based on a story by Shirley W. Smith and Valentine Davies."
A month before shooting was scheduled to start, (Ray Milland having been borrowed from Paramount), the studio encountered major problems with representatives of professional baseball. Despite the studio's numerous pleas, Commissioner Albert B. "Happy" Chandler, would not grant permission to use actual team names in the film as it was "the story of a cheat, winning a pennant and a World's Championship Series." The studio offered to include a foreword on the film that read: "The adventures of Mr. Vernon K. Simpson, the central character of this story, are purely imaginary. Because they violate both the rules of the game and the law of nature, the things he does are impossible and quite fantastic-like so many other things that happen every Spring." Chandler would not budge, and plans to feature professional players and famed announcer Red Barber were dropped as were names of specific teams and ballparks. However, Wrigley Field in Los Angeles was rented for the game sequences at $525 per day and the University of Southern California received a donation of $250 per day for use of its Bovard Field. A street sequence was shot in Santa Monica, CA, and other exteriors were filmed at USC.
The final Hollywood Reporter production chart, on January 21, 1949, lists Dorothy Spencer as film editor, although Bruce Pierce is credited onscreen in that capacity. The extent of Spencer's contribution to the final film is not known. Actors Al Eben, Grandon Rhodes and Robert Patten are listed in the Variety review and studio cast lists but their appearance in the released film is doubtful. It Happens Every Spring received an Academy Award nomination for Best Motion Picture Story. A radio adaptation of Davies' script, starring Ray Milland, William Bendix and Coleen Townsend, was broadcast on Lux Radio Theatre on October 3, 1949. Another version was broadcast on Screen Directors' Playhouse on April 14, 1950.