DVDs from TCM Shop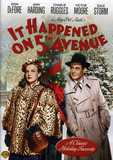 It Happened on 5th Avenue Two homeless men move into a... MORE&nbsp> $7.95 Regularly $14.98 Buy Now
USER REVIEWS
See Detailed Ratings
Acting of Lead Performers

Acting of Supporting Cast

Director

Music Score

Title Sequence

Screenplay

Cinematography

Historical Importance

Would You Recommend?

0 Member Ratings
Rate the acting of the Lead Performers

Rate the acting of the Supporting Cast

Rate the Director

Rating of the Music Score

Rating of the Title Sequence

Screenplay

Creatively uses the camera to tell the story

Importance in Cinema history

Would you recommend for fans of this genre
Submit Ratings
Cancel
Write a Review
Read Reviews
NO REVIEWS AVAILABLE
The title has not been reviewed. Be the first to write a review by clicking here to start.
A terrific surprise!!!

I just finished viewing this movie for the 1st time ever.....What a great treat!!! I can't add much to what's already been said other than the cast was just right as far as I'm concerned. Fun to see the "skipper" from Gilligan's Island 20 yrs. earlier......BTW, was the great Charles Lane in everything??? I am glad to say I recorded this one to DVD for future viewings...Merry Christmas to all and Happy New Year!!!

My Very Favorite Christmas Film

Oh I love this movie! I watch it every time it comes on. Funny and charming, and reminds all of us to be a little kinder to each other. Although it is a Christmas movie, it needs to air all year long. We could all learn a thing or two from this wonderful show.

My Favorite Christmas Movie

I love this film, watch it every year on TCM. The funniest scene in the movie is when Trudy (Gale Storm) takes her very rich father, Mike O'Connor (Charlie Ruggles) to the thrift store to buy old clothes. When Mike asks the owner how much he will get for his very expensive wool suit, the owner's response is priceless. It's a must-see for anyone who wants to relax and enjoy a few hours of pure fun. If you have no Christmas spirit, you will after viewing this film.

Totally enjoy it

Saw this twice already this year. Such a well acted, well written movie that brings reminders of gentleness and kindness.

Best Christmas Film Ever

Victor Moore and Charlie Ruggles are the true stars of this gem of a film. Wonderful story about people needing a place to live after WWII and finding one in an empty mansion on 5th Avenue with a warm hearted hobo and (unbeknownst to them) the owner who learns the value of being a human and not being a billionaire. I mark this one on my calendar!!! Thank you TCM

It's like visiting old friends

I love classic films but never saw this until two years ago on TCM. It's a gentle and endearing gem. It is understated and well presented by great character actors and is as solid a Christmas movie as any of it more famous counterparts. The final scene is as wonderful as any movie I've ever seen and I always find myself brushing away a tear. This is a beautiful and meaningful story and it deserves recognition as a snapshot of American life in the immediate post war years. It is so worth watching.

Great Movie

Saw this movie for the first time on TCM 5 yrs ago. My father had just passed away and was now living with my mother. We watched the movie together and it was so much fun. This is my favorite "era" of movies. This is a very kind and gentle movie. So many great scenes and comedic one-liners. The movie represents a lifestyle that has vanished. Watch and Enjoy!

Everybody but Leonard

People really like this movie and I do too. Leonard Maltin's reviews are helpful, but he misses on this one. More than a two-star movie. KD

Recent Find

I watched this movie for the first time while recovering from surgery. Since that time, I have looked for it every Christmas. I don't think my holidays would be the same if I didn't have this movie in my life. Light a fire, prop your feet up and snuggle under a blanket as you lose yourself in an unheralded Hollywood classic!

Refreshing and charming

There is a charming overlapping of levels of following the story and enjoying the characters with their philosophical teachings throughout the film. So much wisdom went into this family film that everyone could sit still for. No violence, definite suspense, adorable and clever humor, romance and much more. I thoroughly enjoyed myself on this one.

It Happened On Fifth Avenue

When I see only a two star rating for this movie, I am asking myself, what is the criteria for rating movies? I've found I like a lot more two star rated movies than some higher rated ones. This is one movie I always look forward to watching at Christmas. The storyline is simple, but charming, in showing how much people need each other and that money doesn't always buy happiness. I never grow tired of watching it. The cast of characters are well played. There is something in the message that makes you believe that there is always something good to come from every experience in life.I highly recommend this movie.

It happen on 5th avenue

Great movie can't wait to see it when it comes out in Dec. Leonard Malton rating was way off, i guess he does not like great christmas movies like this one.

Stellar

Seriously Stellar Star Studded Seasonal Sentimentality.I love it, my daughter loves it and we can not do without it on Christmas.

It Happened on 5th Avenue

Great family movie! Worth more than just 2 stars. What does Leonard Maltin know anyway?

Must see

I just finished watching this movie and I must say it was heartwarming I loved it wish more movie's were made like this . This is just my opinion if you really want to know just see it for yourself.

Under-rated and Heartwarming Holiday Tale

Well it is far too long, but unlike professional critics who are paid to sit through every minute and rate it down, those of us who invest the time and make it to the end, are really grabbed. It's another take on the reliable Hollywood formula of the kind but down-trodden underclass teaching the wealthy how to truly live. It reminds me of "You Can't Take it With You". Perhaps if it were produced in as little time, "It Happened on Fifth Avenue" would be better known. It is quite a commitment but I'll add this one to my list of must-see Holiday favorites.

Deserves way more than 2 stars....

Great film, well worth your time to see it.

It Happened On Fifth Avenue

It's running right now on TCM/I have watched this one at least 3 times/LOVE it!!!

Flawed But One Of My Favorite Movies ! Five Stars

The Musical numbers are effective but B Film Produced. Some of the supporting actors are second rate. Still one of my absolutely favorite movies. Charlie Ruggles is tremendous and all the leads are excellent in my opinion. Honey drenched and somewhat redundant in themes. Crazy as it sounds, this is one of my ten favorite movies, all time.

IT HAPPEN ON 5TH AVENUE

This movie IT HAPPEN ON 5TH AVENUE is a great movie for the family to see.It just one of those movies that grab you.It a must see for anyone who wants to get into the Chrsitmas sprit.Learn about it from TCM over five years ago, and watch it every year since.

*****

5 star

Under the Radar Classic

There's a tenderness to this movie that is missing in movies today. It may not have the visibility of other classics of the period, but it's characters are endearing. The messages are a breath of fresh air.

Pleasant Holiday Romance

ReubenSandwichNYC

12/4/15

I think this is an under-rated holiday classic. Improbably charming, it features a great cast of character actors, most notably the devil-may-care Victor Moore and the kaphumphering Charles Ruggles! A simple charming message for a holiday film!

What Truly Matters

...is love, caring, forgiveness, respect... and trust... This was my first time seeing this movie, and was simply delighted with all the goodness shining through all the characters. They just don't make movies like this anymore, where no one is hurt and there is a brilliant message. Love how this story ends.

It Happened On 5th Avenue

This was an excellent movie showing different aspects of life. I'm not one to give reviews on movies but this one is the second time I have seen this and enjoyed it even more. Thanks to TOM these movie classics will never fade away. Thank you BEN.

A little treasure!

I've seen this film so many times and I'm watching it right now - for the second time this Holiday season! It's a treasured gem for those of us who know about it. Please don't analyze it to death. Just enjoy it and the message it brings at this time of year. Some of us don't realize how rich we truly are and our riches have nothing to do with how much money we have! Merry Christmas!

Great movie!

I remember watching this movie when I was young and thought it was a great movie. I watch for it every year, but thinking that I need to add it to my Christmas list!

My all time favorite Christmas movie

Saw it for the first time last Christmas! Delightful film! So happy I caught it thepis evening! My new Christmas movie!

"Recipe for the Stew"

The recipe for the stew is irrelevant but the stew was important because it signified a time in this couple's life when they were struggling, but very much in love and hoping for a brighter future that did come to pass. However, wealth spoiled what they had, but they got it back.

IT HAPPENED ON 5TH AVENUE

I had to laugh at other reviews who had same reaction as me...I wondered what the recipe was also for the stew. I was not bored or falling asleep at all during this veryentertaining story. it shows a much simpler life wherepeople forgave each other and cared about others,evenstrangers.. these days they all would of been shot deadin the mansion for posing a threat! loved it and planto ask friends and family to look for it!

WHAT WAS THE STEW

THIS IS A WONDERFUL MOVIE. AL BOSSES SHOULD BE REQUIRED TO SEE THIS FILM.I'D LOVE THE RECIPE FOR THE STEW!

It Happened on 5th avenue

Great movie, everyone should watch it.

it happened on 5th avenue

great show all should watch and enjoyblessings

Great movie and very enjoyable!

Great, light-hearted movie and a classic for the entire family.

A Holiday Must See

TCM finally got the holiday schedule right! This film is endearing and up lifting. The casting - perfect. Victor Moore, Charles Ruggle perfect in their roles. Christmas music you've never heard before. I'm glad I was able to save to my DVR.

It happeded on 5 th Avenue

This should have been a Christmas classic; it was truly entertaining .

Holiday Classic

I had never heard of this movie and saw it on TCM several years back. I just had to buy it. This quickly became one of my family's favorite Christmas movies. This movie is pure delight and happiness. An absolute treasure. So glad I saw it. The characters and story line are fantastic.

Love it!

This was such a heart warming movie. An unrecognized classic. I love all the 1940 holiday movies but I had never watched this one. It's unfortunate it wasn't released in time for Christmas so the actors could have received their due at that time For me it was a great new find!

A perfect Christmas movie

I read about this in Alonso Duralde's magnificent HAVE YOURSELF A MOVIE LITTLE CHRISTMAS and since then it's become as much a ritual as MEET ME IN ST. LOUIS. We love this sweet little film a lot.

SCROOGE!!

Only two stars from LEONARD MALTIN...I liked this film far better than What A Wonderful Life...the pup, the story line and cast won my heart...love, kindness and respect for one's fellow travelers on this Earth never go out of style.

Great!!

Just want to say I love this movie!!

Can't miss picture.

I accidentaly stumbled unto this picture about 4 years ago. Now I can't miss this when it's on

It happened on 5th Avenue

Love love love this movie, Victor Moore waxes poetically, l can't seem to 'hear' him enough, if that makes sense.I saw this for the 1st time about 6 years ago and immed ordered it so I never miss it. I watch this on Christmas Eve sandwiched in between Holiday Inn and of course White Christmas then hit the sack around 4 a.m. before Santa shows up, yeah, yeah I'm too old to believe in Santa at 60.

One of the Great Closing Lines

This movie is enjoyable throughout because of its optimism and humanity. It reflects well the spirit and challenge America felt immediately following WWII. It suffers from a few stabs at overly broad comedy in places, but that does not detract too seriously from an interesting story and characters that you feel for. What keeps me coming back for repeated viewings is the closing scene, with one of the most heart-tugging tag lines in all of movies.

So charming

so charming, a story of people just being nice to each other-what a concept! The situation is fun and funny. The characters and time are interesting.

Heart warming, doesn't beat you with the message

There are comments about this story being "Capra-esque", but Capra would have laid it on the Capra Corn too thick. This is a sweet and friendly holiday movie. It's a bit uneven, but over all very easy to take.

Who's the Doggie?

Loved the movie. I'm surprised I've never seen it until now!All the website data omit the dog that jumps into Vic Moore's arm.His? Trained lot animal?

Heartwarming comedy

I look forward to this movie every year. It is a reminder that money isn't the only thing that can make one 'rich'!

Such a Surprise

I found this movie to be so heart warming. People being generous with each other on a basic human level. Wonderful movie. Just Wonderful :)

I missed it

I really enjoyed the parts of the movie I was able to watch but I missed the ending ugh!! Someone please enlighten me. Thx

It Happened on 5th Avenue (1947)

Overall, a pretty entertaining film, but it does suffer from having an uneven pacing that makes it feel about twice as long as it really is. Perhaps a stronger, top-tier cast might have compensated for its shortcomings and brought more out from the script. Don DeFore did an adequate job but he lacked the necessary drive and sincerity; Ann Harding was virtually invisible in her role; Victor Moore's voice and mannerisms got a little grating after a while; and Charlie Ruggles seemed miscast as the "big, bad millionaire." A top-tier cast of, say, Cary Grant (as the rebel-without-a-cause Jim), Claudette Colbert (as the slightly-spoiled-but-big-hearted Mary), Edward G. Robinson (as the wise-vagrant Aloysious), and Edward Arnold (as the Scrooge-like O'Connor) would have done wonders for this film and probably placed it as number two in the holiday classics--right behind "It's a Wonderful Life." That may sound like a tall wish-list that even Santa would balk at but considering that Frank Capra almost made this picture but turned it down to do "It's a Wonderful Life" instead does put it in the realm of possibility. In any case, this story had enough going for it that it certainly deserved the more modest casting of, say, Robert Cummings (as Jim), Ann Sheridan (as Mary), Charles Coburn (as Aloysious), and Edmund Gwenn (as O'Connor) to bring out the best in it. Still, despite a weak cast and all its imperfections, this little film does have some worthwhile magic to offer viewers that makes it unique among the usual holiday grabbag of xmas movies. *** out of *****

It Happened on 5th Ave

I LOVE this movie!! I try to catch it every Christmas season but with my work schedule I sometimes miss it. It drives me nuts when I miss it. Dec 16, 12 I was looking at the movies on and I came to TCM (which I love) and the beginning was starting with the credits and music, it sounded so cheerful and happy I had to watch it. My first shot of Aloysius T McKeever and his dog walking down the street, I knew what I was going to watch. I was thrilled as if I was a kid seeing Santa. I had both TVs on so if I went into another room I wouldn't miss any of it.The whole cast are marvelous, story is the best. They should do a remake of this movie. Thank you TCM for playing all your wonderful movies. I don't know how many nights I have sat up and watched your channel.Donna

Great Movie

This is only the second time I have seen this movie and I love every minute of it. The acting is superb. I adore Charlie Ruggles; what a great actor. This is a perfect Christmas movie full of fun, compassion, and love. This movie has it all.

It happened on 5th Ave

The movie was excellent. Heart warming and cute.

NY in the 40's

jeff wolfenbarger

12/12/12

what a splendid movie. saw it for the first time three years ago on TCM and have seen it every Christmas season since. its all around good fun and very caring movie. lots of little plots and people to care for. the cast is great and they play off each other so well. i always think about this movie when i am walking down 5th ave and pass the frick museum wondering where mr. mcgeever may be. enjoy the movie folks!

A feel good movie

Warm, cheerful and a great movie to watch at Christmas. Give it a try on a cold winter day.

it happened on 5th avenue

avis butterworth

10/29/12

I just love this movie, good for all family members to see.Hope it is shown again soon.

A Great Christmas Movie

Friends recommended it and remembered the plot but not the title. Found movie on Turner and watched it lastChristmas. Will not miss it again. Gale Storm and Charlie Ruggles are very good in this one !

it happened on fifth avenue

Wow! What a movie! Watched it every year since I wa a kid.

It Happened on Fifth Avenue-wisdom in quotes

Victor Moore as Aloysius T McKeever is understated and wise. His little verbal gems can slip right by you if you are not paying attention. I may not be quoting this exactly but my favorite is when he says "It is a sad kind of poverty when a man has no friends." McKeever is the quiet subconscious that nudges us to think a little deeper about the human condition. Victor Moore is priceless.

It Happened On 5th Avenue

A new Christmas classic for the Ray Family!A tender and heart-warming story that my daughter,wife and myself loved.As good today as in 1947.5Stars.

A Great Movie

Mr. Maltin missed the mark when he gave this movie only 2 stars. It should have 4 stars. Very heart-warming; here's a "bum" who has more sense and a better philosophy than most of us. Love to watch this moving at Christmastime (or anytime).

It Happened on 5th Avenue

All that's good about life, the holidays, humanity, love, and yes, moviemaking! Was a surprise viewing for me. What a gem!

A Wonderful Movie

One couple at a Christmas party mentioned this as one of their very favorite Christmas movies. No one else had heard of this movie but I looked it up on Turner Classics when I heard that Gale Storm and Charles Ruggles were in it. My Little Margie had been a favorite TV program. I saw it today for the first time and absolutely loved it. ! Thank you TCM for adding such a great movie to our Christmas enjoyment. Please show it often.

True Classic

My husband and I love this movie, it's really funny and very appropriate around the Christmas season. A must watch.Thanks TMC for all the great movies I can't get enough. The movie stars in their era were very eloquent,refined and so dedicated.

True classic

I love this movie, it's really funny and very appropriate around the Christmas season. A must watch.

It's Better Than A Wonderful Life

Both movies deserve Christmas showings,but since seeing this one,I prefer it.Both have great messages,but Mike is a better character than Potter.And Victor Moore is appreciated.

A Classic

This movie was a lovely surprise. I had not seen it before and loved the message, performances and music. I particularly enjoyed the Christmas song sang by Gale Storm while playing the piano, it was lovely and again had not heard before. Can you send me the name of the song and author please? I would like to get the sheet music. Merry Christmas

Feel good movie despite flaws.

This an outstanding heart warming, feel good Christmas movie in the vein of Its a Wonderful Life, The Shop Around the Corner and A Miracle on 34th Street. It was on a TCM holiday compilation DVD we purchased or received as a gift, then buried unwatched in a closet. We rediscovered it when retreiving our Christmas ornaments from storage earlier this month. I watched it for the first time several weeks ago when my wife was out, and she watched it two days ago when I was out. We enjoyed so much we watched it again together when it was on TCM last night. It's not a perfect movie. Victor Moore as McKeever came off a bit too self absorbed for me to garner as much sympathy as I wanted to for the character. I couldn't get over the fact that Jim seemed way too old for Trudy (in real life DeFore was 35 when this movie was made and looked it, while "Trudy" was supposed to be 18 in the story). The premise of a wealthy tycoon living in his own home incognito among squatters because his teenage daughter asked is far fetched and requires you to suspend disbelief, but without that premise there would have been no It Happened on 5th Avenue. The acting ranged from was below average to good. Despite it's flaws, the message, hilarious situations and uplifting end make this movie a must for holiday viewing, or watching any time of the year

First time

Great movie, and I thought the acting was above par.

My New alltime favorite

Holds my attention, never left the room, Pure Quality acting a reminder of Christmas in my heart without the tree, The best movie ever for me. How could a so called expert rate this film at 2 stars, it made my day. especially after a day of no talent big names, this film is real entertainment.

It Happened On Fifth Avenue

Unfortunately, I have never seen this movie completely, having tuned in about halfway both times Ihave come across it. It is a wonderful heartwarming story, and more people should see it.I am looking forward to being able to watch it from beginning to end the next time it is televised.A special thank you to TCM for making the absolutely wonderful movies available to the public.Please continue your great works.SincerelyCathyMinnetonka, Mn.

It Happened On Fifth Avenue

Love this movie! Watch it over & over again !

Old movies

This is my first time seeing this movie and already its lifted my mood. love it!

FANTASTIC MOVIE

LOVE THIS MOVIE SINCE I WAS A CHILD. GREAT POSITIVE MOVIE WITH WONDERFUL CAST.

Love thsi movie!!

This film is one of my favorites of the season...there is something magical about it. Charlie Ruggles character is perfect! During the season, I am quite happy to overlook acting that is somewhat below magnificent, and scripts that are predictable, in order to experience that magical feeling that we see so little of, during the rest of the year. Thank you TCM.

Thanks, TCM, for Making This an Annual Tradition

Thank you, TCM, for broadcasting this wonderful movie every Christmas season for the past few years. I am one of those who campaigned some years ago to convince TCM to locate and broadcast it, as I was sure that once some people saw it for the first time, they too would fall in love with it--much as I did when I first saw it on local Los Angeles TV in 1978. I looked for this movie often since then, and finally resorted to buying a bootleg DVD version some 6 years ago. Then TCM showed it, and the film studio finally issued an official DVD release, which I purchased. It is my personal favorite Christmas season-themed movie.

It happened on Fifth Avenie

A great movie! The acting is okay but the movie is humorous and has some great moments. Especially the performances of Victor Moore and Charles Ruggles!! My husband and I love this movie and watch it every Christmas!!!!!!

I'm Glad it Happened on 5th Ave

Truly delightful Christmas film

Wonderful

Saw for the second time 10/18/11.Truly inspiring,esp given all those losing their homes and needing this kindness today.Victor Moore is outstanding,as is Charlie Ruggles.Definitely rates along It's A Wonderful Life classic.

IT Happened on 5th Avenue

I first saw this movie "IT HAPPENED on 5th Avenue" on October 18 2011. when I saw this I too thought it was a great Christmas movie. I plan to add this to my festive Christmas collection. It really warmed my spirit. After the movie ended I reached out to an estranged family member. This movie has moved me. what a Great movie thank you TCm. Can you please play it again for Christmas? I would love to share this with my family. wow

it happened on 5th avenue

kim e. dellinger

10/18/11

one of the best movies you will see right up there with it's a wonderful life

It happen on 5Th Ave.

This movie was great because of its story line about family and friends and that money can not make you happy all the time.

It happened on 5th avenue

I enjoyed the show very much. It should be shown again for it has a great story line.

It happened on fifth avenue

Today I watched one of the most wonderful feel good films that should be one of the more well known films to todays generation. The movie goes threw a range of emotions,about the humanity of man.It takes you back to a simpler place and time when life was much much more easier.it takes place right after world war two when people where starting over,getting back to life after there sacrifices,and losses.It brings people back to gether after there lives have been ripped apart from war. It's about a bunch of people from all walks of life that meet in the bottom of their luck and all pull together to help each other out.this movie is a true treasure of American culture in the aftermath of world war two.its about how people can change,how people can sacrifice for people they have never meet. I wish more people would watch this film.they don't make films like this today every things about killing,blowing something up and going faster and faster.this whole movie takes place in a old mansion basicly. And the cast is wonderful they all seem to mesh together. It just is a very fine example of Americana.

It Happened on 5th Avenue

This movie is truly a funny classic. My husband and I enjoyed it and will watch it again not just at Christmas. There should be more movies today made with the class and humor as this one has.

Outstanding movie,first viewing not to be last

Perfect movie for Christmas.Deserves to be considered among the classics.Well-acted,beautiful story,humor

It Happened on 5th Avenue

I saw this movie for the first time Christmas 2010.This will be the number one movie I will watch on Christmasfrom now on.

It Happened on 5th Avenue

Yesterday was my very first time watching this movie and I plan to keep it as a favorite movie to watch over the holidays. there are some movies that just warm the spirit and this one does it for you.

It happened on 5th Avenue

What a great movie. I watch it every Christmas. It wouldn't be Christmas without it.

It Happened on 5th Avenue

I just saw this movie for the first time and wanted to watch it again as soon as it ended. Will tape it on Dec. 24. TCM, where have you been hiding this gem?! Charming, delightful, touching. Everyone in it is wonderful. Loved the dog too!

It Happen On Fifth Avenue

Zora Walker Broussard

12/19/10

I love this movie. Will watch it again on Dec.24th.

you have to see this movie!

Despite countless great movies that TCM has brought to my acquaintance, this movie has to be the number one most delightful surprise ever! I never even heard ot it before this month, and it's really just more wonderful than words can express. Better by far than It's a Wonderful Life, better than anything. See for yourself!

JUST 2 STARS!! BAH HUMBUG! At least 3+!

Great movie. I can't wait to see it again on the 24th.Why can't movies like this be made today.You'll love it!

It Happened On 5th Ave

I can't believe that this is the first time I've seen this movie. What a wonderful classic holiday movie. What an amazing movie part comedy, classic holiday theme, mystery, and romance. Such a clever plot!! I can't wait to see this one again and I will be sure to add this to my holiday film ritual. This movie trumps "It's A Wonderful Life" in my opinion which has held the number one spot on my list for years.

Not Alone Anymore!

I saw "It Happened On Fifth Avenue" many years ago while growing up and never forgot the movie, the stars, the plot, or the message it portrayed. Have not seen it for many years, but did manage to catch it a few years back and taped it for myself and have enjoyed it with my children, family and friends over the recent years and everyone loves it as much as I do........ and without fail, I manage to shed some tears at the end when that line is said "Next year he will be coming through the front door". I am tearing up just writing it now........ that movie has had a profound effect on me and a new appreciation for the actors of that movie, especially Gale Storm who passed away last year. So glad her image will be preserved in the classic movie. Hope more people get to enjoy it every year.

it happened on 5th avenue

First saw this on tcm last year; can't remember ever seeing it before. Loved the cast and the story. I don't usually like to watch movies twice but this one I can't seem to get enough of. I told my kids to look for it. One of my daughters saw and loved it so much she had to buy it. It's very funny and at the same time sends a heart warming message.

It Happened on Fifth Avenue

LOVE this movie. I've enjoyed this movie since the first time I saw it on television YEARS ago. Looking forward to seeing it again this year. Nothing like an old movie to give you a case of the warm fuzzies! Love the cast, love the story, and love the simplicity and pleasure of a great story and a great cast.

One of the Best

I saw this movie as a child and now have grandchildren. I have never forgotten it with its warmhearted scenario and humor. I adore it still but haven't seen it in years. Have even told my children about it and to watch for it. Wish we had more movies like this old treasure. A terrifice Christmas movie.

It Happened on Fifth Avenue (1947)

Delightful comedy, sweet cast. Victor Moore and Charlie Ruggles are excellent. Fine music and a good screenplay. Not a major production at the time, but it has held up well. It's a feel good movie and it works well.

Movie Fan

I really enjoyed this movie. It is light hearted and a joy to watch.

I'd Never Heard Of This Movie

But I'm Glad I Watched It!Charley Ruggles is a delight!

delightful

I found this movie absolutely delightful!! A nice refreshing break in a world that is way too fast paced.

Excellent Movie

This movie is great for life's reality check. It makes everyone examine yourself and want to become a better person. The richest man in the world didn't have a dime, he didn't even have a place to call home, but his heart was pure, He helped everyone to become a better part of society.

Very special movie!

This is a wonderful movie with a great cast and a good story that indeed warms the heart. I had never seen it before, but plan to add it to my list of older movies to watch each Christmas! Thank you TCM! I hope you will air it again before the end of the season.

Great Movie

I had never seen this movie before but found it to be a very heartwarming film, with a great number of familiar faces. My wife, who is not in to older films as much as I am, also thought that it was a very cute movie. I hope that TCM airs it again in the near future.

Thanks, TCM!

After years of inquiries and requests, we thank TCM for airing this great movie. Thanks to all who signed Greg's guest book dedicated to this movie, including those relatives of some of the stars of the movie. We hope that this movie will be shown on a regular basis throughout the years to come, so that that everyone will have the opportunity to see it.

Thank you for showing It Happened On 5th Avenue

It Happened on 5th Avenue has such a wonderful message for the holiday season. I watched this movie 40 years ago as a teenager and enjoyed it just as much tonight. Thank you TCM. I hope it becomes a holiday tradition for many of your viewers.

Thank you, Turner Classics Movies.

"Mary, remind me to nail up the board in the back fence. He's coming through the front door next winter."I've waited over 40 years to hear that line again.

A treasure trove of classic tv stars!

This is the first time I've ever seen Gale Storm outside the confines of her tv series, My Little Margie and The Gale Storm Show. What a nice surprise! And then to see Hazel's boss, Don Defore, and even Gilligan's Island's Skipper, Alan Hale, Jr. I always loved Victor Moore's work supporting Fred and Ginger in Swingtime, and the lovely Ann Harding and Charlie Ruggles, as well. It feels like Christmas just came a bit early.

Review for It Happened on 5th Avenue.

I've been looking for this movie for over 30 years. I remember seeing it when I was in high school. I loved it just as much now as I did then...it was great to see it again.

Heart warming

We must not take for granted the things we have in our life. Whether we are rich or poor. Everything counts. Lets count our blessing like these people did. Mr. McKeever was a rich man even though he had nothing. Really would love to see this movie again. It has never been on TV in over 20 years.

Wonderful,Hilarious, Comedy!

Terrific!!! FANTASTIC!!! eNTERTAINING!He was not one of the most famous actors but his sutle humor was great. It is funny It has good morals, family entertainment I would have tried to order it soonner, but I forgot the title, I saw it so many years ago, but it left a memory all these years. It was so impressive.I would love to see it come on dvd or video to add to my collection. If you liked Victor Moore I'm sure if you watch this film you will agree with me!
*We protect your personal infortmation and will not provide it to anyone without your consent. For a complete explanation, please refer to TCM's Privacy Policy. By submitting your contribution, you agree to TCM's Terms of Use.