DVDs from TCM Shop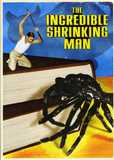 The Incredible Shrinking Man When he mysteriously starts... MORE&nbsp> $11.95 Regularly $14.98 Buy Now
NOTES
The film ends with a lengthy voice-over narration in which Grant Williams, as his character, "Robert Scott Carey," discusses his acceptance of life as having no finite end, and his hope that perhaps other beings will follow him into his new, microcosmic world. According to a March 1956 Los Angeles Times article, Dan O'Herlihy was considered to play the role of Scott. Studio press materials note that "Tamara," the spider used in the film, was one of the only tarantulas ever trained, and was also seen as the title character in the 1955 Universal film Tarantula (see below). According to a May 1956 Hollywood Reporter item, portions of the film were shot on location in Lake Arrowhead, CA.
The following production information was reported in studio press materials: Universal's technicians worked for eight months prior to filming to develop a "revolutionary film process" for photographing the picture's special effects, and the production was put on hold twice during that time. During the seven weeks of pre-production shooting and another twelve weeks of special photography, the set remained closed to anyone not directly connected to the production, and all cast and crew members were required to carry special passes to gain access. Some of the scenes in which Scott is only inches high were shot without special photography, by using giant props, such as the twelve-foot-long sewing pin that Scott uses to kill the spider. Although press materials note that a sequel was considered, in which Scott would shrink further, eventually exploring the "sub-microscopic" world, that film was never made. Modern sources add the following names to the crew cerdits: Screenplay Richard Alan Simmons and Special Effects Fred Knoth, Tom McCrory and Jack Tait.
Despite some poor reviews at the time of its release, The Incredible Shrinking Man is often referred to by modern critics as one of the best science-fiction films ever made. Many scholars see in it both an allegory for fears of the atomic age, and an expression of 1950s males' concerns over female empowerment. Universal made a comedic version of this film in 1981, entitled The Incredible Shrinking Woman, directed by Joel Schumacher and starring Lily Tomlin and Charles Grodin. In 2003, Universal announced a remake of the film, to be directed by Keenen Ivory Wayans and star Eddie Murphy.