DVDs from TCM Shop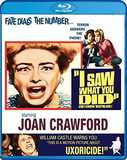 I Saw What You Did A prank call turns deadly when two teenagers dial a... MORE&nbsp> $23.96 Regularly $29.99 Buy Now
Articles
SEE ALL ARTICLES
I Saw What You Did (1965)
After her late life comeback in Robert Aldrich's What Ever Happened to Baby Jane? (1962), Joan Crawford was something of a hot commodity again. Pushing 60, she would never regain her former A-list altitude but she enjoyed name recognition with a new generation of moviegoers and that name retained a degree of star wattage. As had her Baby Jane costar Bette Davis, Crawford had entered the "horror hag" phase of her career. (She reteamed with Davis for Aldrich's Southern Gothic follow-up, Hush...Hush, Sweet Charlotte [1964], but quit the production shortly after the start of principal photography.) When she agreed to take the lead role in William Castle's Strait-Jacket (1964), as an unstable woman piecing her life together after a stay in a mental hospital (to which she had been committed for murdering her husband and his lover with an axe), Crawford had a roster of conditions - and number one was "no gimmicks." A journeyman director who honed his craft cranking out second features for Columbia's "B-hive," Castle had branded himself with a succession of promotional stunts: an insurance policy offered to those who might die of fright during Macabre (1958), a prop skeleton ("Emergo") flown over the heads of audiences watching House on Haunted Hill (1959) and "Percepto," an electronic buzzer that jolted the punters in their seats while viewing The Tingler (1959>. Crawford and her handlers felt that this type of stunt was beneath her dignity and The King of the Gimmick agreed to take the high road... although he later gave away "bloodstained" cardboard axes at select theaters.

Strait-Jacket's boffo box office brought Castle and Crawford back together a year later for I Saw What You Did (1965). Based on mystery writer Ursula Curtiss' 1963 novel Out of the Dark, the film is a prescient and forward-looking excursion into the horror subcategory of teen terror. Although the body count here is exceedingly small (no contemporary cinematic UnSub would dare call it a night after only two kills), it's not difficult to discern the blueprint for such classics of the "slasher" cycle as Bob Clark's Black Christmas (1974), John Carpenter's Halloween (1978), Fred Walton's When a Stranger Calls (1979) and Wes Craven's Scream (1996) in this tale of high school-aged prank callers who prey on the wrong guy. (The film's precredit scene, a telephone conversation between juvenile leads Andi Garrett and Sara Lane, looks as though it were shot through the eyeholes of Michael Myers' Halloween mask.)

Teens in peril were not unknown to genre filmmaking in 1965 but with few exceptions underage characters were slotted more reliably into the less punishing realm of science fiction: The Giant Claw (1957), The Blob (1958), The Giant Gila Monster (1959) and Teenagers from Outer Space (1959). A decade later, moviemakers faced much less critical resistance and public backlash for killing off teenagers but in 1965 Castle was probably wise to play it safe. Nonetheless, his depiction of the typical American suburb as a hotbed of roiling psychosexual restlessness, voyeurism, blackmail and homicide concealed behind a scrim of evergreen Americana (cinematographer Joseph Biroc shot Frank Capra's It's a Wonderful Life [1946]) argues for I Saw What You Did's significance as a linchpin between Peyton Place and Twin Peaks.

Producer: William Castle
Director: William Castle
Screenplay: William P. McGivern; Ursula Curtiss (novel)
Cinematography: Joseph F. Biroc
Music: Van Alexander
Film Editing: Edwin H. Bryant
Cast: Joan Crawford (Amy Nelson), John Ireland (Steve Marak), Leif Erickson (Dave Mannering), Sarah Lane (Kit Austin), Andi Garrett (Libby Mannering), Sharyl Locke (Tess Mannering), Patricia Breslin (Ellie Mannering), John Archer (John Austin), John Crawford (Trooper), Joyce Meadows (Judith Marak), Douglas Evans (Tom Ward), Barbara Wilkin (Mary Ward).
BW-82m.

by Richard Harland Smith


back to top
---
I Saw What You Did (1965)
In the original script of I Saw What You Did, the part of Amy Nelson, the killer's next door neighbor, was a minor part. The studio decided to expand the role in hopes of attracting a name actress.

Barbara Stanwyck was first offered the part of Amy Nelson but turned it down as she was busy with her TV series Big Valley. Stanwyck had worked with director William Castle previously in The Night Walker (1964).

Joan Crawford worked only four days on I Saw What You Did and was paid $50,000, plus a percentage of the profits. Besides the favorable deal terms, she accepted the part because it kept her in the public eye and was better than most of the scripts she was being offered.

Crawford's 25-year-old adopted daughter Cheryl had wanted to play one of the teen heroines in I Saw What You Did but was too old for the role.

Director William Castle cast Sara Lane and Andi Garrett in the two main roles of Kit and Libby, respectively, while they were still in high school. It was the film debut for both actresses.

During the filming of I Saw What You Did Crawford took nips from her ever present flask of vodka during breaks and it obviously shows in her performance in certain scenes.

Andi Garrett, who plays Libby in the film, was completely intimidated by her scene with Joan and was genuinely terrified when the older actress attacked her, pulling her hair and dragging her to the car in their big dramatic scene.

In his autobiography, William Castle related this tidbit about the making of I Saw What You Did: "In the days of the silent film, to get the cast in the mood before a scene, directors used music - a violinist or pianist would select music to match the mood of the given scene. Using the same principle, I played a record each morning before shooting - a little jingle I had written:
Don't laugh little girl,
Better run for your life,
The man you just talked to
Has murdered his wife.
Just to keep the girls in practice, I allowed them to actually make several crank calls a day from numbers picked at random out of the phone book. To experience the actual results, they improvised the calls, getting a sense of reality which they would later translate to the screen."

When an interviewer asked Joan why she was making I Saw What You Did, she replied, "Because I think the film will have a terrific identity with parents and audiences." George Cukor, who had known Joan for years and directed her in numerous films at MGM, later said, "Of course she rationalized what she did. Joan even lied to herself. She would write to me about these pictures, actually believing that they were quality scripts. You could never tell her they were garbage. She was a star, and this was her next picture. She had to keep working, as did Bette [Davis]. The two of them spawned a regrettable cycle in motion pictures."

Famous for his promotional gimmicks, Castle had very specific ideas about the marketing of I Saw What You Did: "Tying up with telephone companies around the country and having huge plastic phones in front of each theatre advertising the picture seemed good showmanship at the time. But the gimmick backfired and the wrath of the phone company descended upon me full blast. A phone number placed in the newspapers around the country asked people to call for a special message. Upon dialing, a girl's voice answered and whispered sexily, "I saw what you did and I know who you are," and then made a date to meet the potential customer at whatever local theatre was showing the picture. The whole gimmick would have worked beautifully, except the teen-agers of America took the "phone game" seriously...It seemed that almost every teen-ager in the country was on the phone, making crank calls by the thousands, jamming the phone lines. In retaliation, the telephone company would not allow us to advertise any further phone numbers and also took away the huge plastic phones in front of the theatres. They even threatened to disconnect my home telephone, and when I called to apologize, they hung up on me."

Castle even had a backup promotional gimmick for I Saw What You Did: "To guarantee safety for the patrons of I Saw What You Did, I devised...a special shock section in the theatres, where audiences could avail themselves of seat belts, much like those in airplanes, so they would stay in their seats during shocks."

by Jeff Stafford

Sources:
Step Right Up! I'm Gonna Scare the Pants Off America: Memoirs of a B-Movie Mogul by William Castle
Joan Crawford: Hollywood Martyr by David Bret
Joan Crawford: The Essential Biography by Lawrence J. Quirk and William Schoell
Bette and Joan: The Divine Feud by Shaun Considine

back to top
---
I Saw What You Did (1965)
William Castle was born William Schloss on April 24, 1914, in New York.
After attending a stage production of Dracula starring Bela Lugosi, a teenaged Castle introduced himself to the star and was invited to work as an assistant stage manager when the show went on tour.

Another of Castle's early jobs was playing Simple Simon in Bloomingdales Department Store's "Living Nursery Book."

As a young director for the Columbia Picture Corporation's B-film unit, Castle turned his hand to a string of second features through the thirties and forties.

The success of the French Les Diaboliques (1955) prompted Castle to attempt his own horror film, Macabre (1958).

Realizing that Macabre lacked shock value, Castle devised a life insurance gimmick to protect audience members from dying of fright during the film.

Joan Crawford was born Lucille Fay LeSueur in San Antonio, Texas, on March 23, 1905.

Crawford worked as a chorus girl in Chicago and New York before heading for Hollywood in 1925.

Crawford was signed by MGM in 1925 and stayed with the studio for 18 years.

In 1943, Crawford left Metro to sign with Warner Brothers. After a two year absence from films, she won the "Best Actress" Academy Award® for Mildred Pierce (1945).

Joan Crawford was married four times. Her first husband was Douglas Fairbanks, Jr., and her last was Pepsi Cola CEO Alfred Steele.

Joan Crawford died on May 10, 1977.

William Castle died on May 31, 1977.

I Saw What You Did was remade for television by Universal/CBS in 1988.

Novelist Ursula Curtiss also penned the source material for Lee H. Katzin's What Ever Happened to Aunt Alice? (1969).

Screenwriter William P. McGivern wrote the source novels for Fritz Lang's The Big Heat (1953), Robert Wise's Odds Against Tomorrow (1959), Robert Altman's Nightmare in Chicago (1965) and Robert Butler's Night of the Juggler (1980).

Joan Crawford and John Ireland had previously acted together in Queen Bee (1955). Their costar in that film was Betsy Palmer, later the murderous Mrs. Voorhees of Friday the 13th (1980).

by Richard Harland Smith

Sources:
Step Right Up! I'm Gonna Scare the Pants Off America: Memoirs of a B-Movie Mogul by William Castle
Joan Crawford: Hollywood Martyr by David Bret
Joan Crawford: The Essential Biography by Lawrence J. Quirk and William Schoell
back to top
---
I Saw What You Did (1965)
"Arriving in a splash of fanfare, with a cast headed by Joan Crawford, I Saw What You Did is a generally broad and belabored expansion of a nifty idea...Tightened, minus about half an hour and with the entire story held to the impressionable viewpoint of the youngsters, the first picture would have brightened and chilled considerably more. Unfortunately, William Castle, the director-producer, dawdles the tempo. And there is a redundant middle chapter involving the aroused, snarling killer...The youngsters, Andi Garrett, Sarah Lane and a perky little toddler named Sharyl Locke, are altogether delightful."
- Howard Thompson, The New York Times

"Though the plot is thin, the film offers a chilling atmosphere and the performances are effective"
TV Guide

"...pretty mild stuff by Castle standards, coming off such outrageous horror fests as The Tingler [1959] and Homicidal [1961], but the results are still great fun and unmistakably display the touch of the master...The shower sequence is one of the more amusing Psycho [1960] imitations; in this case, the victim is fully dressed, outside the shower, and wielding the knife. Figure that one out! It also climaxes in a nice bit of pre-Argento glass-shattering that really seems strong for a 1965 film aimed at adolescents."
- Nathaniel Thompson, Mondo Digital

"It's a hokey version of Rear Window [1954], complete with all of Castle's usual parlor tricks. This is one terror tale that is strangely still suitable for all ages. Lots of fun."
- Christopher Null, www.filmcritic.com

"A few chilling moments, but it all depends on your susceptibility."
- David Pirie, TimeOut Film Guide

"Tense, gimmick-free Castle shocker..."
- Leonard Maltin's Movie Guide


back to top
---
I Saw What You Did (1965)
Kit: Tess, don't you get lonely out here?
Libby: Funny. I never used to be. Until I grew up this was just all there was. You know, pets and bicycles and a sandwich and a glass of milk after school. But I was never lonely.
Kit: And now?Libby: Well, now it seems like everything I want is someplace else.

Kit: I'd be so lonely out here I'd be scared to death.

Tess (to Kit): We do it all the time. We call people for fun.
Libby: Yeah, we do it all the time. Wait till you hear what they say.
Tess (hands Kit the phone book): Here you go Kit. Close your eyes and pick a name. Any name.

Judith (to Steve): You ape. You belong in a cage. And you want to know why I'm leaving you? You're not jealous. You're not that normal. You're INSANE.

Amy (to Steve): Don't let this hurt you. She's not worth it. You married a childish, empty headed little tramp. But now we can make something wonderful together.

Amy (to Steve): You know it's kinda nice being neighbors. I can check up on you.
Libby: Is this John Hamburger?
John: Yes, it is.
Libby: That's fine. Would you send over six with pickle and onion?
John: Get lost, nuisanceburger.

Amy (to Steve): C'mon on. Sit down. I'm gonna take care of you whether you like it or not. C'mon on. Take your shoes off. I'm giving the orders now. I know what you need but first I'm gonna give you a nice, stiff drink. I'm gonna have one too!

Amy (to Steve): I'll show you what it means to be taken care of.

Amy: Who is Suzette?
Steve: Get off my back. Give me room to breathe. You don't own me yet.

Kit: Didn't he sound exciting?
Libby: Yeah, and sexy.
Kit: Well, whyja hang up then?
Libby: Oh I can't meet him Kit. You know that. What's the use?

Amy: I met your little business deal Steve. Suzette.
Steve: What did she tell you?
Amy: She lied of course. Another childish empty headed little tramp. Your taste is sickening. She even lied about her name.

Steve (to Amy): You want to crack a whip? Get a dog.

Amy (to Steve): It's a simple choice Steve. Life with me or no life at all.


back to top
---
I Saw What You Did (1965)
After her late life comeback in Robert Aldrich's What Ever Happened to Baby Jane? (1962), Joan Crawford was something of a hot commodity again. Pushing 60, she would never regain her former A-list altitude but she enjoyed name recognition with a new generation of moviegoers and that name retained a degree of star wattage. As had her Baby Jane costar Bette Davis, Crawford had entered the "horror hag" phase of her career. (She reteamed with Davis for Aldrich's Southern Gothic follow-up, Hush...Hush, Sweet Charlotte [1964], but quit the production shortly after the start of principal photography.) When she agreed to take the lead role in William Castle's Strait-Jacket (1964), as an unstable woman piecing her life together after a stay in a mental hospital (to which she had been committed for murdering her husband and his lover with an axe), Crawford had a roster of conditions - and number one was "no gimmicks." A journeyman director who honed his craft cranking out second features for Columbia's "B-hive," Castle had branded himself with a succession of promotional stunts: an insurance policy offered to those who might die of fright during Macabre (1958), a prop skeleton ("Emergo") flown over the heads of audiences watching House on Haunted Hill (1959) and "Percepto," an electronic buzzer that jolted the punters in their seats while viewing The Tingler (1959). Crawford and her handlers felt that this type of stunt was beneath her dignity and The King of the Gimmick agreed to take the high road... although he later gave away "bloodstained" cardboard axes at select theaters.

Strait-Jacket's boffo box office brought Castle and Crawford back together a year later for I Saw What You Did (1965). Based on mystery writer Ursula Curtiss' 1963 novel Out of the Dark, the film is a prescient and forward-looking excursion into the horror subcategory of teen terror. Although the body count here is exceedingly small (no contemporary cinematic UnSub would dare call it a night after only two kills), it's not difficult to discern the blueprint for such classics of the "slasher" cycle as Bob Clark's Black Christmas (1974), John Carpenter's Halloween (1978), Fred Walton's When a Stranger Calls (1979) and Wes Craven's Scream (1996) in this tale of high school-aged prank callers who prey on the wrong guy. (The film's precredit scene, a telephone conversation between juvenile leads Andi Garrett and Sara Lane, looks as though it were shot through the eyeholes of Michael Myers' Halloween mask.)

Joan Crawford worked only four days on I Saw What You Did and was paid $50,000, plus a percentage of the profits. Besides the favorable deal terms, she accepted the part because it kept her in the public eye and was better than most of the scripts she was being offered.

During the filming of I Saw What You Did Crawford took nips from her ever present flask of vodka during breaks and it obviously shows in her performance in certain scenes. Andi Garrett, who plays Libby in the film, was completely intimidated by her scene with Joan and was genuinely terrified when the older actress attacked her, pulling her hair and dragging her to the car in their big dramatic scene.

When an interviewer asked Joan why she was making I Saw What You Did, she replied, "Because I think the film will have a terrific identity with parents and audiences." George Cukor, who had known Joan for years and directed her in numerous films at MGM, later said, "Of course she rationalized what she did. Joan even lied to herself. She would write to me about these pictures, actually believing that they were quality scripts. You could never tell her they were garbage. She was a star, and this was her next picture. She had to keep working, as did Bette [Davis]. The two of them spawned a regrettable cycle in motion pictures."

Teens in peril were not unknown to genre filmmaking in 1965 but with few exceptions underage characters were slotted more reliably into the less punishing realm of science fiction: The Giant Claw (1957), The Blob (1958), The Giant Gila Monster (1959) and Teenagers from Outer Space (1959). A decade later, moviemakers faced much less critical resistance and public backlash for killing off teenagers but in 1965 Castle was probably wise to play it safe. Nonetheless, his depiction of the typical American suburb as a hotbed of roiling psychosexual restlessness, voyeurism, blackmail and homicide concealed behind a scrim of evergreen Americana (cinematographer Joseph Biroc shot Frank Capra's It's a Wonderful Life [1946]) argues for I Saw What You Did's significance as a linchpin between Peyton Place and Twin Peaks.

Producer: William Castle
Director: William Castle
Screenplay: William P. McGivern; Ursula Curtiss (novel)
Cinematography: Joseph F. Biroc
Music: Van Alexander
Film Editing: Edwin H. Bryant
Cast: Joan Crawford (Amy Nelson), John Ireland (Steve Marak), Leif Erickson (Dave Mannering), Sarah Lane (Kit Austin), Andi Garrett (Libby Mannering), Sharyl Locke (Tess Mannering), Patricia Breslin (Ellie Mannering), John Archer (John Austin), John Crawford (Trooper), Joyce Meadows (Judith Marak), Douglas Evans (Tom Ward), Barbara Wilkin (Mary Ward).
BW-82m.

by Richard Harland Smith


back to top
---