DVDs from TCM Shop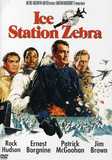 Ice Station Zebra A sub commander on a perilous... MORE&nbsp> $11.21 Regularly $14.98 Buy Now blu-ray
Quotes
Cmdr. Ferraday


If there's one thing that cannot happen on board a submarine by accident... is both ends of a torpedo tube open to the sea at the same time!

David Jones


You cross-connect the hydraulic manifold to the outside door mechanism so the indicator reads shut when the door is actually open. The same sort of electrical cross on these two panels, and the open position reads green when it should flash red. Then you plug up the inlet to the test cock with chewing gum, sealing wax, anything... just so that it shows a dribble. And then you open the tube, and Good Night.

Cmdr. Ferraday


It wasn't sealing wax. It wasn't chewing gum. It was epoxy glue. And all of a sudden you know a whole damn lot about submarines.

David Jones


Oh, I know how to wreck them, and I know how to lie, steal, kidnap, counterfeit, suborn and kill. That's my job. I do it with great pride.

Cmdr. Ferraday


On this submarine, we are all on a first name basis. My first name is "Captain".

Cmdr. Ferraday


All right sir, I'm impressed. Not enlightened - but impressed.