DVDs from TCM Shop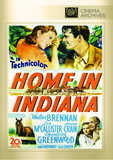 Home in Indiana A troubled teen gets a new... MORE&nbsp> $18.36 Regularly $19.98 Buy Now
NOTES
DVDs from TCM Shop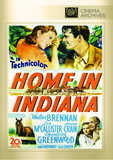 Home in Indiana A troubled teen gets a new... MORE&nbsp> $18.36
Regularly $19.98 buy now
George Agnew Chamberlain's novel first appeared as a serial in The Saturday Evening Post (18 October-8 November 1941). Hollywood Reporter news items indicate that as early as November 1940, Twentieth Century-Fox announced interest in making a film about trotting races, to be entitled Home in Indiana. The proposed picture, which was to be a follow-up to the studio's successful horseracing films Kentucky and Maryland, was to star John Payne, Walter Brennan and Fay Bainter, be produced by Kenneth Macgowan and feature a script by John Taintor Foote. Although Foote did work on the screenplay for the proposed Macgowan picture, it does not appear likely that his work was included in the final version of Home in Indiana. According to a March 12, 1942 Hollywood Reporter news item, agent Charles K. Feldman was "collecting the ingredients" for a "package deal" for Chamberlain's novel, to be produced by Howard Hawks. Winston Miller wrote a screenplay for Feldman based on Chamberlain's book, and according to the Twentieth Century-Fox Records of the Legal Department, located at the UCLA Arts-Special Collections Library, Miller's script was purchased by the studio along with the rights to the novel. The legal records indicate that Philip Lewis worked on a version of the film's screenplay, but the extent of his contribution to the completed film has not been determined.
The legal files also note that Clem Bevans was signed for a part in the picture, but he does not appear in the finished film. According to Hollywood Reporter news items, George Cleveland had been offered a role in Home in Indiana but turned it down to appear in another film, and Hermes Pan was originally signed to direct the jitterbug dance sequence, for which Geneva Sawyer receives onscreen credit. Actor Lon McCallister was borrowed from Sol Lesser's company for the production. As noted in the onscreen credits, Home in Indiana marked the first leading roles for Jeanne Crain and June Haver; McCallister, however, who is also billed as a "young player," had previously appeared in a featured role in Stage Door Canteen (see below). The following location sites for filming were noted by contemporary news items, studio publicity and legal records: sulky races at Empire City, NY; the Sandusky County Fair in Fremont, OH; the Marion County Fair in Marion, OH; Castleton Farms and Walnut Hall in Lexington, KY; MacGowan Farm in Mt. Sterling, KY; and Reuss Ranch in Malibu, CA. Hollywood Reporter news items note that the picture had numerous showings from June 14, 1944 through June 28, 1944 at a variety of locations in Indiana, Kentucky and Ohio, several of which were attended by Crain and Haver. Cinematographer Edward Cronjager received an Academy Award nomination for his work on the picture.
On October 2, 1944, Lux Radio Theatre broadcast a version of the story starring Walter Brennan, Charlotte Greenwood and Edward Ryan. In 1957, Twentieth Century-Fox released April Love, a musical version of Chamberlain's novel, which starred Pat Boone and Shirley Jones and was directed by Henry Levin.