DVDs from TCM Shop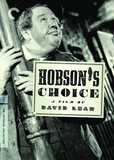 Hobson's Choice A widower father fights to... MORE&nbsp> $25.97 Regularly $39.95 Buy Now
USER REVIEWS
See Detailed Ratings
Acting of Lead Performers

Acting of Supporting Cast

Director

Music Score

Title Sequence

Screenplay

Cinematography

Historical Importance

Would You Recommend?

0 Member Ratings
Rate the acting of the Lead Performers

Rate the acting of the Supporting Cast

Rate the Director

Rating of the Music Score

Rating of the Title Sequence

Screenplay

Creatively uses the camera to tell the story

Importance in Cinema history

Would you recommend for fans of this genre
Submit Ratings
Cancel
Write a Review
Read Reviews
NO REVIEWS AVAILABLE
The title has not been reviewed. Be the first to write a review by clicking here to start.
Excellent!!!

Please play this movie more often!!!! So good. I had it recorded and played it often until I switched cable services and had to turn in my DVR. Actor performances superb in this movie. A must see.

Hobsons Choice

A very surprising wonderful movie! I have recorded it and play it almost once a week! I guess I love the picture because it shows what a women can accomplish if she set's her mind to it. I give it a 4.5 review!

Hobson's Choice

Susanne Cavendish

7/31/16

This is a wonderful movie! Brenda De Banzie and John Mills steal the show. I hardly recognized him and she was superb, bordering on the domineering, but never crossing over, as a woman in search of a husband and a wife making the husband a success, ostensibly, for the sake of her father. Laughton was his usual self as an actor who delivered his part as a complement to the others. The sisters were foils to the outcomes they wished for, but stood up to, for the sake of being married into the upper class. This movie is one I will want to see, again, just to watch the genius of De Banzie, in action. Easily, a four of five stars!

hobson's choice

A little too faux Dickensian (read sentimental/cute) for my taste. Also, too long. There are some good things in it, though, including an excellent performance from an actress I haven't seen before, Brenda DeBanzie, as the domineering yet loving (toward her husband, that is) eldest daughter. Alnd Laughton shows, in his drunk scene, an ability to do physical comedy that comes close to the great W.C. himself. And it's fascinating to see how David Lean melds late Victorianism with the contemporary Midlands in his location shots. Give it a B minus.

Hobson's Choice

Utterly charming film from start to finish. John Mills is particularly fine as Will, a quiet man with a genius for shoemaking. Don't miss this one.

Hobson's Choice

An enjoyable period comedy. Laughton relishes the part of a selfish, drunk who has limited options when daughter De Banzie's marriage to Mills starts a test of wills between the two. Funny and charming, takes shots at different classes in Victorian London and obvious changes in character's take place. Director Lean makes this comedy a work of art. I give it a 4/5.

Exellent Movie! Don't Miss it!

My husband and I highly recommend this incredibly charming movie. The outstanding performances are to be treasured. We were mesmerized by the many twists and turns of characters outwitting one another. One of our all-time favorite movies and we never tire of watching it any time it's aired. Thank you TCM for showing it!!

A really nice movie

This is a really nice movie that develops characters and has a point, all done with a light touch and whimsical mood. My husband and I both love it and hope it will be on TCM again soon.

Pleasantly pleased.

I don't often watch TCM anymore because of the trash that they often put on their schedulle. However, this movie which I had never was made aware of knocked my boots off. It was so well done with such good camera, lighting, and of course, actors. The story was just absolutely wonderful and to say the least, Maggie was a treasure. She brought her man to the degree that all could be proud of him. To say the least, the story ended as I would like to see many others end. Right on key at least with my mentality and desire. If a movie ever deserved 5 stars, this one did.

Suprising fun

I did not know this movie before I had watched it. I had a great time. The whole whole story was well done and told seamlessly. I recomened this film to everyone who likes this kind of movie.

Hobson's Choice

Great movie, I hope it will be shown again soon.

Jewel

Wonderful..A must see film (even by the suffregates who already know who is in charge) that has as many twists as can be followed!!! Brenda De banzie (Maggie) pursues her objectives like a "special forces" operative; Sir John Mills is excellant as "cinderella"

jewel

A jewel of a movie...A must see movie (if at least for the suffregates who already know who know who is in charge). Wonderfully written screenplay with delicious twists (especially by Brenda De Banzie) to gain objectives...almost with "special forces" execution!!!! A very good cast with Sir John Mills excelling as a "cinderella" type . I will watch this movie any time TCM will screen it......

HOBSON'S CHOICE - A GREAT MOVIE!!!!!

I NEVER SAW THIS MOVIE BEFORE UNTIL CHER WAS CO HOST WITH ROBERT OSBORN AND SUGGESTED THIS MOVIE AS ONE OF HER FAVORITES. I WISH TCM WOULD SHOW IT MORE BECAUSE I WATCH TCM MOST OF THE TIME AND I NEVER SAW THIS MOVIE EVER. WHAT A DELITEFUL MOVIE THIS IS. IT'S SUCH A GOOD COMEDY AND SOMETHING THAT I'M NOT USED TO SEEING CHARLES LAUGHTON IN THAT MUCH. HE PLAYED A GREAT ROLE IN THIS ALONG WITH THE REST OF THE CAST. I REALLY RECOMMEND THIS MOVIE TO ANYONE TO WATCH IT IS SUCH A WONDERFUL MOVIE.

Hobson's Choice

Never heard of this film, never saw this film until now.....BUT simply loved it!!!

Forgot the 5 star rating...

I give it 5 stars

Pure Pleasure

A real delight and pure joy to watch. The uplifting and lively music of Malcolm Arnold does a perfect job of setting the tempo and mood throughout the film.

Good,enjoyable Ham

Enjoyed the pleasure of this film 8/7/11,and hope it's on again soon!

Hobson's Choice

I loved this movie-wish they still made movies like this today! Great acting, humor and settings, and fun family interaction.Everything that make the family classics jems to hold on to!

Why is this labeled a drama?

This is the funniest movie Lean ever directed. Why is it categorized as a drama on the TCM schedule?

Hobson's Choice

I enjoyed this film immensely; I could watch it again and again!

Hobson's Choice (1954)

LOVED this movie, have seen it before, and was so happy to see it again recently. The story, acting, and characters were all so wonderful. I recognized the actress playing Maggie as the female 'kidnapper' in "The Man Who Knew Too Much" with Jimmy Stewart. And who could forget Prunella Scales from "Fawlty Towers". I'm thinking of buying this movie, maybe a little more towards Christmas.

Hobson's Choice

I enjoy Charles Laughton very much I think he is one of the greats.. This movie I just loved, this is the first time I had seen it. I would really like to see it again, I didn't get to catch all of it. What I did see of it was just wonderful...... Please "Play it again Sam"

Hobson's Choice

We watched the movie this morning as we were having coffee. We had never heard of it and it was absolutely delightful. My husband and I were enthralled. It was beautifully done - acting was fabulous - as were the sets.

Hobson's Choice

The most delightful movie that I have seen in a long while. David Lean was a master of film and the acting was so entertaining. Charles Laughton was a comedic treasure in this film. I have always enjoyed John Mills and more so in this role. Brenda de Banzie also was outstanding, although I had never known of her roles. I will look out for more British films on TCM and Netflix.

Hobson's Chose

I have never heard of this movie till I sat and watched it 3-25-10 and as old as this movie is, I stuck in my chair watching this great movie. This movie was smart, the way Maggie orchestrated this these marriages of her self and her sisters. She started out very hard but begins to soften, Willie, well you see him morph into his own man, but still remains a nice guy. I had to leave after the scene where Maggie gets her father to commit to the other sisters getting engaged. I hope to catch this movie again.Quentin Robinson

Hobson's Choice (1954)

Charles Laughton is one of my favorite actors, and in Hobson's Choice he delivers yet another outstanding performance. Brenda DeBanzie is terrific as well. A fine film, superbly written and directed. A fascinating plot that never bores. Excellent classic.

MY FAVORITE MOVIE.

I LOVE THIS MOVIE. I'M A WILLIE MOSSOP LOOKING FOR MY MAGGIE HOBSON. THIS MOVIE AND "IT HAPPENED ONE NIGHT" 1934 ARE THE TWO BEST MOVIES WITH A MESSAGE OF ALL TIME TO ME...

Play Hobson's Choice

I, also, have been looking for this film on DVD. I had never seen it until TCM showed it when Tim Roth selected it as a guest programmer. I don't know whether TCM has the rights to it, but if they could show it just once more, we could, at least, record it for ourselves.

Hobson's Choice

Elizabeth Hasenauer

9/16/08

I've been trying to find this video to add to my collection for months. Now I see it's just not available for home distribution. Very Disappointing!!! Hopefully it will be released and I certainly will buy it.

Hobson's Choice

I have been waiting for this movie to come out on DVD for a long time. I will definitely purchase when it does. It is terrific as a family film as well.

Hobsons Choice is an excellent choice

When strong willed Maggie Hobson marries her father's timid bootmaker, against the patriarch's wishes, and is cast out into the street, one expects a dismal future for the couple. But determined maggie has a plan to make a success of her meek spouse. As the plan unfolds we see what had, at first, seemed to be a marriage of convenience blossom to reveal a true and abiding fondness between two unlikely people who come together and bring out the best in each other

Wonderful Film!

My husband and I loved this movie! It is definitely one we will purchase when released on DVD.

How did I miss this one?

This is a must-see film. A remarkable demonstration that even old maids can find love and happiness!!!!! Genius!!!I hope it will come out on DVD as it is definitely worth watching again and again.

Most excellent Movie

A very delightfully done movie, with excellent actors and great story line.One you won't want to miss!

Fantastic movie!

Thoroughly delightful, well acted, great story - it is one of the best!

Hobson's Choice

I didn't get to view this movie from the beginning; I saw it when it was about half over. I thoroughly enjoyed what I did see. I hope TCM airs this again soon so I can see the beginning. I also hope it will be available on DVD for home viewing. I would give this movie a 4 star rating; so entertaining!

Great Movie!

"Hobson's Choice" was a delight. So glad we happened upon it. Great character development!

Shear Perfection!

Thank you TCM for airing this delightful movie. I had never seen it before til last night and am so glad I got to see it. What a wonderful experience it was for me to watch this movie, I enjoyed every minute of it and I can't wait for the DVD release. It has become one of my favorite B&W movies. It truely was perfection in every aspect. Thanks again dear TCM!!!

HOORAY...for "HOBSON's CHOICE"

Hello,Yesterday, 19 May 2008, I was lucky to be able to view a movie that I had never seen before on TCM, "Hobson's Choice". Filmed in black and white. Witty, well acted, and absolutely delightful!!The Main actors were Charles Laughton and John Mills.I have seen many of Charles Laughton's films....but this one showed far more range in his acting ability than I had ever seen before. To have him then also teamed with another of my favorite actors, John Mills, made it a real treat.I understand that this movie was available on VHS. Circa 1980's. Is this EVER going to be available on DVD ???If so...WHERE CAN I FIND THIS GEM ???

Why No Future Scheduling?

It's no secret that a good many highly regarded films are repeatedly shown on TCM. If you missed a favourite once, you likely won't have long to wait before it's shown again.Yesterday's screening of Hobson's Choice took me quite by surprise. Admittedly, the fault was mine in missing the start of it. In any case, with such a critically acclaimed film being largely unavailable for purchase, I'm disappointed to see no future date for another showing.

My #1 Favorite Movie of ALL TIME!!!

I have owned a VHS copy of Hobson's Choice for over 20 years. I have watched it hundreds of times and am always thoroughly entertained by the colorful characters, the superb acting, the incomparable, thoroughly "english", dialogue. The story is sweet and timeless. Charles Laughton, John Mills, and Brenda Debanzie are all amazing. The rest of the cast are impeccable and charming in their supporting roles. I have a framed still of the film in my family room as a testament to the esteem in which I hold this film. I have introduced Hobson's Choice to my children as well as many friends and they too have added it to their list of favorites. I would be thrilled to be able to own a copy on DVD....don't know how much longer the VHS tape will hold up.

a winner

absolutely one of the finest films I've ever seen...witty, well acted, funny...nicely done in b&w...been searching for the dvd release for a number of years...highly recommended.

Aye, you're me wife's young sisters...

Charming from beginning to end, a wonderful little comedy from epic film maker David Lean. Charles Laughton steals the show as Hobson, the tippling bootmaker who is too cheap to let his daughters marry for fear of having to pay their doweries. His eldest daughter outwits him into paying the marriage settlements, allowing the girls to marry and giving her a half share in his business as long as he shuts up, minds his own business and stops drinking of course. Superior art direction makes us think we are in the midlands of England, and the cast members so own their parts that we can never see anyone else as the battling Hobsons and their extended family and friends. Put it on DVD, or at least air the film for us!
*We protect your personal infortmation and will not provide it to anyone without your consent. For a complete explanation, please refer to TCM's Privacy Policy. By submitting your contribution, you agree to TCM's Terms of Use.