DVDs from TCM Shop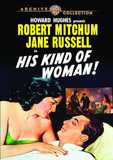 His Kind of Woman A deported gangster causes... MORE&nbsp> $14.95 Regularly $17.99 Buy Now
Home Video Reviews
Somehow,
His Kind of Woman
(1951) works. By any means it really shouldn't, with its over-the-top violence and satirical comedy intercut sometimes from one shot to the next. The result is sort of a combination of film noir and noir satire at one and the same time.
Now available on DVD from Warner Home Video as part of the Film Noir Classic Collection Vol. 3,
His Kind of Woman
is a strange, uneven film, though hugely entertaining. Robert Mitchum is offered $50,000 by some shady characters to go to a Mexican resort and await further instructions. He needs the dough, so he does it. Eventually (nearly halfway into the picture, in fact), he and we finally learn what the job is. Let's just say that tough mobster Raymond Burr can't show his face in the U.S. anymore but wants to go back anyway - and that's where Mitchum comes in. Meanwhile, there are all types of crazy characters floating around, including Jane Russell as a sultry singer having an affair with the married Vincent Price. That doesn't stop the double entendres from flying between Mitchum and Russell, however. And as for Price, he plays a ham actor and amateur hunter, skills which come in very handy as the story plays out. Price delivers one of the funniest performance of his career, throwing himself into his hilarious lines with obvious pleasure.
He is so funny, in fact, that it just underscores what a bizarre movie he's in. No one else in the film hams it up as Price does, which could easily have led to Price coming off as grating and tiresome, especially in contrast to the sadistic scenes of Mitchum being tortured (which are considerable). But we accept it all, probably because it's all equally over-the-top. That's certainly a trademark of producer Howard Hughes, who owned RKO at the time and involved himself obsessively in the film's script and production. The eccentric Hughes decided after filming was done to cast Raymond Burr; another actor had played the part, and all scenes involving the character were re-shot with Burr. Then Hughes decided he didn't like the way John Farrow had directed the final chase and torture sequence on a ship, so he brought in Richard Fleischer to re-shoot it at considerable time and expense. Hughes pretty much told Fleischer how he wanted it shot, stressing the sadism and drawing it out far more than Farrow had. From the sound of it, Hughes might as well have just directed it himself.
In her commentary track, UCLA professor Vivian Sobchack relates these production problems and Hughes' obsessions in greater detail, and makes the astute observation that the gratuitousness of Fleischer's ship sequence stands in contrast to the fights earlier in the film directed by Farrow, which place most of the violence off screen - yet another reason the movie feels uneven. She also details the Breen office's many objections to
His Kind of Woman
, mostly to the sexual innuendo. It's interesting, but she does tend to repeat herself and too often simply points out on screen what we can easily see for ourselves.
There are no other extras, but the box set comes with a separate disc devoted to short subjects and a film noir documentary. Print quality is a little uneven (like the movie itself!), with the title sequence and a few other shots looking grainy or scratchy, but the bulk of the film looks sharp.
For more information about
His Kind of Woman
, visit
Fox Home Entertainment
. To order
His Kind of Woman
, go to
TCM Shopping
.
By Jeremy Arnold