DVDs from TCM Shop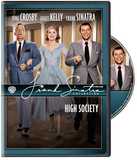 High Society In this musical version of The... MORE&nbsp> $9.71 Regularly $14.98 Buy Now
USER REVIEWS
See Detailed Ratings
Acting of Lead Performers

Acting of Supporting Cast

Director

Music Score

Title Sequence

Screenplay

Cinematography

Historical Importance

Would You Recommend?

0 Member Ratings
Rate the acting of the Lead Performers

Rate the acting of the Supporting Cast

Rate the Director

Rating of the Music Score

Rating of the Title Sequence

Screenplay

Creatively uses the camera to tell the story

Importance in Cinema history

Would you recommend for fans of this genre
Submit Ratings
Cancel
Write a Review
Read Reviews
NO REVIEWS AVAILABLE
The title has not been reviewed. Be the first to write a review by clicking here to start.
It is the music that makes the movie

Terrific songs written by perhaps the greatest of all song writers,Cole Porter, some of which are arranged by the finest arranger of the time, Nelson Riddle and performed by the top pop/jazz male singers of the 20th century- Crosby, Sinatra and Louis Armstrong. Then there is the great jazz played by Satchmo and his All Stars.Forget the acting. It's all about the music

Yuck

Sheralyn C DeSebasco

6/21/18

This cannot compare to the Hepburn/Cary Grant version. I had seen that one twice and just loved it. Hepburn was so superb, not so crazy about Stewart's role, but the story was most enjoyable. I could not finish the Grace Kelly version. Very boring in every way. Why do they try to make these second versions???? Very disappointed. No one can come close to Hepburn and Cary. I could see it a third time and not be tired of it. OH WELL

bing ..bang..bye bye.

probably the last great or really good movie mr.crosby ought right starred in. anything else he was along for the ride with..unless you count that movie in which he goes to college and is taught by gavin capt.stubbing slaughter mccloud or is it.. I cann not spell..oh well.it is hard to tell..farewell..see you in.. roswell. I told you..i can not spell.

Beauty is in the eye of the Beholder?

Funny how some people loathe and love the same movie. I am in the latter. Not only do I adore this movie, but I own it and still watch when TCM airs it. Where to begin...Louis Armstrong, Bing Crosby, Frank Sinatra, Grace Kelly and the lovely Celeste Holm...love them all. The highlights for me are Bing and Louis singing Now you Has Jazz, the teaming of Crosby and Sinatra singing Well Did You Evah and of course Bing and Grace singing True Love. Louis Calhern is a hoot in his last film. Cole Porter's great music and sophisticated lyrics are displayed for all to love..By the way I loved Philadelphia Story as well. In my top 5 musicals of all time. 5 stars from me.

High School Society

I watched this movie again last night. I'm sorry but I just can't agree with the enthusiastic reviews. I love musicals, but dislike this movie primarily because of the bad acting. Grace Kelly was a beautiful woman but a poor actress, especially in this movie. With such a stellar cast, the movie should have been much better. Instead we have recitals of lines in the manner of high school students putting on a class play. The other musicals of the era far surpass this movie. Sorry, folks, sometimes movies are just bad even with big name stars. Sinatra and Crosby didn't appear to have their hearts in it, and Grace Kelly was in way over her head in a role beyond her limited capabilities.

Very good movie

Love this movie it is very good and all the actor's etc are very goodI grew up watching all of them with my grandfather

Reviewing Sour Grapes Reviews

This movie has garnered bad reviews, apparently from self-styled movie snobs. It is very enjoyable, whether you have seen Philadelphia Story or not, if only two watch two of the twentieth century's greatest entertainers, especially Sinatra, before he became too impressed with himself. For those who wanted Hepburn, Stewart and all, they couldn't sing!

Painful production

Dreadful movie. An insult to THE PHILADELPHIA STORY, which was just about perfect. Grace Kelly cannot act. Painful to watch. Despite the big names involved, this movie is no better than some high school production. Grace Kelly must be the most overrated actress of all time. Utterly devoid of talent. How embarrassing for Crosby and Sinatra to have been associated with this dreadful film.

TMC repeats, repeats, repeats bad movies

This version is really bad. The original with Hepburn, Stewart, Grant is fabulous. Bing Crosby is way too old for part, more like Grace's grandfather. Also this was just on the other day. What has happened to TCM's programing? I have rarely watched the channel in the last year. Earlier, I would watch all day (I work at home) The movies being shown are the bottom of barrel, esp. the 60s , 70s , anf 80s. No one watched themthe first go round why portray them as classics? And really, westerns ALL summer? Bad ones, too. Who do they think is watching in daytime? Feeling I can now cancel cable, as before TCM was only reason to keep it. No longer.

Louis Armstrong is Only One to Make it Worthwhile

I really don't care for this version at all, with the exception of Louis Armstrong. The casting was very poor, and the acting mostly mediocre. Satchmo is great!

Grace Kelly poor performance

The movie could have been great with Bing Crosby and Frank Sinatra together. But it doesn't work, primarily due to Grace Kelly's bad performance. It's like watching a high school performance. Shockingly amateurish acting.

Overrated

This musical remake of THE PHILADELPHIA STORY is a total failure, succeeding only in revealing Grace Kelley's lack of talent. Beautiful yes, but a dreadful actress. It's like watching a high school performance, and a mediocre one at that. Nothing Bing Crosby or Frank Sinatra can do can save the movie from Grace Kelley's wooden, flat, and utterly unconvincing performance. THE PHILADELPHIA STORY was a perfect movie, with intelligence, charm and wit. This mess managed to throw away all the charm of the earlier movie and we are left with a very wooden, forced, and emotionless ordeal. It's painful to watch. I give it one star at best.

High Society

I like this movie and enjoy watching it over and over because the music in this version is wonderful. For that I believe it should stand alone on it's own merits. Some people just don't care for remakes, maybe likening them to bad Elvis impersonators. Who knows. Try imagining the first High Society done as a musical like the remake. Jimmy Stewart singing would have been a joke and the movie would have been a bust. Crosby, Kelly and Sinatra don't have to be compared with anyone else. Including Louie Armstrong, there's qualities in this movie that make it much better than the first High Society.That is, unless you just don't care for music.

Cole Porter makes it work

Kirsten I. Russell

12/17/15

Much has been made of the fact that HIGH SOCIETY is a remake of PHILADELPHIA STORY. I enjoy the original as a comedy with three incandescent movie stars. I enjoy HIGH SOCIETY in a different way--as a musical, with music and lyrics by Cole Porter. Louis Armstrong appears with his jazz band at the beginning and end of the film, singing and playing a prologue and finale to the story. Bing Crosby and Frank Sinatra are the incandescent singing stars in this film, while princess-to-be Grace Kelly reveals a clear, charming singing voice. The musical highlight of the movie begins just before the party, with Louis Armstrong playing a romantic melody on the trumpet and Bing Crosby singing "I Love You, Samantha"; then Bing Crosby joins Louis Armstrong and his band for "Now You Has Jazz"; then Bing Crosby and Frank Sinatra sing "Well, Did You Evah" TOGETHER. This, for me, is what makes HIGH SOCIETY unique and consummately entertaining.

HIGH SOCIETY

Bizarre casting in this dated nonsense musical. Frank Sinatra looking bewildered at times, probably wondering, How the heck did I get cast in this muddled mess. Bing Crosby waaaaay to long in the tooth, still in pretty good voice ( not like the old days). Even the way he was dressed was out of date, 20s, 30s gigalo. I was waiting for him to pull out a mega phone ala Rudy Valley. He kept looking at Grace Kelly like she was something out of his loooong lost past. It was creepy at times. And lets face it, Bing was never what you would call a handsome man. Grace Kelly, a beautiful lady, stunning, reminds me of Nicole Kidman. She was one of those, all you have to do, is, show up, mysterious Hollywood beauties. I never could understand what the big deal was with her. Only a couple of films And bang shes a legend? Same with Garbo. Never understood that one either. Not when there were so many Really talented ladies out there. But to be fare, the music was catchy, toe tapping at times, and the sets were beautiful. WOW, who are these mysterious fantastic Wealthy people? As I was saying badly miscast.

not Grace Kelly's finest hour

Wonderful Grace overacts throughout this musical confection and it gets a bit annoying. She must have been on her last nerve before the wedding, poor thing, and she was thin as a rail, too. Bing CANNOT be shorter than Frank, heck no, so he's wearing high heels in the first act, when Louis Armstrong arrives. His kicks look like they belong to Superfly... real platforms. Other than that, I like this movie, it's amusing. The sets and costumes are good. I love der Bingle doing his "Jazz" number with Louie & company. I love "Well Did You Evah?". I adore Celeste Holme and Louis Calhern.I overlook the lack of witty dialogue and some of the stilted acting, then I kick back, and enjoy.

High Society

An enjoyable, musical adaptation of "The Philadelphia Story." Kelly gives a more icy interpretation of Tracy Lord, Crosby & Sinatra are both equally good as two of Kelly's suitors. Oscar-nominated score & Armstrong's too-brief apperances quicken the pace of the story, although it lacks the romanticism of the original. Regardless, this is a great musical that shouldn't be overlooked. I give it a 4/5.

Not as Good as Philadelphia Story

I did enjoy this a few year ago...a lot. Then I saw The Philadelphia Story with Cary Grant and Katherine Hephburn. Now that movie was soooo funny! This is a good movie, but I liked the original better because of the comedy. Although you can't beat Sinatra & Bing singing and also Louis Armstrong playing!

High Society (1956)

A poor excuse for the original. *

Better than Philadelphia Story

I find it incredible that people think that The Philadelphia Story was a better version of this story. In spite of Stewart winning an oscar for his part, his performance was terrible. Grant looked like someone was beating him on the head whenever he was speaking. Hepburn was great, as usual. But, nothing can compare with Grace Kelly and the musical score in High Society.

One of the best remakes ever.

Took some of the dialogue from Philadelphia Story and added a lot of great music from stars obvioulsy enjoying their roles. Outstanding color is a big plus also. Just a fun movie to watch every so often.

High Society?

This film is hard to watch after watching the better original - the garish colors of the sets,most of the same dialogue rehashed by lesser actors, and the general fake atmosphere of the whole movie.Bing Crosby is charming, though too old for beautiful Grace Kelly, who badly overacts. There doesn't seem to be a real emotion expressed anywhere. It's more like a mildly entertaining sitcom.

The Swan Song of an American Princess.

Frank Harris Horn

4/26/10

Garce Kelly makes her final acting appeareance prior to her wedding to Monaco's Prince Rainier, as she co-stars opposite Bing Crosby and Frank Sinatra in this delightful musical remake of 1940s "The Philadelphia Story". Kelly is Tracy Lord, a beautiful young heiress on the verge of getting married again, but she may still have for her ex-husband (Crosby). However, she soon, finds being attracted to a magazine reporter (Sinatra), and a love triangle is formed. Featuring a series of Cole Porter's songs including "Who Wants to Be a Millionaire?", "True Love", "Well, Did You Evah?", "You're Sensational", "Little One", "Mind If I Make Love to You?", and "Now You Has Jazz". With Celeste Holm, John Lund, Louis Calhern, Sidney Blackmer, Lydia Reed, Margalo Gillmore, Gordon Richards, Richard Garrick & Louis Armstrong and His Orchestra.

Unsurpassed

When I saw the cast in this film, I knew that it was either going to be a complete flop or a soaring classic. High Society turned out to be one of the greatest films I have been able to see. As wonderful as Grant, Hepburn and Stewart are, this film creams their version to a spreadable pulp. The script zips along, hilarious, witty and, well, is absolute genius. The music? Outstanding. Owning the film was not enough for me--I had to buy the soundtrack as well. The story was enormously funny, with true romance, bitter life truths, delightfully-handled scandal, and flowing elegance. Where else are depth and comedy brought so beautifully together? Grace Kelly IS Tracy Samantha Lord, and one almost forgets that C.K. Dexter-Haven is Bing Crosby. Frank Sinatra is at his best, and is frightully skilled at playing someone who has had far too much champagne. In addition, this is the only time in the history of music that two of the greatest voices of all time--Crosby and Sinatra--are brought together. That in itself is worth anything. The combination of their voices is, as an author once said, like 'gold being poured into a cup'. It is truly drinkable.

Better, Best

This is the final remake of the stilted Philadelphia Story. The script is about class, meaning the best of its kind. This is why the Philadelphia story fails. The Philadelphia Story fails because a pretty floozy and communist (Katherine Hepburn) was cast to play the highly moral daughter of a successful capitalist. Hepburn's failed portrail was only passable by the supporting cast which ended at C. Grant and J. Stewart.High Society on the other hand is repleat with class from the setting - Newport vs. Philadelphia - to the score by Cole Porter - whose music was classier than his morals - to the star, Grace Kelly, to the supporting cast - Bing Crosby dueling with the pop-star upstart Frank Sinatra.The triumph of High Society is completed as a musical melding the classically trained Cole Porter with the jazzy Louis Armstrong. Most of the musical numbers fit naturally with settings, scenes and characters and are not ackward as is the casting of Grant and Hepburn in the previous version of a great story.The issues critics have with High Society stem from their personal moral depravity as they watch a paragon of beauty and morality in the form of Grace Kelly who was actually a product of Philidelphia high society. The critics prefer looking upon another Hollywood floozy who is more their ilk. Secondly, most critics of High Society are anti-capitalists pinkos, and as such they find the opulence on display and particularly the "happy ending" only a source of envy.So, sit back and enjoy the way things ought to be.

High Society (1956)

This musical can't compare to the movie it is a remake of - The Philadelphia Story, but with Grace Kelly and Bing Crosby in the cast, it can't be too bad. I think if they left out the musical numbers it would have been better, but it is a good score. Professional production great costumes and art direction.

Cole Porter's Folly?

I recall when this film debuted in 1956. The so-called critics murdered it; comparing it to the original non-musical version (Philadelphia Story). I am not lost on the charm of the original; but this version is much more entertaining. And that great Cole Porter score, sung wonderfully by Sinatra and Crosby with Louis Armstrong, beautiful Grace Kelly and Celeste Holme; what more could you want? Despite those moronic 1956 reviews it has become a classic in spite of them.

Love.

This is an excellent movie involving 2 of my favorite actors: Bing & Frank! The scene "Well Did You Evah" and "Who Wants to be A Millionaire" are so much fun to watch and listen to. Wonderful movie with alot to it. Highly recommended!

A great movie!

I have this movie on DVD and can't get enough of it! I love it all, it's just a movie that created so many memories for me. I love the music score, and Grace Kelly does a great job with singing the "True Love" song. The music is beautiful and so is the acting of the cast. Celeste Holm is funny and also charming. The story may be different from the original "The Philadelphia Story," but it's still great and a wonderful movie to watch.

Crosby,Sinatra, and Armstrong

a great score, wonderfull performances by all, and grand entertainment. the crosby and armstrong duet and the duet with crosby and sinatra make this musical a must.
*We protect your personal infortmation and will not provide it to anyone without your consent. For a complete explanation, please refer to TCM's Privacy Policy. By submitting your contribution, you agree to TCM's Terms of Use.